Custom Search

2013 ROSTER

Coach: Matt Polovin

Nestor Ascencio
Sr., M
Rene Bracamontes
Sr., D
Sergio Blanco
Jr., GK
Manny Carrillo
Jr., D
Armando Diaz
Sr., M
Ivan Leyva
Sr., M
Brandon Malpartida
Sr., F
Juan Munoz
Sr., M
Donnie Sosa
So., F
Brian Benitez
So., F
Christian Campos
Sr., M
Mike Delaney
Jr., D
Julio Luna
Jr., M/F
Alex Moreno
Sr., D/M
Erie Ortiz
So. D
Christian Vences
Sr., M
Ivan Gonzalez
Fr., D
Jasminko Dizdarevic
So., F
Phil Lewy
Sr., GK
Christian Balbino
Jr., D
Edwin Rueda
So., M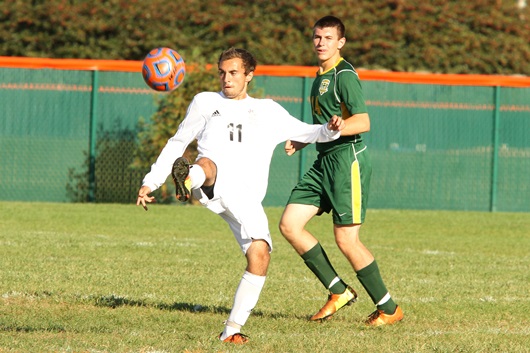 Delaney head shot earns a tie with Plainfield Central
By Gary Larsen
Streamwood salvaged a tie, Plainfield Central settled for one, and afterwards nobody on either side was thrilled with the volume of lost scoring chances that took place in a 1-1 tie on Monday.

The game between the Sabres (8-2-1) and Wildcats (6-2-4) largely pitted Streamwood's possession game pressure against Plainfield Central's ability to counter off of that pressure, and both teams sent too many quality chances off-frame through 80 minutes.

"This one didn't feel great," Plainfield Central coach Kevin Fitzgerald said. "Streamwood is probably thinking they should have won, but I feel like we should have won, too. We should have had three goals today because we had enough chances.

"I don't know how we don't finish more of those. Honestly, it's almost hard to miss some of the ones we miss."

Fitzgerald's counterpart had the same assessment of the way his side failed to finish on Monday.

"As many shots as we had, those have to be put on goal," Streamwood coach Matt Polovin said. "If you put them on goal, something good can happen – one, it might go in and two, you might get a rebound. We had the run of play, I don't know how many chances on goal, but only one goal at the end to show for it. That's unacceptable."

Monday's game came in the opening round of the 20th annual St. Charles East Invitational, which features the host Saints, Streamwood, Plainfield Central, Marmion, Plainfield South, Elgin, Glenbard North, and Belvidere.

Miguel Duran provided Plainfield Central with a 1-0 lead in the second half, but with less than five minutes left to play Streamwood's Mike Delaney buried a head shot that forced the tie.


Early on, Streamwood's Jasminko Dizdarevic hit a ball just wide of the post with Plainfield Central keeper Kyle Oehler diving to stop it. Christian Vences got deep on the right side but his cross was cleared out, and Dizdarevic earned a corner kick for the Sabres at the 10-minute mark.

Vences took a freekick on the left side that Dizdarevic hit wide of the far post, before Duran got deep in transition and centered a pass that the Sabres backline cleared back out. Defenders Delaney, Ernie Ortiz, and Christian Balbino handled every counter the Wildcats offered through 20 minutes.

"Most of the goals we've given up have come on counters or freekicks," Delaney said. "We were okay today but we need to attack the ball better. Overall, I thought the team played a little down. I think we're a lot better than this."

The Wildcats earned a corner kick sent in by Jarod Petrovic that went for naught, and at 23 minutes Streamwood's Alex Moreno sent a good rip wide of the post. Ascencio went high with a shot while Plainfield Central had a freekick and a few deep throw-ins to the 25-minute mark.

Oehler easily saved a shot at the post taken by the Sabres' Juan Munoz before Ascencio hit a freekick into a wall of defenders. Balbino tracked back hard to break up a through-ball up the gut with Central's Duran running onto it.

Central's Gustavo Sanchez centered a pass from the left side that Streamwood keeper Sergio Blanco punched out and Vences served in a freekick that teammate Julio Luna headed wide of net just before halftime.

Streamwood opened the second half with a Vences freekick that was blocked and sent Plainfield Central in transition, with the Wildcats' Sanchez finding a quality shot that Blanco dove and saved around the post.

Sanchez sent a ball wide to Duran on the right side and Duran's serve found teammate Max Woodward, whose attempted shot went awry.

The closest either team came to goal to that point came when Streamwood's Brandon Malpartida hit a shot from 18 yards out that Oehler barely got a hand on before it banged off the crossbar. The Sabres' follow-up attempt flew wide.

Ascencio found a few shots from outside the top of the penalty area early in the second half, but one flew wide and Oehler handled the other one.

"We knew about Ascencio and (Vences) and we tried to man-mark both of them the best we could," Fitzgerald said. "That's not easy in the middle of the field, with all that space. I told the guys that those were their two best players. Ascencio is so good, when he gets the ball everyone on their team is instantly better. That's what makes a good player."

Ozzie Gutierrez, Sanchez and Duran fought the good fight throughout against Ascencio and Vences in the middle of the park.

"Nestor (Ascencio) has been a marked man all season. You heard (Plainfield Central) yelling 'double team him!' every time he touched the ball. I know he's trying to find guys but then it got to a point where some guys were a little stagnant, making runs up and down instead of a nice diagonal run behind, where he can play it through."

Just before leaving the game due to injury, the Wildcats' Gutierrez sent a ball ahead that Gustavo Sanchez took to the endline and served hard at the near post, but Blanco was there to snare it. Petrovic sent a freekick to the far post that saw Poznanski send a good chance just wide.

The Wildcats' goal came when Sanchez sent a through-ball to the 18, where Duran slipped it under a charging Blanco at the 50-minute mark.

"They got a nice little through-ball and they put it away," Polovin said. "We talked about how the way (Plainfield Central) was going to beat us was to send it long and hope someone gets to it."

Streamwood responded with a Balbino shot that Oehler stopped near the upper ninety, and Delaney had to track back hard on the ensuing rush up the field to destroy a pass headed for Petrovic on the counter.

For nearly the next 30 minutes after Plainfield Central took the lead, the Wildcats' backline of Ola Shobowale, Poznanski, Gage Wuestenfeld, and Sam Espinal did all they could to keep a spirited Streamwood attack chasing a goal from scoring.

"They played well. Those guys as a unit have gotten so much better since game one," Fitzgerald said. "Ola talks a lot, him and Tom are smart, solid in the air, in covering, and in reading the field. And Gage and Sam win balls in the air and you have to on the backline."

Polovin was pleased with the effort Malpartida put forth in creating chances with his side down a goal. Plainfield Central continued to find deep space on the counter but no second goal was forthcoming for the Wildcats.

The game's tying goal came when Ascencio took a ball to the endline on the left side and earned a corner kick, which Dizdarevic served to the back side. Donnie Sosa got a head on it for Streamwood, sending it back towards Delaney, who buried the head shot.

"I just went for it. It was all instinct," Delaney said.

Shobowale left the field disappointed that his side played well and had a 1-0 lead over Streamwood, only to see it slip away with time running out.

"That (tying) goal would have been okay if we had scored on a few of the chances we had earlier," Shobowale said. "We have to start finishing more of those. We played well and we're getting all these (scoring) chances, and we need to cash in on them, because that's what's going to hurt us later on when we face teams with a bigger defense.

"I think we can get caught up in the excitement so we either shot it right at the goalie or shot a skyrocket. We need to focus the whole way through the play. It seems like when we get in front of the goal, we get too excited."

Vences blistered a shot at the post that Oehler saved, and Petrovic sent in a corner kick for Central in the game's waning minutes that didn't result in a shot.

"Miguel and Miguel played hard and our backline played well," Fitzgerald said. "If you had told me on the way here we'd get a tie against Streamwood, I would have felt great. But getting a tie after having so many missed opportunities…"