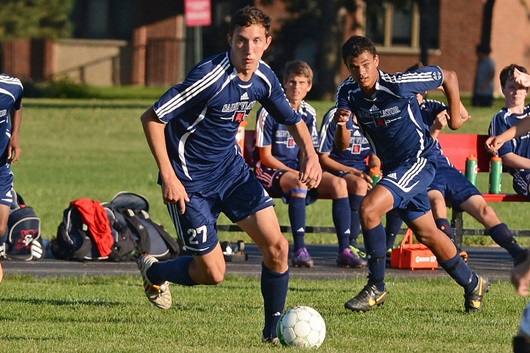 Lions take care of busines at St. Patrick
By Eric Van Dril
Photos courtesy of Jim McMahon
As the clearly superior team in its match against St. Patrick on Wednesday, the Saint Viator boys' soccer team entered its game against the Shamrocks with little doubt it would win.
The team's primary goal, both coach Mike Taylor and senior midfielder Kevin Klinkenberg said after the Lions won 5-0 at Resurrection High School, was to work on becoming even more dangerous as the playoffs near. The focus in Wednesday's match, for Taylor, was to try to increase the team's effectiveness on throw-ins and corner kicks.
"We tried to work on the dead-ball situations a lot – the throws and the corners," Taylor said. "We really didn't do a good job at that. That's something we've got to go back and work on. We had so many – we had eight corners and 12 long throws – and you've got to put more of those away.
"But also their goalkeeper had a hell of a game today... We've still got to finish those. We've got to put them away. In the playoffs, those are the goals that count. If you start putting those away, those are the goals that break other teams' backs."
Although Taylor wasn't pleased with his team's performance on throws and corners – he said it's something which will be a point of emphasis in practice before the Lions travel to Marian Catholic on Saturday – Saint Viator (7-3-1, 2-0-0 ESCC) scored its fifth goal of the match on senior Ethan Wolf's throw-in.
Wolf's throw-in caused a scrum right in front of the net, allowing the ball to squirt loose before sophomore Miles McDonnell sent it into the back of the net.
It was an ugly goal to end the match, but Saint Viator's first-four goals of the match were picturesque.
The Lions' three first-half goals came on a similar type of play. In each instance, a player beat his defender near the sideline and then sent an accurate cross into the box. Klinkenberg was the beneficiary of the first quality cross – a low, left-footed pass by junior forward Aidan Williams from the left flank – and all he had to do was put the ball on frame for Saint Viator's first score.
"It's kind of our goal to get the ball wide and make sure (we have players run to the) near post, far post, top of the six," said Klinkenberg, who scored his first goal of the season on Wednesday.
Senior midfielder Mateo Leudo added: "It's our gameplan usually. We have Spencer (Moore) up forward, (we) make a run to the corner and then cross the ball. We make a near post run and a far post run. When we're disciplined, we score – like today. We made our runs and we scored five goals."
Leudo followed Klinkenberg's goal with his first-two goals of the season. The first was created by junior forward Zach Gyuricza, who made a deceiving move to sprint past St. Patrick's right back and get free down the left side of the field. Gyuricza wasted little time, rifling a left-footed cross into the box.
Leudo, who was unmarked about eight yards in front of goal, struck a perfectly-placed right-footed shot off of the far post and in.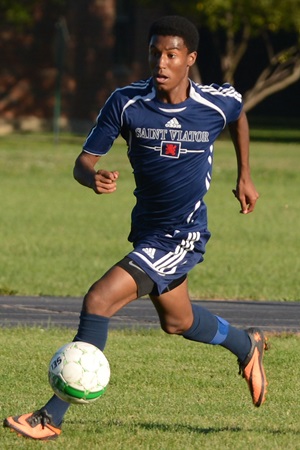 Leudo's second goal was even prettier than his first. Moore, a senior midfielder, used his dribble to regularly beat the Shamrocks' over-matched defenders on Wednesday and that's what he did on Leudo's second goal. He beat a defender down the right flank, looked up and quickly glanced into the box and he then struck a perfect cross into the box. It went right to Leudo's head – the senior didn't have to break his stride, or even jump – and it gave Saint Viator an insurmountable 3-0 lead entering halftime.
"Spencer's our best player, and it's really good to play with him because he knows our runs," Leudo said. "He's our target man. We play around him, and we try to build the team around him. We're happy to have him on our team."
Leudo's header was followed by a goal scored on a header by senior forward Nick Winter. Senior midfielder Kevin McMahon's cross from about 30 yards away from goal found Winter at the top of his jump, and Winter struck a powerful header past the St. Patrick goalkeeper and into the bottom corner of the goal.
The Lions were clearly the superior team from the opening whistle of Wednesday's match. St. Patrick was without four of its starters, and it only had two substitutes for a match in which it spent much of the time chasing the ball around the field. Saint Viator dominated possession, and its defense – specifically Wolf, senior Mark Tun and junior Javier Romero on the backline – kept the Shamrocks from ever attempting a shot on goal.