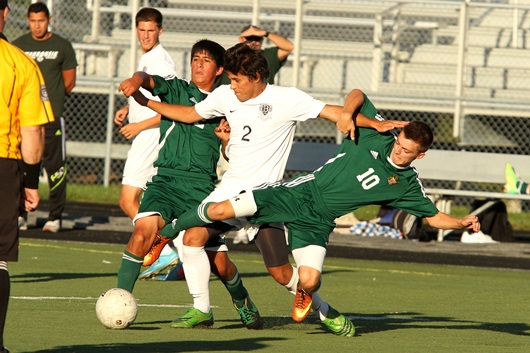 Hawks post second straight win vs. Waubonsie
By Gary Larsen
Early this season, Bartlett had to exorcise a few demons that showed up as the Hawks were struggling through a winless first few weeks of play, when team spirits needed lifting and attitudes needed slight adjusting.

"We saw a lot of gremlins come out of the closet that we had to take care of real quick," Bartlett coach Ben Beary said.

After Thursday's 2-1 win over Waubonsie Valley – Bartlett's second consecutive win and third consecutive strong showing – the Hawks are feeling much, much better about the 2013 season.

"It's a good feeling to see the boys turn it out like this, and we want to continue the motivation," Bartlett senior defender Joey Butler said. "I feel like we're developing into a dangerous team. If we continue to show the effort we've been showing and the cohesiveness as a unit…"

Bartlett (2-8-1, 2-2 in UEC Valley Division play) played with effort throughout Thursday's first 40 minutes and got first-half goals from Andrew Gott and A.J. Santori as a by-product.

Waubonsie Valley (3-5-2, 0-2-1) got a PK conversion from Casey Bucz in the second half, but Hawks keeper Andrew Nowak and his backline of Butler, Adam Jones, Zane Kaiser, and Christian Valle fought off a pressing Warriors attack after halftime to secure the win.

Waubonsie Valley found shots in the run of play and in the second half earned a barrage of their 11 corner kicks on the day. Bartlett met every challenge of the Warriors' set piece opportunities.

"Adam Jones and Joey Butler are in charge of organizing in back, and Andrew Gott, and those three are our air battlers," Beary said. "We've had years where we have been murdered on set pieces but we've only given up one goal on a corner kick this year, and that was a short corner."


For the visiting Warriors, the split personality they showed from the first half to the second essentially told the tale of the game.

"We definitely didn't come out with enough energy," Waubonsie senior Ben Zoet said. "We didn't have the intensity that we needed, the kind of intensity that we showed in the second half. Coach told us to get our stuff together at halftime, and we grouped up and talked about how we had to go out there and get it."

Right out of the gate, Waubonsie Valley earned a dangerous freekick chance, a corner kick, and then a hard-hit cross from the right corner that Bartlett keeper Andrew Nowak handled in the game's second minute.

Bartlett grabbed a 1-0 lead on a Gott head shot goal set up by a Justin Busch cross at the 11-minute mark, and scored again at 34 minutes when Santori scored on a cross from Igor Zwada.

The Hawks battled well at midfield throughout the first half, and Busch was in the thick of it.

"At the beginning of the season I thought Justin Busch was going to be an all-conference keeper, just because the kid is so athletic," Beary said. "But in those early losses we were losing the battle in the middle so he stepped in. He doesn't have the most soccer experience out there, but he's probably the best athlete on the team. And he's been the catalyst."

Waubonsie Valley's Sohum Buch left the game with a lower-leg injury at 28 minutes and did not return to the field. Bartlett's Zane Kaiser cleared a ball off the goal line one minute before halftime to keep the Hawks' sheet clean through 40 minutes.
Down 2-0 at halftime, veteran Waubonsie coach Angelo Dibernardo left his players with a choice after a lackluster first half.

"At halftime I told them we were done coaching, and to go out and do whatever they wanted to do in the second half," DiBernardo said. "Because what we tell them and what we practice, they weren't doing out there. Maybe it sparked a little self-pride in them – I don't know. They showed it in the second half but obviously they didn't have any self-pride in the first half."

In addition to playing with more of a chip on their shoulder after intermission, the nature of the play on the field also helped Waubonsie to establish its attack with increased intensity in the second half.

"The ref really started letting us play in the second half and it got a little out of hand, but we stepped up our intensity to match their intensity," Zoet said. "Honestly, that's the game we're good at. We're good at getting physical. We got some calls and we didn't get some calls but we got the PK, which got us close. But we just couldn't finish the second one."

Bucz converted his PK at 53 minutes and the Warriors kept the attacking heat on to the final buzzer, but they never found the equalizer.
Waubonsie's Noah Griffith sent in a freekick at at 45 minutes that Nowak fielded cleanly on one hop, and Griffith nearly got a head on an ensuing freekick that flew wide and over the endline.
Bartlett's Adam Jones headed out a Bucz corner kick at 56 minutes and one minute later Waubonsie's John Chapman sent a head shot wide of frame set up by a freekick taken from near midfield.
Zoet pressured well to the endline a handful of times from there to send in dangerous crosses, and the Warriors hit a post with a shot taken at 60 minutes. Bartlett earned a corner kick at 65 minutes that nearly saw the Hawks' Stephen Kobylinski get a shot off, but Waubonsie cleared it.
Nowak left his line to cut off a Zoet cross at 66 minutes and Nowak charged out to save a shot from Bucz at 69 minutes.
Nowak has stepped in and done a fine job for Bartlett between the pipes since Busch became a field player.

"(Nowak) came into the season probably not expecting to play much just because we had Justin in net," Beary said. "But he showed up in practice every single day, worked hard on his technique, and he has made huge strides. He's made a huge improvement at exactly the right time for us."
Waubonsie continued to pressure and earn set pieces to the final buzzer but came up empty.
"We wouldn't have been in that situation if we had taken care of things in the first half," DiBernardo said. "If they would have come out with the same attitude in the first half that they had in the second half, we would not have been down 2-0, and maybe we would have had a couple of (scoring) chances."

Bartlett's win on Thursday came two days after the Hawks won 1-0 over West Chicago. Santori netted the game-winner against WEGO, and scored Bartlett's lone goal in a 2-1 loss to Downers Grove South on Sept. 19.

The Hawks also played well against DG South and after starting the season at 0-8-1, Bartlett is happy to have three straight strong results under its belt.

"It's a good feeling," Butler said. "The first half today we came out with high intensity right away. With guys like (Busch) in the middle, we knew we could put guys in and get twenty minutes of high intensity, get the boys up and get the attitude the right way."

"The thing I'm really happy about is that it has been sustained for three straight games now," Beary said. "With the storm we went through in the first few weeks of the season – we've been through all the down we need, so there's no place to go but up."

"We wanted to use our numbers advantage in the middle of the field today, to quickly disperse it back out to the outside. I think the combinations that A.J. and Igor were finding with the outside mid working in with the forward, and out attacking center coming through the lane – they were doing that well.
"Angelo (DiBernardo) is a great coach and Waubonsie is a great team, and we dodged that bullet in the second half. Thankfully we got a couple goals when we were playing our best, in the first half. Because I don't know how many times we even got the ball into their box in the second half of that second half."