2013 ROSTER

Coach: Mike Taylor
Assistant coach: T.J. King

Tom Martin
Sr., GK
Aaron Tres
Jr., GK
Javier Romero
Jr., M
Kevin Klinkenberg
Sr., M
Miles McDonnell
So., D
Mateo Leudo
Sr., M
Spencer Moore
Sr., M
Zach Gyuricza
Jr., M/F
Ryan Carroll
Jr., D
Chris Beiersdorf
Jr., D/M
Ryan Henry
Sr., M
Jack McNamara
Sr., M/D
Ethan Wolf
Sr., D/M
Nick Eschbach
Sr., M/D
Aidan Williams
Jr., F
Jon Surdam
Sr., D
Kyle Koss
Sr., M/D
Mark Tun
Sr., D
Nick Winter
Sr., M
Woojin Son
Jr., F
Joseph McCollum
Jr., D
Jason Ziolkowski
Sr., D/M
Kevin McMahon
Sr., M
Dominic Perrone
Sr., F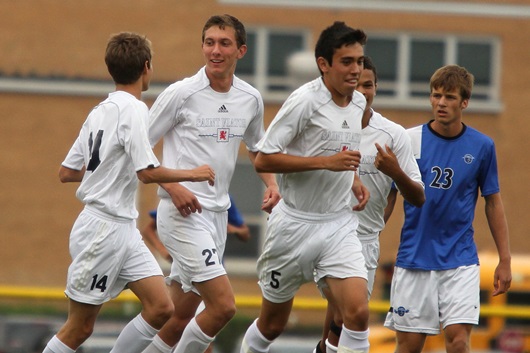 Lions keep it rolling vs. St. Charles North
By Gary Larsen
St. Charles North picked a bad day to have a bad day.

In second-round play of this year's Pepsi Showdown, Saint Viator was sharp throughout a 4-0 win over the North Stars in Arlington Heights.

"They outplayed us in every single facet of this game today," North Stars coach Eric Willson said.

Led in scoring by a Nick Winter hat-trick and a goal from Zach Gyuricza, the Lions were persistently dangerous in the run of play and deadly on set pieces – a combination that has seen them put 17 goals on the board in their last three games.

Saint Viator senior Spencer Moore traced the Lions' recent binge of goal-scoring to a 1-0 loss at Palatine on Sept. 5, followed immediately by tough road games against Marquette (WI) and Peoria Notre Dame.

"In those games we learned that we just had to work on our finishing," Moore said. "We had chances against Palatine – I know I had a couple – and then a couple more against Marquette. So we came back from that trip and at practice we just started really working on finishing."

Tuesday's game was two minutes old when Moore sent in a corner kick and Winter elevated from 10 yards off the far post to send a head shot back inside the near post, giving Saint Viator (5-2-1) a quick 1-0 lead.


The game's second goal came when Ethan Wolf's long throw-in was cleared but then sent right back in by Viator. Mateo Leudo saw a chance for a bicycle kick that sent the ball towards the post, where Winter made it 2-0 at 31 minutes.

Two set pieces, two goals.

"A lot of games are won taking care of little things, and every fifty-fifty ball was theirs. We defended just horribly inside our own box," Willson said. "We've tried to put an emphasis on how we defend in the box and how important it is, and how you can eliminate opportunities and goals against you. You can stay in ballgames if you can find a way to defend well inside there, but we clearly didn't do that today."

North's Chris Watson entered the game and immediately provided an element of danger for the visitors. Watson found a few shots to the game's 15th minute and was racing onto a through-ball that would have put him in alone on Viator keeper Tom Martin, but the Lions' Mark Tun tracked back hard to break up the play at 20 minutes.

North's Zach Michieli fed Watson for a shot at 22 minutes that went wide of the post from 18 yards out, and Alex Brito earned a corner kick at 24 minutes for the North Stars (2-5-1).


Finding a truly dangerous shot proved difficult for North, however, with the Viator backline of Wolf, Tun, and Javier Romero up to every challenge in transition.

Moore took a ball up the endline on the right side and fed Winter for a quality chance at the far post, but Winter's shot went wide at 25 minutes. As Moore showed on Tuesday, his burst of speed can wreak havoc for Saint Viator.

"You can mark us on the outside or mark us on the inside and we've got a player dangerous enough in the middle (in Moore) that can break a team down in two seconds flat," Saint Viator coach Mike Taylor said. "So now when we can get him in the flow of putting those through-balls through to the strikers, and the strikers are making the right runs – he's just a player-and-a-half."

The North Stars' Phillip LeGare took a freekick at 32 minutes but his kick from 25 yards out hit a defender and sent Viator into transition, with Winter earning a corner kick. Watson hit a shot wide in transition off of Viator's corner at 34 minutes, and the Lions earned another corner at 36 minutes after another long throw from Wolf.

North's Jake Kerr served up a long freekick at 37 minutes that LeGare headed wide of the post from just inside the top of the Viator penalty area. Kerr then sent another freekick in a minute later that went for naught, and the 2-0 Viator lead held to halftime.

Coming off of a 3-2 overtime win against Oak Park and River Forest, the North Stars spent the first 40 minutes trying to find chemistry against a Viator team working well on all cylinders.

"I think things just have to click for us," North Stars captain Brad Johnson said. "We've got kids playing together that haven't played together before, from different club teams, so we have to mesh. Some games we're on, and some games we're not.

"It's definitely coming around. We had (chemistry) in our win over Oak Park (3-2) but it's on and off. I think we still have to get used to where everyone is playing."

Early in the second half, Winter crossed a ball from the right side that Leudo volleyed at the far post, with North keeper Billy Larsen making the save.

Viator's third goal came when Kevin Klinkenberg took a ball deep on the right side and sent a ball across the penalty area. Winter dummied it and Gyuricza stepped onto it and stretched the back netting from 16 yards out at 46 minutes.

"I thought Gyuricza played well today," Taylor said. "He worked and got a nice little strike in there, and Tommy (Martin) did a nice job in net today. He only plays during the high school season. He comes out, he makes some saves, and he's done well."

Winter completed a fine day with a goal on a Javier Romero feed at 65 minutes, and Viator's Aidan Williams rattled the crossbar with a shot late in the contest.
"They had a good day. Hats off to (Saint Viator)," Willson said. "They played their style of soccer and they're incredibly well-organized and well-coached, and they stuck to their game plan and that worked. And to say we had a bad day is probably pretty generous."

Taylor is pleased with the direction his club is heading.

"We played a (heck) of a game against Marquette," Taylor said. "It was 2-1 until late in the game when we threw all of our guys up and they countered and got a third goal. Then we drove all the way from Wisconsin to Peoria the next day and we had them 1-0 down and they only had two shots on goal.

"You look at those two games and you think 'those will pay dividends later on'."
Those dividends came sooner than later for Saint Viator. The Lions won 8-0 over Carmel and 5-0 over Oswego before winning 4-0 on Tuesday.

The Lions' versatility has also paid dividends.

"I can put (Ryan) Henry in the middle, I can put him on the outside or on defense, " Taylor said. "Javier (Romero) is normally a midfielder but he has played so well at fullback, and today you saw him in the corner serving the ball across today. I'm pleased with the way they're playing right now."
Custom Search