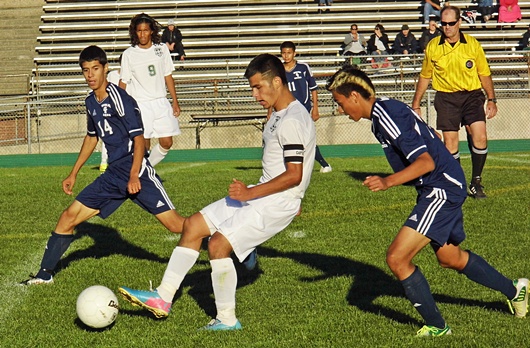 Wildcats bounce back with victory over Wolves
By Curt Herron
In the wake of its initial loss of the season to Leyden, Plainfield Central was determined to bounce back on Monday.
But meeting up with an Oswego East squad still seeking its first win, the Wildcats knew that there was more at stake.
The perennial Southwest Prairie Conference champs sought a 2-0 start in league play as they kicked off a busy week.
After not connecting in their last two outings, the Wildcats struck twice during the opening half against the Wolves.
Two more tallies in the final half put the finishing touches on Central's 4-1 SPC victory over East in Plainfield.
Gustavo Sanchez scored a goal and added two assists while Miguel Sanchez had a goal and an assist for the winners.
Nick Evans and Max Woodward also connected for the Wildcats (4-1-3, 2-0) while Tom Poznanski contributed an assist.
Central plays three matches in the Pepsi Showdown this week before competing in the st. Charles East Invite next week.
As a result, the Wildcats don't return to SPC play until October 1, when they see five league foes in a 15-day span.
Meanwhile, East (0-4-2, 0-2) gave up four goals for the second straight match as it still seeks its initial triumph.
The Wolves closed to within 3-1 on a Danny Madrigal goal and appeared to close to within a goal a short time later.
But that score was disallowed by an offside call and despite a few more good late threats, East could draw no closer.
"After our first loss, we wanted to see what our team was made of," Wildcat senior Ola Shobowale said. "And I'm really proud of how our team responded. We came out strong and I think we showed Plainfield Central is made of.
"Oswego East is a team that doesn't give up until the end, but neither do we. "When they scored on us I kind of got a little infuriated because it seemed like we were just lacking right there. But we pushed through the last 10 minutes and shut them down and managed to get another goal.
This Wildcat squad is typical of past Kevin Fitzgerald teams in that they work very hard and don't give up too much.
"One of my favorite things about this team is its tenacity," Shobowale said. "We don't give up and we just want to win. I really think that that drive propels us forward to winning matches and hopefully helps us to win the conference.
"I really think that we have a strong defense and we also have people up top and in the midfield who will work hard to get the ball. Everyone on this team is a hard worker and they really want us to go out with a bang this season."
The Wildcats supplied the first good try but Poznanski's header off a Jarod Petrovic corner was halted by Luis Alday.
Alday received his initial start in goal, which allowed East coach Steve Szymanski to move Sean Phetchanpheng up top.
Before the half's midpoint, Wildcat keeper Kyle Oehler stopped a liner from Ricardo Ventura and a Phetchanpheng shot.
Central moved ahead for good in the 24th minute when Gustavo Sanchez found Evans, who scored on a close-range attempt.
It looked like it might stay that was as halftime neared but the hosts struck in the 38th minute to take a 2-0 lead.
Gustavo Sanchez sent a long pass inside and while Alday came out for the stop, Miguel Sanchez tapped in a short try.
"I know that the score doesn't reflect it but I thought that we played as a team and as an offensive unit," Szymanski said. "We had what I consider four defensive letdowns and they capitalized on all of them.
"You just can't do that, especially against a team like this. Plainfield Central is always tough and you know that they're going to come out and battle and give you everything that they've got."
The Wolves coach understands all too well what the biggest problem that's facing his squad at this point of the season.
"Communication has been a huge thing for us," Szymanski said. "It's got to get better, there's no other way to describe it. When we're not talking, we make mistakes and we don't clear the ball and teams capitalize on that.
"And the longer you go without getting that first win, it really has a pull on people."
Like the Wildcats, the Wolves have some time away from SPC action before they return to competition on September 30.
They play six nonconference matches, beginning Wednesday at home with West Aurora, as they seek the elusive first win.
Both sides had chances early in the final half with Miguel Sanchez and Jose Cardenas being denied on consecutive tries.
Shortly after Nathaniel Paisley saw his effort halted by Oehler, Alex Esquivel bounced an attempt off of the crossbar.
The hosts scored in the 49th minute when Poznanski's throw-in was touched by Miguel Sanchez before Woodward connected.
East made it 3-1 in the 56th minute when Jesus Esquivel's corner went into the box and Madrigal put in the loose ball.
Just a few minutes later, the Wolves looked like they closed to within a goal as they again found the back of the net.
But a long free kick that Phetchanpheng got a touch on before Alex Esquivel connected was waved off, to East's chagrin.
In the final quarter hour, Gustavo Sanchez bounced one off the crossbar and Paisley was thwarted by the Wildcat keeper.
The visitors had another good chance on a Madrigal free kick to Ventura, but his header was halted by a leaping Oehler.
Madrigal was denied on a free kick and Miguel Sanchez saw a close effort bounce off of the crossbar as time wound down.
Central scored in the final minute when Poznanski's throw-in found Gustavo Sanchez, whose try snuck inside of the post.
"Our first loss was a big motivation boost for us," wildcat junior Miguel Duran said. "After a loss, you have to come out stronger in the next game. We always want to get off to a fast start and get the first goal and we like to finish off strong.
"Oswego East is a real hard-working team and they came out stronger and faster in the second half. "I think that our defense is real strong and if we can score some more goals, I think that we can get far in the state playoffs."