Custom Search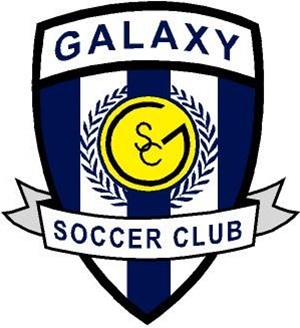 2013 ROSTER

Coach: Willie Filian

Danny Amato
So.
Evan Braun
Jr.
Kyle Clancy
Sr.
Tyler Curylo
Jr.
Rafael Esquivel
Sr.
Adan Flores
Fr.
Ricardo Gonzalez
Fr.
Logan Hedrick
Jr.
Sergio Hernandez
Sr.
Tadeo Lara
So.
Kyle Leber
Sr.
Erick Lule
So.
Jorge Martinez-Avalos
Sr.
Juan Medellin
Sr.
Liam Obernesser
So.
Jesus Ortega
Jr.
Julian Ramirez
Fr.
Gustavo Solis
Jr.
Pirates' rally falls short vs. Elk Grove
By Mike Garofola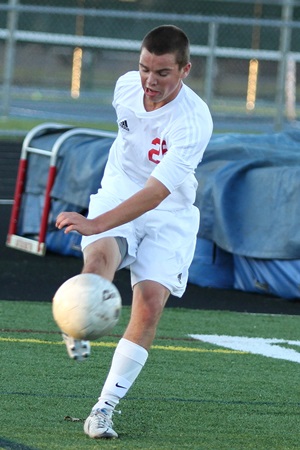 Way back in late August, Maine East spoiled the coaching debut of Rob Shepard. Since then, it's been upstart Elk Grove which has been spoiling the night for others.

The Grens (5-1-0, 3-0-0 in MSL play) continue to show they belong in the conversation of top of the conference table news. They delivered a striking statement of intent after an impressive 3-2 victory Tuesday night in Palatine, which gives Shepards' club the lead in the MSL after division rival Wheeling drew with Barrington 0-0 to put Elk Grove two points clear of both clubs.

"We got a mention in the top 20, and although that's not our main focus, it also means we have to prove we belong," began Shepard, "maybe tonight's win is a good start."

The Grens, in fact, were not getting too revved up after Tuesday's hard-fought win, taking a few minutes after the final whistle to enjoy and savor the triumph, before going through their usual cool down, and a slow walk to the bus outside of Chic Anderson Stadium.

"All of us are like family," Elk Grove's Manny Pallido said. "It's kind of like a brotherhood here because we've all played so long together. But even though we're happy to get out of here with a big win, all of us knows it's just one game. There's a lot of soccer ahead of us."

Teammate Jonathon Arzeta nodded his head in agreement.

"We played a very good first half, doing what we do best, but not in the second half when Palatine (4-2-2, 1-2-1) really came after us," added Arzeta. "We pulled it together when we needed to, but we've got to do better for the full 80 minutes."

The Pirates are in the middle of a grueling physical and mental three-day stretch. Palatine lost on the road to MSL West-leading Barrington on Monday, and play crosstown rival Fremd Wednesday.
The Pirates were hoping to stamp their mark on this match from the opening whistle, but after Sergio Hernandez missed out on a chance to beat keeper Alberto Centeno, Elk Grove struck for the first two goals en route to a 3-1 advantage at the intermission.

"I don't know what are problem was, but we didn't open well and Elk Grove looked so much fresher than we did," Palatine's Kevin Burke said. "With everyone knowing how much we needed three points tonight after our loss at Barrington, there's really no excuse for the effort we put in during the first half.
"We just don't give up goals, and to allow three in one game is just something you don't see around here."

After the break, Burke and fellow defender Evan Braun became very active in the Pirates attack, which spent most of the time in the Grens end.

The Grens took advantage of a friendly bounce on their goal in the 6th minute when Pillado unloaded a long-range freekick from just inside the midline and found the woodwork. The searing serve fell forward to an opportunistic Ivan Corona who drove it home and past keeper Kyle Leber.


Grens keeper Centeno did well to stay with a Burke attempt while scrambling on the ground at the quarter hour to keep his club in control. Minutes later, on the first of many brave challenges inside his box, Centeno came forward to punch away a well-placed long throw from Palatine's Gavin Falotico.
Falotico may have had to ice his 'throwing arms' after the match -- just as a pitcher would following a nine-inning complete game. The Pirates' junior mid had 10 throws in the second half when his club went all out in its search to equalize.

Arzeta's first of two goals should easily make a list of the top 10 goals of the season for the Grens. The senior and Gio Garcia – a whirling dervish and attacking monster in the center of the park in the first-half -- combined on a neat and quick counter, and when Garcia put a lovely early ball down the left side the Grens' faithful sensed something exciting could happen.

And it did.

The talented striker turned two defenders inside out before unleashing a filthy upper 90 right-footed blast to give the Grens a 2-0 lead at 19 minutes.

"We didn't defend that play and (Arzeta) literally turned two guys around," Palatine coach Willie Filian said. "That was a brilliant effort by him to score."

Palatine climbed back into the match by stunning the Grens with a goal of its own, coming off the foot of Tyler Curylo, who went just inside the post with a shot that had just enough pace and wiggle to it to elude the diving Centeno.

Curylo's goal came courtesy of a short corner contrived by Falotico and Erick Lule, whose nifty one-touch from the outside of his foot sent the ball back into the mix, where Curylo finished on it.

The Grens would build another two-goal advantage less than 10 minutes later with a sparkling display of attacking football, playing through Garcia and Corona in the middle, with quality touches and runs from the likes of David Bahena, Corona, Carlos Miranda-Gomez, Avery Chang and others.

"Their midfield tore us apart in the first half," admitted Filian. "They were fast on the ball, did a lot of quick touches, and attacked us at will."

Arzeta would follow the action with a keen eye for an opportunity, and when it arose, the senior would strike, finishing a Bahena helper in the 29th minute.

"Getting that early lead and grabbing the momentum away from Palatine was big for us, and except for that first goal they scored, we kept it up and never let them get back the momentum from us," offered Pillado.

The Grens nearly put the match out of reach in the opening moments of the second half, and if not for a superb save by Leber, the Pirates' fate might have been sealed.

Garcia put Bahena through in the 44th minute, but the Pirates co-captain made his biggest and boldest stop of the night to keep Bahena from getting into the back of the net.

"If Kyle doesn't save us there, I am not sure we have our chances to get back into the match," suggested Pirates assistant, Charlie Gries.

A lapse in concentration along the back nearly cost the Pirates, who then went about the task of biting into the Grens' two-goal cushion.

With defenders Burke, Braun, and Kyle Clancy stepping into the Grens' forwards and sending the ball the other way, and some gritty play from the likes of Hernandez, Jahir Flores and Rafael Esquivel, Palatine was suddenly putting their opponents under pressure nearly every time down.
The Pirates put six deep throws from Falotico and four corners into the scorebook and into the minds of Shepards' backline of Pillado, Chang, Arnold Aguilar and Daniel Hadler.

"That's what they do so well, and you have to admire how Willie's guys buy into that system, and work so hard to create chances and keep the pressure on, and as a new coach watching that first hand, it's really something to see the way his players do it all," said Shepard.

A third consecutive deep throw led to the Pirates' second goal when the Grens failed to clean things up in the area after a back-post toss, with Clancy running onto a loose ball and one-timing it past Centeno in the 52nd minute.

With the Grens' defense getting stretched more and more, and the set-piece chances coming with more frequency, one could almost sense the time was near for the Pirates to pull even.

Centeno punched a pair of balls out of his box, the best coming from Lule, and another, when Clancy's 45-yard freekick accelerated on the way in.

Hadler elevated to clear a pair of serves sent in during a 10-minute sequence, and with the Grens gasping for air they finally took a deep breath when a quick counter from Arzeta and Miranda-Gomez nearly beat the Pirates defense for a goal, if not for an offsides flag.

"(Elk Grove) went from attacking so well in the first half to dropping a few more back and defending its lead in the second half, and I think that helped us more than it helped them," began Filian. "If they had continued playing the way they did we might have been in trouble, even with our strong second half play."

The Pirates would push hard right until the final whistle, forcing Centeno to turn another Falotico corner over the bar, before a bending corner from Esquivel sailed all the way through the box untouched and off the pitch in the final seconds.

"(Coach) told us to get after it at the break," Burke said. "We didn't tackle, win 50-50's and second balls, like we always do, and just didn't play with any urgency or energy. But it turned into a game of two halves, because we turned around and played a strong second half. Too bad we didn't do that in the first."

Arzeta is happy to see his side continue to take strides this season.

"That first game of the year loss to Maine East (4-3) didn't really mean anything because we hadn't played a game yet for our new coach, Bahena was sitting out, and none of us knew what (Shepard) wanted," began Arzeta. "But we've gotten better with each game after that one."

The Grens play Prospect and then Glenbard East at home this week and Schaumburg next Tuesday, with an eye on Wheeling next Thursday at home.

"Our goal from the start is to get a little bit better with each game we play," said Pillado, "and to take one game at a time, and not look ahead to the next."