2013 ROSTER

Coach: Ricky Del Toro
Assistant coach: Adrian Magana

John White
Sr., GK
David Blaha
Jr., GK
Matt Fletcher
So., GK
Mick Wangler
Sr., D
Jack Maley
Sr., D
Luke DeSimone
Sr., M
Tim Wheeler
So., M
Dolan Hunt
So., D
Trevor Jones
Jr., M
Flynn Collins
Sr., F
Conor Morton
So., F
Gavin Sanchez
Jr., M
Jake Hutchison
Sr., M
Ricky Ruiz
Fr., M
Quinn Gratz
Fr., D
Joe Duffield
So., D
Blake Turcich
Jr., D
Kermith Bilbao
Jr., M
Quinn Turcich
So., F
Michael Bila
Sr., M
Nick Grant
Fr., D
Landon Meyer
Jr., F
Cam Sweeney
Sr., D
Sean Dickerson
Jr., M
David Carrano
Manager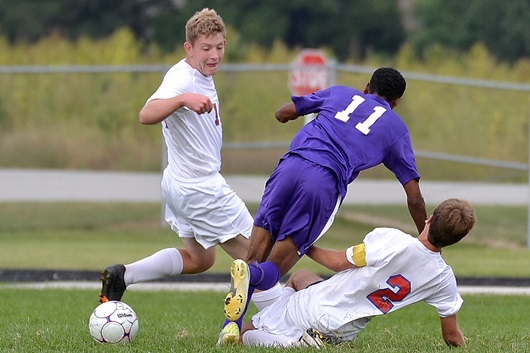 Cadets win a wild one over Chicago Christian
By Darryl Mellema
There are always low-scoring matches where people talk about how "it could have been high-scoring if the teams had taken their chances."

Tuesday at Marmion, both the host Cadets and visiting Chicago Christian created – and took a number of chances at the end of a wild Suburban Christian Conference match.

The Cadets looked in great shape in taking a 2-0 lead through the opening 23 minutes of play – but then saw the visitors rally to tie the match by halftime.

And when Chicago Christian took a 3-2 lead in the opening minute of the second half, the unthinkable seemed possible. But Marmion rallied in incredible fashion and scored four times in the second half to claim a 6-3 victory.

"This game summarizes our team right now," Marmion coach Ricky Del Toro said. "We're very inconsistent. We can be a very good team for 10 minutes and then next 10 minutes, we can be a very awful team, and that's just us right now. We're trying to work through this stage of inconsistency."

The win ends a two-match losing streak for the Cadets (4-5-1, 2-1 SCC), who travel to Guerin on Thursday before opening play in the St. Charles East Invitational next week.

"We haven't had the best start to the season," Marmion midfielder Gavin Sanchez said. "This is a big stepping stone in the right direction. We beat them 4-1 in the second half, so that's good. We're always trying to work on our offense and today, everything just clicked."

For a team that had early-season wins against Wheaton Warrenville South, St. Charles North and St. Francis – the "up-down" nature of the season has been frustrating for the Cadets. Tuesday's victory, wild as it was, could go some distance toward turning things positive again.

"It's more of a mental thing for these kids right now," Del Toro said. "Hopefully they can take away that OK, we got the win and we scored six goals and let's see if we can go forward a little bit."

And getting the win in the dramatic fashion they did allowed the Cadets to feel lifted as they left the stadium.

"The morale would have been terrible and to bounce back from something like a loss today would have been very, very tough," Del Toro said.


Thoughts of a nine-goal match seemed far away when Marmion scored its first goal, after 15 minutes, when Jake Hutchison sent a strong cross from the right midfield from which Flynn Collins scored with a close shot.

Eight minutes later, Gavin Sanchez and Hutchison combined in midfield before Hutchison sent another solid cross toward the left post. This time Trevor Jones knocked the ball into the net.

Through the match, Hutchison found crossing opportunities from his right midfield role.

"That was 'on' and I told him 'that's on,'" Del Toro said. "That was dangerous for us, getting it out wide and serving it in. That worked."

But then Chicago Christian rallied and scored twice before halftime, taking advantage of defensive breakdowns on both occasions.

"Our first half did not go the way we wanted it to, especially the last 10 minutes," Sanchez said. "The last 10 minutes were just an awful, awful performance. We weren't completing our passes and everything wasn't crisp and sharp like it should be."

If the end of the first half was hard for the home team to take, the opening minute of the second half was worse, as a further defensive breakdown gifted Chicago Christian the lead.

But just as the match seemed as if it might go against the Cadets, everything shifted.

In the fourth minute of the half, Collins was tripped just outside the penalty area and Sanchez scored from the free kick. After what seemed an endless stream of Sanchez corner kicks, the junior teamed with Collins and Sanchez scored his second goal of the match just after the midpoint of the half.

Sanchez completed his hat trick with 10 minutes to play – again from the penalty spot – after Ricky Ruiz was pulled down in the penalty area.

"It feels good, but what's even better is letting the team get the win," Sanchez said. "That's the really only important thing to me. I'm not a big stat person. I just want to make sure our team gets the win and that we do it in a good fashion."

Marmion's final goal also came on a penalty kick after Collins was taken down in the penalty area with 7 minutes left. Luke DeSimone scored the penalty kick.

"Everything seemed to work out," Sanchez said. "We got a couple of free kicks and put one in the back of the net. We got some crosses in the box, had a variety of corners and some penalty kicks. Everything just seemed to go our way after they took the lead."

Through the second half, the Cadets surged forward time and again, using the combined pressure of their attacking players to create openings and scoring chances.

"We have a lot of offensive players," Del Toro said. "We have to find a way for them to start clicking. I hope they start clicking sooner than later."

Lost with all the goalscoring was the fact that Matt Fletcher made key saves at key points and was left one-on-one for two of Chicago Christian's goals. By the time he came out of the match with five minutes to play to give John White a bit of time in goal, Fletcher was another of the team's keys to victory.

"He's only a sophomore," Del Toro said of Fletcher. "He just picked up this position in the spring and that's going to come with experience. It's a confidence thing too. I'm happy with what he's given us so far and I think he'll keep getting better."