Photos courtesy of Dave Kokaska
Lions head into big week off 1-1 draw with Warren
By Curt Herron
Lyons Township and Warren Township both set their sights on competing in next Sunday's Pepsi Showdown championship at Toyota Park.
But the top two seeds in the 32-team competition both were upset in the quarterfinals, which forced them to play consolation matches on Saturday.
So in a year where the four highest-seeded teams missed out on trips to the semifinals, the Lions and Blue Devils got to meet up after all.
While there was little at stake other than pride, Saturday's clash between LT and the defending Class 3A state champs figured to be a good matchup.
And that's just what unfolded at West field as Warren struck early in the final half and the hosts countered a bit later in a 1-1 draw in LaGrange.
LT had advanced to at least the semifinals in each of the last four years but Lane Tech put an end to those hopes with its 3-2 victory on Thursday.
Lane proved that its win over the Lions was no fluke when it edged Libertyville 1-0 in two overtimes on Saturday to earn a title date with Morton.
While Paul Labbato and his group would have liked to been on the middle field instead of their usual east side spot, the afternoon was beneficial.
"It was two good opponents going at each other and was very similar to a playoff game," Labbato said. "It was very chippy with yellow cards, everything that you would expect.
"I thought that we settled down and didn't try to get the ball off of the ground too much. We tried to learn from our mistakes on Thursday and tried to play some good soccer.
"I really liked Warren's goalkeeper (RJ Hill) and I think that he did a nice job and kept them in the match. I think we had four or five opportunities where he came up big.
"On the other side they created a few opportunities and I thought that our defense stepped up very well. They got us on a set piece, but other than that, I thought we did a nice job."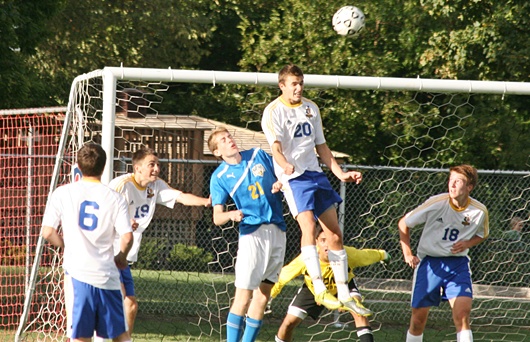 While nobody ever wants to lose a match, especially when it happens in a tournament such as this one, there can be positives from such a result.
"Obviously the kids want to go undefeated and win every game and as coaches you want to win every game and show your best," Labbato said. "But sometimes you need those key losses throughout a season to get you back on track.
"There are many years where you take losses and try to build something positive from it. We have a big week of conference games with Glenbard West and Hinsdale Central and we had to get refocused."
While many in the LT camp will be focused on longtime rival Hinsdale Central next Saturday at Bennett field, Labbato is concerned about Tuesday.
That's when the Lions travel to Glen Ellyn to face a 6-2 Glenbard West squad which fell 1-0 to Hinsdale in West Suburban Conference Silver play.
"The last time that we were out at Glenbard West, we had a very good team and we lost," Labbato said. "They bring a lot of challenges since they're very good on that turf field and we don't practice or play on turf.
"I'm excited for the challenge of Glenbard West and we'll try to focus on them. We need to remember that even though Saturday is a big game, if we want it to mean something, we need to get a win over Glenbard West."
Although the Lions (6-1-3) weren't thrilled about their first loss of the season and not being in the Pepsi semis, they looked for the positives.
And one of those was the chance to play against a Warren squad that may have lost much from a year ago but is still a rather formidable force.
"Out of any of the other teams that I would have liked to play against in this bracket, Warren was the team that I wanted to play against since they're the defending state champions," said senior Dustin Warf.
"I thought that they were pretty good on the ball and they played similar to us. We didn't start off too strong and they scored the first goal. But I thought that we possessed a little bit more and just did our thing and played it on the ground and got one back.
"We've got some big conference games this week so we're going to train and get ready for them. I really like our whole team. Everyone has good skill and comes out and does their thing. We play really well on the ground and keep possession and that's what you need.
"I really like our center mids since they're really good tactically on the ball and they have good foot skills. We've got speed up top and some big guys who can win it in the air. If we want it, we can do it because we have the guys. We have the right recipe."
Warren had a pair of early chances but keeper Peter Nolan deflected a shot from Jack McKearnan and halted a liner from him on a corner kick.
LT countered with a couple of threatening corner kicks as well as a free kick from Patrick Duncan but keeper RJ Hill thwarted each attempt.
Nick Jumic took over in goal for LT at the start of the second half but was unable to prevent the Blue Devils from grabbing the early lead.
In the 43rd minute, Elijah Parker sent in a corner kick toward the opposite post and Karl Bappert was there to make the touch for the goal.
Just over 10 minutes into the half, Duncan got free in front of the net and looked like he might even things but Bappert caused a deflection.
Shortly after Duncan was stopped on another effort, the Blue Devils went a man down for the final 25:45 of play after receiving a red card.
LT quickly took advantage of the situation when Cristian Sanchez sent a pass to Duncan, who scored to level things again in the 58th minute.
Not long after getting the equalizer, the Lions hoped to move in front but Frankie Kocimski sent a header that went a bit wide of the mark.
In the final 10 minutes both sides had chances, beginning with a shot by Rafa Macias to David Fiflis, who saw his first action of the year.
Not long after Kocimski was denied, Mikey Cain saw his long free kick halted by Fiflis, who had been out while recovering from an injury.
As the time wound down, Matt Murphy sent a pass inside to Duncan, who got a foot on the ball before Hill was able to corral the shot try.
One last LT challenge came on a Kocimski throw-in to Pearman Clarke, but his effort went wide and the two sides walked off on equal terms.
For Blue Devils coach Jason Ahonen, the chance to close out play in the Pepsi Showdown against a squad such as LT is definitely a positive.
"Playing here gets us ready for the postseason," Ahonen said. "Our conference is tough enough as it is, but it's becoming more and more difficult to find opponents to play us at times. It's not like we can just go down the street and play against somebody.
"I thought that the boys played well, especially when it was 11 v 11. I thought that we had the run of play for a lot it and were a little unlucky in the first half. Overall, I'm very proud of the effort. Win, lose or draw you base your team on how hard they play."
After losing several talented players from last year's special squad, Warren is hoping that this new group can establish its own identity.
"The thing that I like the most about this group is just the way that they carry themselves," Ahonen said. "They understand that what happened last year was last year. They're trying to find their own niche, but basically everyone is basing things off of last year's results.
"When you lose the player of the year and four guys who are Division I, that's a totally different ball game. We struggle to put the ball in the back of the net consistently and we're still a work in progress defensively, but we're getting better in each game."