Custom Search
2013 ROSTER

Coach: A.J. Cappello
Assistant coaches:
Mike Hanley, Brian Taege, Tony Miocic
and Brett Oates

Daniel Kim
So., M
Andrew Kaufmann
So., M
Spencer Dixon
Sr., GK
Austin Ryan
Sr., F/M
Marcus Inglisa
Sr., D
Nick Voss
So., M
Cristian Guzman
So., F
Abe Villa
Sr., D/M
Erik Merdinger
Jr., D
Jake Blankenship
Jr., D
Daniel Vandewalker
Sr., D
Mitch Materna
Sr., D/M
Konrad Wasilewski
So., F
Jake Jemmi
Sr., M
Tim Hubner
Sr., F
Ean Wilson
So., M
Aaron Camp
Jr., GK
Nick Paganucci
Sr., D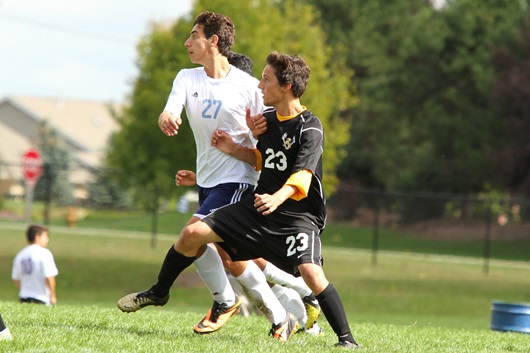 Eagles' D finds its physicality in Rockford
By Gary Larsen
After giving up too many goals in losses to Wheeling and Grayslake Central, Jacobs aimed to get back on track defensively heading into this year's 23rd annual Indian Cup, a 16-team tournament hosted by Hononegah.

The Eagles played well in a 1-0 loss to Dundee-Crown on Friday, and again only gave up one goal in a 2-1 win over Champaign Centennial on Saturday afternoon.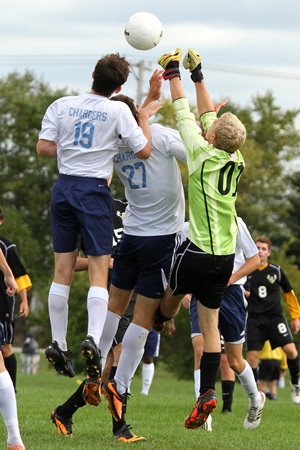 Teams play 30-minute halves during the Hononegah tournament and the first 30 minutes on Saturday morning against host Hononegah saw Jacobs fall behind 3-0 before battling better in the second half en route to a 3-1 loss.

The Eagles rebounded nicely in the afternoon game against Centennial.

"The last 90 minutes we played in this tournament, out of 120, we played great," Jacobs coach AJ Cappello said. "We just started off slow this morning against Hononegah. Had we played better in the first 30 minutes against them, it would have been a great weekend, all-in-all."

Keeper Spencer Dixon and a backline led by Mitch Materna, Marcus Inglisa, Erik Merdinger, and Nick Paganucci are aiming to continue playing the kind of defense they showed over the weekend.

"(Dundee-Crown) is a big rival so we always want to step it up a lot when we play them," Paganucci said. "We picked up our physicality a lot in that game, and that's what's been lacking in our team a lot. Our backline hasn't been physical enough but we really picked it up in that game.


"We still need to sort things out in the back a little bit more but we picked up our physicality in this whole tournament and it turned things around for us."

Cappello was happy to see his boys in back elevate their play.

"They sorted it out big-time today," Cappello said. "They were aggressive, their communication was better – we had a couple games in back where we were just giving up goals, but we were back to making them earn it, cleaning up chances, and not conceding quality looks."

After Centennial struck for a 1-0 lead in the game's first minute of play, the Eagles kept the Chargers out of net the rest of the way. Jacobs answered with two goals before halftime to secure the win.

The Eagles first tied the game on breakaway that saw Centennial's keeper make an initial stop on a Tim Hubner shot, but junior outside mid Jake Blankenship stayed with the play and finished on the follow-up. "(Blankenship) was working hard even though he wasn't involved in the play, which was nice to see," Cappello said.

On its second goal, Jacobs knocked the ball around before Konrad Wasilewski buried a shot from distance. "We had some guys make some nice runs, they kept the defenders back, and (Wasilewski) just pulled a shot from 22 and tucked it in the corner with a nice little left-footed strike."


The game-winner was the sophomore Wasilewski's fifth goal of the season.

"He's got that striker instinct. He's got four or five goals on the year but they're all just quality goals when he gets them," Cappello said. "He's only a sophomore, so once he adjusts a little more to the speed of play and the physicality, he'll be a very nice player."

"He doesn't wait. He gets a quick turn, head up, and he can put the ball where he wants it on a quick touch, which is hard. It's a goal scorer's mindset, which is hard to teach."

That mindset comes down to an aggressive and positive approach in the final third.

"You have to know you're going to score that goal. You have to get into the (mindset) where you know you're going to take it forward and rip a shot," Wasilewski said. "You have to have that positive thought of knowing you're going to score, before you take the shot. You can't out-dribble a bunch of people and then have a negative thought."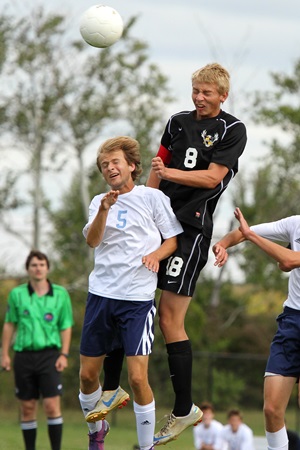 With striker Hubner keeping his on-field energy at a high level all season long and Wasilewski staying dangerous, players like Ean Wilson and Daniel Kim have also helped key the Eagles' attack.

"(Wilson) and (Kim) have really good foot skills and they can really play a ball out," Wasilewski said. "We've been combining different passes and changing up the positioning, too. I think this tournament showed that our offense can be really strong if we get into the habit of passing and playing in the right direction."

Cappello was also pleased with the weekend's effort put in by team captains Hubner and Materna, "and Ean Wilson out of the midfield has been stepping up, (Nick) Paganucci had a good weekend, and Konrad (Wasilewski) just scores goals."

The Eagles host FVC rival Crystal Lake South on Tuesday before traveling to highly-touted Huntley for a conference game on Thursday, and a game at Evanston on Saturday afternoon.