Custom Search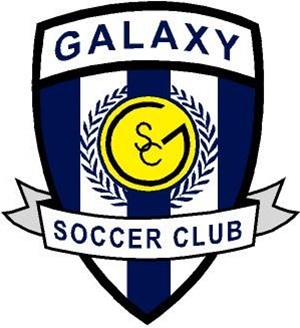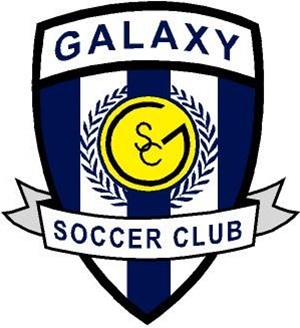 2013 ROSTER

Coach: Kris Grabner

Austen Emery
Sr., GK
Thomas Helm
Sr., GK
Kyle Carberry
So., M
Angel Sanchez
Jr., D
Aaron Koterbski
Sr., D
Reyman Solis
Sr., M
David Pardo
Sr., M
Eduardo Gonzalez
Sr., M
Scott Dorvilier
Sr., F
Niko Mihalopoulos
Sr., M
Michael Zembrzuski
So., M
Jason Zobott
So., M
Jack Bessey
Fr., M
Christian Ramos
Sr., M
Amir Dajani
Sr., M
Jakub Rys
Sr., D
Jaime Quintana
Sr., M
Allan Josue Barrientos
Fr., F
Travis Walsh
So., M
Manuel Menjivar
Sr., D
Matthew Kitsis
Sr., M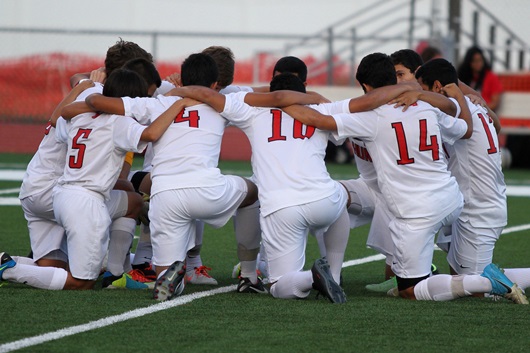 Raiders fall to Morton in a wild one
By Gary Larsen
The second half of Morton's 1-0 win over Huntley on Thursday was the kind of back-and-forth slugfest that can give a coach an ulcer.

But from a fan standpoint, the Pepsi Showdown quarterfinal game in Huntley featured a thrill-a-minute after halftime.

"We started off slow but came out with the mentality to play hard in the second half," Huntley midfielder Niko Mihalopoulos said. "Morton's a good team and we had to pressure them hard. Their technique is great, they can obviously move the ball very good, and we just needed to work harder.

"At the end of the day we didn't get the result but we'll take this and learn from it."

For 79 minutes and 48 seconds on Thursday, it was seemingly impossible to sneak a shot past either Huntley keeper Austen Emery or Morton keeper Ian Chacon.

It took one perfect shot to finally change that fact, when Morton's Leo Delgado flicked a ball under the crossbar from six yards out – with 12.2 seconds left in the game – on a freekick serve from Jovany Garcia.

"I just saw the ball and put my head on it," Delgado said. "There was a defender behind my back and I thought he was going to get it. But he didn't."

Morton (7-1) moves on to play Wheaton Academy (7-1) in the tournament's semi-final round on Saturday, while Huntley (9-1-1) will face Saint Viator at Lyons Township.

That Thursday's game came down to a dead ball situation didn't surprise Huntley coach Kris Grabner, though he was surprised it came against his Raiders.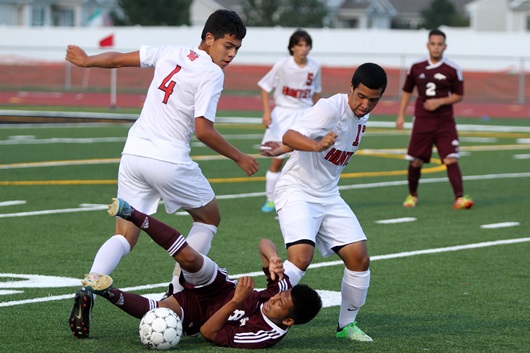 "I think we had won just about every ball served in there, that I can remember," Grabner said. "We lost one of them at the wrong time. It's unfortunate but you can't complain too much. You've got two good teams going at it and if we're going to lose to somebody, let it be to a team like (Morton), that's that skilled and quick, and gets the game, and is well-coached. It's a quality squad."

Huntley (9-1-1) went into Thursday's quarterfinal game on the heels of a 1-0 overtime win against Lake Zurich, while Morton (7-1) won 2-0 over Streamwood to advance.

The first 10 minutes of play lacked energy but both teams began finding better intensity as halftime neared.

For Huntley, the energy changed when Grabner sent Rayman Solis into the game. Mihalopoulos found Solis twice on the left side, and the senior Solis found a few shots on his strong left foot.
Solis would have had a goal at 33 minutes if not for a save at the post by Chacon.

"We had no energy to start the game and he came in and gave us a lift," Grabner said of Solis. "He lifted us up and gave us the energy we needed. The save (Chacon) made on Rayman's shot was amazing. Rayman's got a great left foot and that ball was tattooed."

Morton's Jovany Garcia and Edgar Garcia sent in a few shots from distance on Emery before halftime, and Chacon punched out a freekick at 39 minutes taken from long-range by Huntley captain Jakub Rys.

After a so-so first 40 minutes of soccer, Grabner had a brief chat with his captain.
"As we walked out I told Jakub 'the two of us are mellow right now. One of us can't be that way, and it's not me'," Grabner said. "He looked at me and said 'okay'. He needed to get the team fired up, and he did that. Those are the things we need captains to bring, and he knows that."

Rys and the Raiders came out guns blazing in the second half, earning multiple freekicks on Morton's end and not allowing the Mustangs as much room to operate as they had in the first half.

"The first twenty minutes of the second half weren't great," Morton coach Mike Caruso said. "The light bulb finally went on in my head and I moved Jovany Garcia to the middle, and we got more possession in the final twenty minutes of the game. I thought we got more possession with his ball skill in the middle. I thought that's what kind of settled us down a little, because (Huntley) was bringing it to us."

"And (Chacon) kept us in it when we needed him."

The game's final 30 minutes saw both teams taking turns finding dangerous space. Huntley's got a valuable pair of outside defenders in Angel Sanchez and Manuel Menjivar on either side of the steady Rys, but Menjivar left the game with a knee bruise at 49 minutes.

Senior defensive mid Aaron Koterbski slid back to the outside and immediately got busy, blocking a shot attempt by Edgar Garcia almost immediately upon moving back, and playing the relentless style the Raiders rely on him to bring.

"You're not going to see a kid play with more heart than (Koterbski)," Grabner said. "He's been our player of the game a couple times this year."

Morton sent a long ball over the top that one-hopped to Emery at 63 minutes, before Rys sent a ball ahead in transition that resulted in Solis sending a hard-hit cross that Chacon snared at the near post.

Huntley nearly converted at 68 minutes, if not for Chacon. Solis took a freekick from 30 yards out on the right side and the ball was flicked to Jack Bessey. Chacon tipped Bessey's shot taken from 12 yards out on the left side off the crossbar and the ball fell to Mihalopoulos.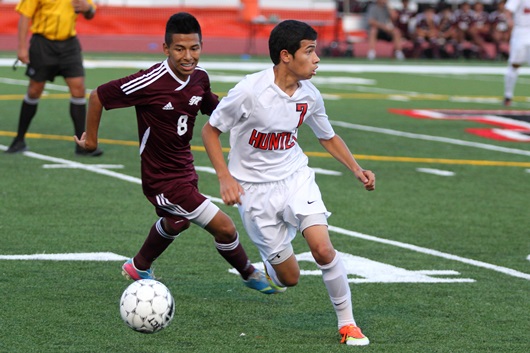 Chacon quickly hit the turf and made the stop on Mihalopoulos from point-blank range, dead-center in front of the goal.

"I should have hit it in the corner," Mihalopoulos said. "But both keepers played great tonight."

Emery made an outstanding save of his own at 70 minutes on a ball Morton crossed to the far post from the right side. The Mustangs' Chabello Marquez hammered a diving header at the post but Emery was up to the challenge.

"He made that save on the doorstep and he got to the ground quick," Grabner said. "I don't know how he even flexed that fast and that was a great save. He came up with about five of those (saves) at the Lake Park tournament."

Chacon saved Mihalopoulos at 72 minutes from 20 yards out, and Emery saved a head shot from Josiah Velos two minutes later.

Sanchez beat Marquez to a through-ball sent up the gut at 75 minutes to destroy a scoring chance, and both teams played a man down for the game's final five minutes, after a foul and a minor skirmish between two players in a corner of Morton's defensive third.

Morton's Rafael Herrera earned a corner kick in the game's final minute that Bessey cleared out, setting up Jovany Garcia's freekick serve with 12.2 seconds left and Delgado's game-winner.

And another rock-solid team at Morton this year left the field happy to have survived a wild one.

"They play hard and they make up ground as quick as any team I've seen in a few years," Caruso said of Huntley. "Their motors go, the whole game.

"We have to be able to match the intensity of these teams. I thought they beat us on intensity up and down the field tonight, and beat us to fifty-fifty balls for the most part."

Grabner was also pleased with the work put in by David Pardo, Travis Walsh and Matt Kitsis on Thursday, and Mihalopoulos was happy with the way his side competed.

"We played hard. We all busted it," Mihalopoulos said. "It was a tough game and they came out here and gave us competition. I'm sure my whole team enjoyed that competition and we'll take this game tonight and we'll learn from it."