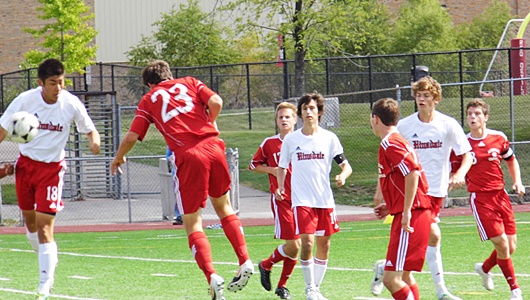 Red Devils, Redhawks settle for a 1-1 draw
By Curt Herron
When top squads such as Naperville Central and Hinsdale Central get together, both sides naturally would like to walk away from it with a victory.
But as is often the case in such regular season clashes, there are no winners on the scoreboard since a draw is a decent way to conclude a match.
Such was the case when the Red Devils entertained the Redhawks on Saturday at Harvey Dickinson field on a beautiful, sunny afternoon in Hinsdale.
And although neither of the Centrals could walk away claiming victory following the 1-1 effort, no one seemed to be all too troubled by that fact.
For squads aspiring to finish their campaigns with a trophy at the state finals, a matchup such as this one could only serve as being beneficial.
"Hinsdale Central is obviously a great team," Redhawks coach Troy Adams said. "They're fast, they possess the ball well and they switch the field. They do the things that as a coach you'd like to see.
"I think that our initial response to their speed and pressure was a little bit less than we would ideally like. We kind of took 20 minutes to figure out that 'they're fast and they're going to put pressure on us.
"It's definitely good to play these games because these are the games that you want to play so that you're better when you get to October. You see it now so you're not shocked by it then. That's why you schedule teams like Hinsdale Central.
Adams and his program know a good deal about playing at the end of the season, considering that they've dropped back-to-back heartbreakers in state title matches.
Hinsdale (9-0-2) aspires to get to that position this year and realizes that meeting up with quality sides like Naperville (7-1-2) can only help.
"All in all, I was very, very happy," Red Devils coach Mike Wiggins said. "I was pleased with how we played on both sides of the ball. I thought that we were organized defensively and we really did a good job of closing down spaces.
"When we got the ball in transition, we looked to switch it out and we found the open man quickly. We created some fantastic opportunities from the midfield into the final third. We were strong in the air and I can't complain about how we got into the attack and created chances.
"We looked at this as a state championship environment and a state finals-level of intensity because we were seeing a team that's been there a couple of times. That was the level that they brought and I thought that we handled that extremely well."
The Red Devils grabbed the early advantage in the 16th minute on a goal from Bryan Loebig, which followed an assist from Jack Niestrom.
That's how it remained at the break but the Redhawks got the equalizer in the 60th minute when Jay Tegge found David Murphy for a score.
Hinsdale, which had won seven straight, had several good chances down the stretch but couldn't put one more away to break the deadlock.
"It's a shame how their goal went down because really it was a deflection in the midfield that found a guy in the right spot with a great touch," Wiggins said. "But credit to him because it was a great shot. He really hit it with everything that he had.
"I thought that their goal really changed the momentum a bit, probably for a good 15 to 18 minutes where we were kind of just trying to figure things out. Once we started to find someone as a target and building our attack again, things were in our favor for the last 20 to 25 minutes."
Adams was pleased with how his Redhawks, who had won three straight, responded following the early goal to get some positives from the match.
"I thought that we did a much better job in the last 20 minutes of the first half and in the second half of being patient defensively, making sure that we were organized and getting into the attack a little bit," Adams said.
"A lot of the game was played in the midfield, which is about what you'd expect for two teams like this. It would be nice to see them again come state tournament time since they jammed our two sectionals together.
"Obviously there's better results but this is the result that we truly need in order to become a better team. At this point in the season in a nonconference game, you're trying to become a better team, and this game made us a better team."
Jordi Heeneman and Devon Amoo-Mensah were denied early by Red Devil keeper Wes Bergevin while Joe Kallikaden returned the favor to Jack Baderman.
Just past the quarter hour mark, the hosts moved in front when Niestrom sent a pass toward Loebig, who headed in an attempt for the initial score.
Sam Johnson and was thwarted a short time later and then Evan Floersch's long free kick was deflected and Brandon Kim's subsequent try was halted.
As the first half wound down, Heeneman was stopped on a close-range effort and Christian Meyer suffered the same fate in the final minute of play.
"It was good to get this kind of preparation for the state playoffs," Red Devils senior TJ Schmidt said. "You're only going to get better if you play good teams. Credit goes to them for giving us a really good match. We went with them the best that we could.
"As a group, we bring a really good spirit and we love to have fun when we come out to play. We really try to bring our best effort every time that we come out. This is a really good group of guys and it's been a lot of fun so far.
"One thing that we talk about as a group is playing for our each other, and not just us. That's been a focus point this whole year and hopefully it takes us to the next level. I'm looking forward to us to hopefully having some more success later in the year."
The Redhawks came out strong following the break as a Tegge liner was deflected and Derek Kerbs was stopped on a header off a Sam Reskala corner.
After Heeneman was again denied on a short attempt, Kim sent in a long attempt for the hosts to close out the initial quarter hour of the new half.
Just as that half's midpoint was approaching, the visitors evened things when Tegge sent a pass to Murphy, who connected to complete the scoring.
The Red Devils had some good chances down the stretch, beginning with Floersch's long free kick that was punched away and Kim's close-range attempt.
As play moved toward the final 30 seconds, Meyer drove downfield and looked like he might threaten but Mitch McGuire stepped in to break things up.
"Hinsdale Central is a great team and they put up a good fight and hopefully if we play them again, we'll put up another good showing," Redhawks senior Brad Holland said. "This was really good experience for us when we play high-caliber teams in the postseason.
"Our team is clicking really well and we're getting really smooth in with our play in the field and working as a unit. It's really great to not having anyone play like individuals. The fact that we can play as a squad should really help us as we go forward.
"With a lot of us being on the team for multiple years, we have experience playing with each other so we know who's going to do what when. We don't just get along on the field but also off the field and the energy that we bring onto the field is really great."
Both squads return to conference action on Tuesday. The Redhawks play at Wheaton Warrenville South while the Red Devils entertain Proviso West.
Then they get a few days of practice prior to Saturday matches in which Hinsdale is at rival Lyons Township while Naperville hosts Oswego East.
Following the match, the Red Devils moved over to the adjacent Centennial field to honor all 19 of the seniors who are members of their program.
Eight of those are on the varsity squad: JD Garnett, Alex Knight, Max Krohn, Christian Meyer, Josh Meyer, Manos Proussaloglou, Kim and Schmidt.
Other seniors are Michael Balsamo, Joey Fishbein, Alex Jeannin, Connor Kapp, Jeff Larson, Danny Martinelli, Ben Norton, Jordan Page, Nick Pervan, Michael Ruminski and Cole Williams.