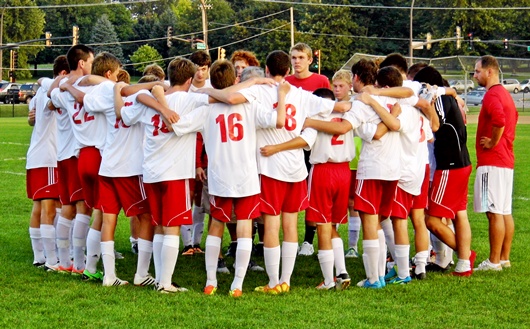 Redwings open ESCC play with victory over Marian
By Curt Herron
After not playing as well as they'd like against Bolingbrook, Benet Academy set its focus on something better in Thursday's East Suburban Catholic Conference opener.
Although the match with Marian Catholic was postponed a day due to weather, the delay didn't seem to have too much of an effect on the Redwings.
Benet utilized its depth in the final half to score four goals while limiting the Spartans to just a pair of shots as it captured a 5-1 victory in Lisle.
Marian (9-3-2, 0-1-1) won its first nine matches this season to assure it of its best victory total since 2006, when it won a dozen matches.
But the Redwings (8-1-0, 1-0-0) stretched their winning steak to seven as coach Sean Wesley was able to let everyone see plenty of playing time on the warm afternoon.
"Before the game I asked some seniors, 'what do you guys think about today?' And one kid said that we were going to win and another said that we were going to play great soccer and that's kind of what I wanted to hear," Wesley said.
"Obviously their goalie (Chris Taborn) is a fantastic player and he kept them in it for the first half. We kept getting chance after chance and didn't put our heads down and we kept shooting the ball and ended up with almost 30 shots today.
"They're a good team that obviously has a good record. Our depth is huge, especially on a hot and humid day like today. I had guys looking at me for a sub and he (Marian's Nasser Shahtaji) did too, but they didn't have the depth that we have."
Since beating Naperville Central in the Best of the West finals, the Redwings beat Fenton last week and then edged Bolingbrook 3-2 on Tuesday.
While that's all well and good, the expectations have picked up considerably for the Redwings in the wake of their Best of the West championship.
"Obviously the conference is important, but after winning the Best of the West, the kids have pretty lofty goals," Wesley said. "So we want to make sure that during the next three weeks or so that we keep getting better every day.
"We want guys to keep understanding their roles and that when we get chances in anxious moments that we do something good with it and today was a good step toward that.
"We said early in the season that I thought that this was the deepest team that we've had, and then we lost to Waubonsie and suddenly you start rethinking that. But we proved it today by going 23-deep and still playing decent soccer."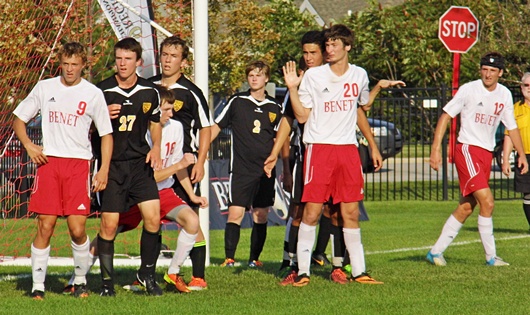 A lot of different Redwings fired off attempts against keeper Chris Taborn, who did his best for a half of trying to keep the the hosts at bay.
Things finally started to click for Benet following the break and a total of half a dozen players ended up having a hand in the scoring act.
Michael Rindler and Kyle Kenagy each scored a goal and assisted the other while Daniel Morefield, Eddie Manzke and Sam Knapke also connected.
After Taborn halted efforts from Rindler, Paddy Lawler, Andrew Heaton and Kenagy, two players off of the bench put the hosts ahead for good.
In the 29th minute, Trenton Wray sent a pass inside that found Morefield and he put in a close-range shot to give the Redwings a 1-0 lead.
As the opening 40 minutes wound down, Manzke was thwarted and then Knapke bounced one off the crossbar and later was turned away by Taborn.
Kenagy got off the initial chance of the new half and then forwarded a Knapke corner kick to to Rindler, who connected in the 43rd minute.
"We passed really well today and I feel like everyone got involved and a lot of people had shots," Rindler said. "This was kind of a statement game for us. Conference means a lot to us so we really wanted to come out and play hard today.
"Our coach says that we're always going to have a target on our backs for the rest of the season, so we always have to come out strong and be on our toes. I really like our work ethic. In every practice and game, everyone gives their all.
"That really helps because it makes for a good atmosphere in which we can perform well. I think that a lot of our players have a certain drive to win and to play the best soccer that we can and that does great things for us on the field."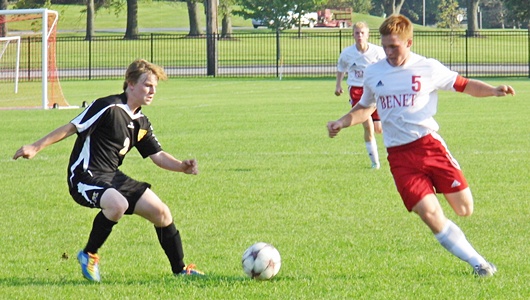 The Redwings added to their lead in the 51st minute when Manzke fired in a long try over the keeper's head but just under the framework.
Not long after Theo Athanassiades was stopped, the Spartans did something that they haven't been able to pull off in awhile against Benet.
In the 59th minute, Luiscarlo Avila sent in an attempt that eluded keeper Konrad Bayer to give Marian something positive from the match.
It was the first time since 2007 that the Redwings allowed a goal to the Spartans, who recorded their last victory over Benet that season.
But the excitement didn't last long for the visitors as Knapke tried to answer right away but his liner was tipped over the top of the net.
The Redwings regained a three-goal advantage in the 70th minute when Rindler sent a pass to Kenagy, who got free for a close-range effort.
A Spartan handball in the box in the 71st minute led to a penalty chance for Knapke, who converted to cap a fine day distributing the ball.
Benet didn't stop there, however, as Rindler and Lawler both sent tries off of the post before the center official blew the final whistle.
"We needed this win today since we kind of made it more a little interesting than we needed to against Bolingbrook," Knapke said. "I definitely have to give them credit but we came out a little flat but pulled it out in the end.
"We talked before the game about getting back to playing how we know how to. We definitely want to build off of the success that we had in the Best of the west championship. We want to make the rest of the season as special as that.
"We knew coming into the season that we had a deep team and we had a bunch of guys competing for starting spots. We know that we can throw anyone in there and they're going to give the max in attitude and effort.
"That's another one of our team's strengths as a whole. We know that every guy who goes out there is ready to compete all of the time. We also have tons of speed up top and we're resilient. We've shown that we can win no matter what."
The Redwings hope to continue their winning ways when they return to ESCC play on Saturday with the long trip to Mundelein to face Carmel.