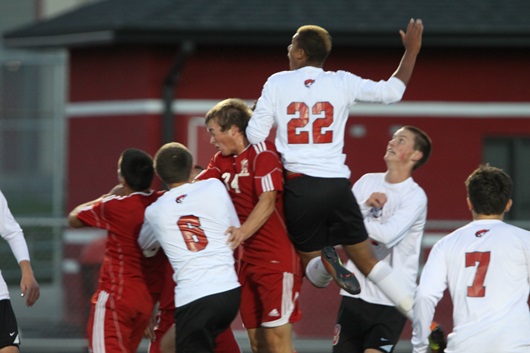 Broncos top Palatine on Phillips goal
By Mike Garofola
Photos courtesy of Mike Harrington
In a season when it appears each and every point and fixture could decide the division champion, Barrington earned a precious three points Monday night after a hard-fought 80 minutes with MSL West rival and reigning conference champion Palatine.

The Broncos' (7-1-1, 2-0-0-6 points) league hopes received a huge shot in the arm after they secured a 1-0 victory on the turf of Barrington Community Stadium.
They did it using a ferocious header for a goal at 62 minutes from Giles Phillips, and some stout defense to hold off their guests to go two points clear of Palatine coach Willie Filian's club.

"This is an important and really busy week for us and for Scott's guys too," Filian said. "So both of us knew coming out of here with three points or at least one was a big deal.

"You saw how the game went. Especially in the first half it was non-eventful, and when it goes like that it usually plays in our favor at the end.

"But Barrington did something which we nearly always do better than our opponent, and that's to win the dead-ball and set-piece war tonight. I felt they were the better side when it came to that department, and that's why they won."

Both managers figured it would be a tightly-played match, with the two sides entering the night conceding just four goals between them. The Pirates (4-1-1, 1-1-1-3 points) had not allowed nary a goal behind the wonderful work of keeper Kyle Leber.

Barrington and keeper Pat Deroche posted their fifth shutout of the season with the win, but the Broncos would also like to see their attack get on track.

"We've been very happy with the way our guys in the back have played, especially with it being such a new unit of players," Steib said. "But ever since last weekend in our match with Boylan (in the Barrington Classic final) we've struggled to be dangerous in the final third.

"Nobody seems to have that cold-blooded finisher this season, from what I've seen thus far, so goals have become a real commodity, and we knew one goal just might be the difference tonight."

Neither Leber nor Deroche were called into action much during the first period, as play in the middle of the park lacked creativity. But that wasn't for a lack of effort from the home side, according to Filian.


"We had trouble staying organized in the middle during the first half, and their guys tackled well, and had a higher percentage of 50-50 balls going their way," Filian said. "Once we got ourselves back into the game in the second part of the first half, the game evened out a little bit more, but there wasn't a whole lot to watch in the way of exciting play during that time. It stayed pretty much in the middle of the park."

The Broncos did manage to record a handful of deep throws, corners and freekick opportunities in the first period, many coming due to the high work rate of senior Connor Hennelly.
Hennelly put in his second consecutive 80-minute performance after finding his way back to fitness, after dealing with an early-season injury.

"Connor still isn't nearly a hundred percent but he is so valuable to us in the middle," Steib said. "You can see how much he means to us on both sides of the ball and if he and Logan (Morris) can begin to combine and work together a little better, our attack will be that much better for it.

"Our game is all about possession, and we did a pretty good job of it tonight," Hennelly said. "But it still came down to defending, keeping them under pressure and winning the 50-50 balls, and creating chances from our set-pieces."

The Pirates found a way to test the Broncos' backline when Rafael Esquivel put on a nice ball out of the back onto Dan Cushing. If not for an alert read from Deroche and his backline mate, Tyler Anderson, the Pirates' big striker may have turned nothing into something at 22 minutes.

Palatine's Sergio Hernandez – who was a pest whenever he was given a little space on Monday -- zig-zagged his way free on a lovely little carry to initiate a foul, but the ensuing freekick from Kyle Clancy was wide from 35 yards.

As the first half drew closer to an end, Morris, Jonathan Wilson and David Conrad connected in close but senior Brennan Harding was in position to clear a troublesome attempt from the senior Conrad.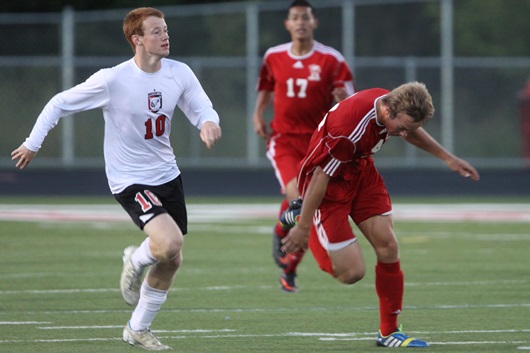 Steib brought on Sean Kim and Wesley Collins after intermission to add fresh legs up top, and the duo did just that for their coach.

"Sean is still working on getting himself fit and a hundred percent but he's coming a long way," Steib said. "He'll provide that extra spark we need in our attack. But one of the bright spots for us tonight was Wesley, who ran hard with a lot of pace, to help give us that little something we needed up there."

Wesley seemed to be in on several little exchanges during the early part of the second period, twice on the tail-end of a few long balls sent out of the back by Philips. Wesley used a bit of trickery to set himself free long enough to hit a low drive at Leber, which the Pirates keeper saved with confidence.

After a left-footed half volley from Esquivel was hauled in by Deroche, the Broncos would come down and initiate a chance on a corner at the far flag. It didn't take long for the home side to convert when Hennelly's sensational inward serve found the head of Phillips who thumped in what proved to be the game-winner.

"We're fortunate to have a couple of six-foot-plus guys on our roster, and especially with Wilson (6-4) and Gilles (6-1) we should be targeting those players on nearly all of our set-piece chances," Steib said. "Tonight we did, and it paid off for us."

"It's disappointing to concede a goal on something that we take pride in scoring on and defending against," Palatine's Brannan Harding said of Barrington's set-piece goal.

Filian moved his all-star center back Clancy into the middle to inspire the Pirates attack, and the four-year star nearly did so on his first touch at the position.

"Kyle almost got us even when he ran onto a ball and put one on frame, but we just didn't generate enough quality chances for ourselves tonight," Harding said.

While the visitors threw numbers forward in search of an equalizing goal, and counted on Harding, Kevin Burke and Evan Braun to defend in front of Leber, the Broncos did well to manage its one-goal advantage.

Austin Grzebieniak and Kim worked some magic to create a couple of corners that helped Barrington eat minutes off the clock, Leber turned a low strike from Hennelly around the post, and Griffin Claes nearly doubled the lead in the 77th minute, steering his shot wide after Conrad set the junior up from in close.

"It would easy to say that maybe we should go play with a 3-5-2 to help kick-start our attack, but we're not soccer savvy enough yet to play that type of formation," Filian said. "So we'll just continue to work to find ways to create and be dangerous.

"This is a busy and tough week for us, with back-to-back-to-back games (Barrington, Elk Grove, Fremd) so we played maybe just 12 or 13 guys tonight, and will come back against Elk Grove and go with some fresh legs and see how it goes for us."

Palatine knows it has to put Monday's loss in its rearview mirror and get back at it.

"It was a tough loss, but we'll pick ourselves up and get ourselves ready for Elk Grove," Harding said. "I have no doubt we'll be ready."

Next up for Barrington is the high-flying and vibrant attacking club from Wheeling, which will welcome the Broncos with a near spotless 8-0-1 overall record on Tuesday.

"That was a big three points for us to get tonight, but how ironic to score and win like we did against a team which has made a living doing that for as long as I've been in the league," Steib said.

"We're confident that Deroche and our backline of Tyler (Anderson), Jack Harrington and (Jason) Frenk and Giles can do the job for us, and slowly but surely the rest of our play is coming around. The real (defensive) test will be with Wheeling, a team that we hear is technically skilled and can attack and create.

"So the challenge will be on everyone on Tuesday. But we're looking forward to it for sure."