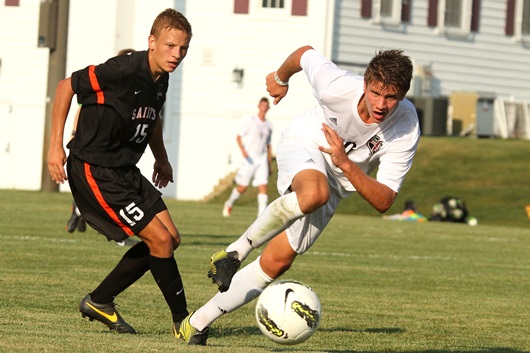 Warriors battle well in loss to St. Charles East


By Gary Larsen
Take two rock-solid goalkeepers and a gritty backline and you get what Wheaton Academy got on Monday night in West Chicago.

Shut out.

In a quality end-to-end game throughout, St. Charles East (4-0-1) used a pair of second-half goals to win 2-0 over the host Warriors (3-1-0), posting its fourth shutout of the season in the process. East has outscored its opponents 19-2 through its first 5 games.

"The lads in back have been fantastic," saints coach Paul Jennison said. "We're not the biggest team in the world but we're physical. They're doing a good job in back."

Starting defenders Kyle McLean, Kevin Heinrich, Jacob Sterling, and Brandon Villanueva have shined in front of keepers Mike Novotny and Chris Lucatorto, who have been splitting time in net.

And during a first half in which Jennison was less than pleased with his side's energy level, it was Novotny's turn to shine on Monday. The senior made no less than four quality saves to keep the slate clean against a dangerous Wheaton Academy team.

Wheaton Academy coach Jeff Brooke was impressed.

"Afterwards I walked right up to (Novotny) – who I really like as a young man – and I told him that he made two or three saves that I don't think most high school goalkeepers save," Brooke said.

It wasn't as though the Saints spent the day defending, however. As a highly-ranked Class 3A team, St. Charles East gave a top-shelf 2A team in Wheaton Academy the kind of measuring stick that the Warriors' program has always thrived on.

"We love playing against better competition. It only makes us better," Warriors forward Ty Seager said. "They played great and we knew we had to come out and give as good as we got. We need individuals to step up, and we're getting there. We know we can play with the best 3A teams in the state, so we've just got to keep it up.
After a motivating halftime speech, the Saints played with more energy and cohesion in the second half and got goals from Zach Manibog and Taylor Ortiz to secure the win. The Saints' attacking philosophy was one that Brooke wants to see his boys embrace.

"They showed us that even in moments when we might have gained a little momentum, or after they scored one of their goals, they remained committed to this attacking version of possession," Brooke said. "They kept the ball but they didn't just ping it around their back four.

"I loved to see the way they attacked but valued the ball. Because for us, we go in waves, so I applaud the balance they have in always being dangerous, always looking for a penetrating ball. But they cherish that ball."

The Saints hit a post at 13 minutes and the follow-up shot was blocked by a defender. Sterling hit a freekick that led to a corner for the Saints, but his ensuing kick went for naught at 15 minutes. Novotny then left his line to stuff a Seager shot to a corner kick, but the Warriors' corner was sent wide.

Evan DiLeonardi sent a header wide of the post at 19 minutes off a Saints throw-in and at 20 minutes Wheaton Academy answered when Casey Zimmerman earned a corner kick on the right side, but Novotny battled the Warriors' Marshall West in the air and came away with the serve.

Sterling fired a bullet of a freekick that Warriors keeper Drew Sezonov handled and in transition Seager reached the endline on the right side and crossed a ball to the far post, with Novotny diving to save a Sam Hardy head shot at 24 minutes.

"He kept us in it," Jennison said of Novotny's first half play. "On a different day, maybe we're two-nil down and we're not getting back in this game. But he makes the one save he has to make in the first half and in the second half he makes two or three. He did his job and he walks out of here knowing that he worked hard for the shutout."

Sterling went wide with a shot from distance at 27 minutes and the Warriors' Lucas Hoepner bent in a corner kick into Novotny's waiting arms at the near post at 30 minutes. The Saints earned a pair of corner kicks just before halftime, and through 40 minutes Wheaton Academy gave as well as it got.

"They're a strong team," Novotny said of the Warriors. "They moved the ball well and they're strong defensively, which made it a struggle for us in the first half."
Jennison made it clear to his side that its intensity needed a boost heading into the second half.

"We knew they'd be all action and full of energy and they were going to get at us," Jennison said of the Warriors. "To be honest, the way we started in the first half, I was extremely disappointed. After a fairly comfortable win on Saturday (7-0 over Metea Valley) there was no reason that we should have come out today and played the way we did. It took one or two words at halftime, I think, for us to get back into it."


Sezonov made a fine save at the post on a shot by the Saints' Evan DiLeonardi one minute into the second half, and then made a sliding stop at 43 minutes. Novotny may have earned the shutout, but his counterpart was also putting in a quality effort between the pipes.

"(Sezonov) has gained confidence," Brooke said. "He played great against West Chicago, great tonight, he's really owning his box and he's always been a great shot-blocker."
The scoreless tie broke when Manibog broke in on the right side and went far post at 46 minutes, with a diving Sezonov getting a hand on it before the ball finished inside the post. Seager spun away from pressure with a ball at his feet and fired at the near post a minute later but Novotny was on the spot to make the save.

Ortiz buried a long-range head shot at 52 minutes, set up by a corner kick earned by the Saints' Heinrich.
The Saints' leading scorer from last year – TC Hull – has been lost to injury for this season, but the Saints have plenty of weapons left to get the job done.

"The good thing today was that a couple of different lads chipped in," Jennison said. "A lot of people are going to see Danny (DiLeonardi) as our go-to guy but he's just as committed to bringing the other lads in and it's a question now of just continuing to find goals throughout the team. It only serves us well if we're not a one-man team, and we never have been.
"The most important thing is coming out of here with a shutout and a win, so you can't complain. And now we'll have another tough one (Tuesday) against Lake Park."

Wheaton Academy fought hard for a goal throughout the second half, with Seager instigating much of the action. The Warriors went into Monday's game having outscored opponents 18-1 through their first three games, but Novotny and the Saints backline kept them out.

"The defense has been really strong," Novotny said. "We've got speed in the back, strength in the back. They just don't let up a lot of through-balls, which is good for me and good for Chris (Lucatorto)."

One year ago in a similar early-season game against a top 3A team, Wheaton Academy lost 4-0 to eventual state champion Warren. At this point last year, the Warriors "were giving up goals in bunches," Brooke said, "and against Warren we were just waiting for the clock to run out."

Monday's effort against St. Charles East was a different story.

"I felt like we were right in the game. They had their two goals but we had our chances," Brooke said. "Marshall West at center back has been solid. Giving up goals hasn't been a problem this year because of his leadership in back. And Ty Seager really created those chances that we got tonight."

Seager was just happy to see his side play with the Saints.

"We have to keep the standard high. When we can stay with a team of this caliber, we know we can go super far," Seager said. "So we've got to keep playing to that standard. It's a bummer to lose but it's encouraging to see that you can play against the best teams. And the team knows we gave all that we can give tonight."