Custom Search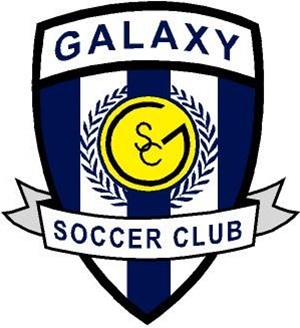 2013 ROSTER

Coach: Paul Jennison
Assistant coach: Bernie Kehoe

Chris Lucatorto
Sr., GK
Mike Novotny
Sr., GK
Cooper Macek
Sr., D
Jarod Brown
Jr., M
Sam Shelton
Jr., F
Kyle McLean
Jr., D
Jacob Sterling*
Sr., D
Ryan Stackhouse
Jr., D
Taylor Ortiz
Jr., M
T.C Hull
Sr., F
Eric Dietrich
Sr., M
Brandon Villanueva
Jr., D
Jeff Chitwood
Sr., F
Zach Manibog
Jr., F
Kevin Heinrich*
Sr., D
Jordan Moore
Jr., M
Evan DiLeonardi
So., M
Christian Memije
Jr., M
Andrew Shone*
Sr., M
Zach Newman
Jr., M
Daniel DiLeonardi
Sr., F
Rob Wolak
Jr., M
Tyler Robbins
Jr., F
Matt Dugan
Sr., F
Eric Santa Maria
Manager

* denotes captain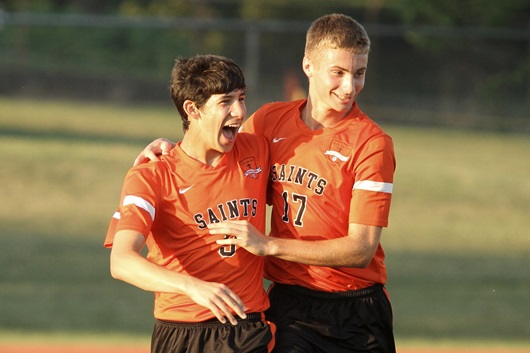 Saints finish early, often vs. Lake Park
By Gary Larsen
It may have been hot and sunny at soccer games throughout the area on Tuesday but for a 90-second span at Lake Park there was a torrential downpour.

St. Charles East poured in three goals during that span and led 3-0 over the host Lancers by the game's 10th minute, en route to a 5-1 win in Roselle.

"It's always nice to come out strong like that," the Saints' Andrew Shone said. "We didn't know much about Lake Park. All we knew was their record so we came in knowing they'd be good competition and we came in playing our game plan, and it worked for us."

Evan DiLeonardi scored twice and the Saints (5-0-1) got goals from Shone, Taylor Ortiz, and Tyler Robbins in the win to hand the Lancers (3-1-2) their first loss of the season.

And the Saints did so as an intense, high-flying, cohesive unit on the field.

"They're a great team," Lake Park coach Tony Passi said. "And when they sub players they don't miss a beat. You don't see any lapse at all. The bottom line is they took care of business on us tonight."

That business began at the 9-minute mark when Jordan Moore sent in a corner kick and DiLeonardi knocked in a head shot. Thirty seconds later DiLeonardi flicked a Zach Manibog throw-in towards the back post, where Ortiz settled and buried it.

Goal #3 came soon thereafter on Shone's goal and the Lancers were shell-shocked. "That's what we look for and if you can do that to a team you just want to keep going at them," Shone said.

It was 4-0 by the 18th minute on DiLeonardi's second goal of the game, before Lake Park's Joe Keane got his side on the scoreboard with a boot from just inside the top of the box.

Robbins made it 5-1 before halftime, the day's scoring was done, and it all started with a trio of goals set up Saints restarts.

"It was nice to put the ball away," Saints coach Paul Jennison said. "If you do the right things and you attack the ball with purpose, you're going to get on the end of things. That was a great display by these lads on doing what was necessary. We had five shots in the first half and we put them all away, so no real complaints.

"Coming off the back of a hard game yesterday (a 2-0 win over Wheaton Academy), it was good to see these guys put in that performance. Lake Park is a very tough team and we got some nice finishes early on."

Keane knew his side didn't match the Saints' intensity at the game's start.

"We didn't bring it and I don't know what it was," Keane said. "But that's a fantastic team. That goalie (the Saints' Chris Lucatorto) is one of the best I've seen. He's fantastic.

"But we didn't communicate on those early goals. We're still getting used to each other and we have to get used to each other in the defense, and we just didn't bring it. It wasn't our half but we played a great team and we'll learn from it."

The Saints have now outscored their opponents by a 24-3 margin so once they had a 3-0 lead, it wasn't likely that they'd give up 4 goals from there.

It was Lucatorto's turn to shine in net on Tuesday, one day after teammate Mike Novotny did the same against Wheaton Academy. And with central defenders Kyle McLean and Kevin Heinrich in front of either keeper, and Jacob Sterling and Brandon Villanueva on the outsides, the Saints provide more than just an impressive attack.

McLean and Heinrich may not be large in stature, but they play big in the middle.

"They're the quietest two kids in the world. They don't say a word and don't even look at you," Jennison said. "But when they get on the field they're all business.. They're just tough, solid lads and it's great having them in the mix playing that type of style."

Heinrich quickly spread credit around the pitch for the team's stinginess this season.

"Our whole design is to high press and keep teams under pressure," Heinrich said. "That's the main reason we're keeping so many clean sheets. We high press and it's not always the defense. It's the mids and the forwards that are high-pressing and making (opponents) make quick decisions, and we're just kind of there to clean it up and make the plays from there."

Lake Park coach Anthony Passi pointed to the intense and physical effort that Lancers outside defender Carlos Torres provided throughout the game, as an example of what's needed for any team that hopes to compete with the Saints this season.

Forward Oliver Horgan was also infinitely dangerous throughout the second half for Lake Park, fighting and winning balls at the endline and attacking the near post or serving balls to space.

From 12 yards out, the Lancers' Giovanni Ciaccio blistered one of the serves towards the goal late in the contest but a Saints defender stopped it with his chest.

"(Ciaccio) lasered a ball and their defender on the goal line didn't flinch, and that tells you something," Passi said. "How many of us would flinch or back off with that ball coming at us? But that kid did not move and I think that tells you something about the mentality of their whole team. They're hungry."

"And technically and tactically, I'd like to know who's better than them."