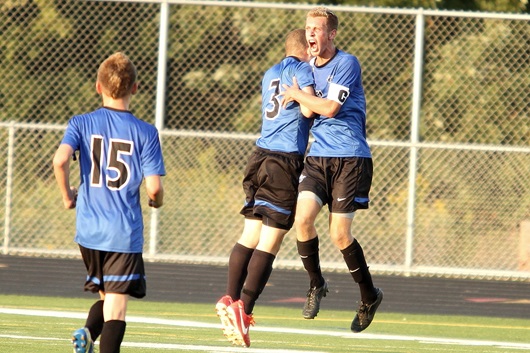 North Stars strike twice in win over Gators
By Gary Larsen
Nothing builds character like adversity, and St. Charles North captain Phillip LeGare saw his side grow through a three-game losing skid to start the 2013 season.
"It was definitely frustrating but we all tried to keep our heads up," LeGare said. "There was a moment where we all kind of feel frustrated or angry but that's just a stage. You have to get over that hump and look forward to the next game, and not hang your head about each individual play. Just focus on the next game."

The losing streak is no more for the North Stars, who won 2-0 over Crystal Lake South on Friday and did so with a solid 80 minutes of soccer, in third-round play of this year's Barrington Classic.
"I think we were finally able to put two halves of soccer together, our backline did really well, so I was pretty proud of the boys today," North coach Eric Willson said. "Obviously we like the result. It's our first win of the season so that's always a good thing."

The North Stars (1-3-0) withstood a solid first half of attacking pressure from the Gators (1-3-1), but defenders Nick Graham, Colin Kraft, Jack Fries, Jake Kerr, and Erich Olson all chipped in to make sure shots on sophomore keeper Kevin Sabres were few and far between.
"Between those five guys, they really did a nice job for us back there today," Willson said. "And it was good for our young goalkeeper, Kevin (Sabres), to get some minutes in there and get himself a shutout. He did a nice job when he was called upon and did a nice job with a couple of saves in there."
After holding off South through 40 minutes, it was Graham who disrupted the scoreless tie with a head shot goal at the 46-minute mark, on a corner kick feed from Jonathan Acevedo. LeGare made it 2-0 at 60 minutes on a strike from 18 yards out and afterwards he tipped his hat to the player that made it happen.


"I noticed that (Chris) Watson was pressuring hard so I was going to support him, trying to look for the ball," LeGare said. "He passed it outside and I just took a touch and shot, but it was really the hard work by Watson that made all the difference, and allowed me to get that shot off."
Watson's name was inadvertently left off of the North Stars' roster but he has made a name for himself through the season's first four games, particularly on the expansive artificial pitch of Barrington's home field on Friday.

"His pace and athleticism is dangerous," Willson said. "This is a big field that really suits him well, and he had a nice game today."

Crystal Lake South has attacked hard throughout tournament play, with players like Orlando Tapia, Charlie Ruff, and Matt Tobolt all showing flashes of the danger they can provide.
But after tying New Trier 0-0 and losing 1-0 to Barrington in tournament play, the Gators have shown coach Brian Allen where the work needs to come.
"Technically we're just a little bit off. We're not playing as quick as we should," Allen said. "We can look good in training when there's not any pressure on us but you get into a game and the pressure comes harder and faster, and it really shows where the flaws are that we need to work on.
"They stuck to the game plan. We got the ball up, we got it back, and we wanted to do something a little more dangerous in the final third but again, our decision-making has just been too slow. As a varsity team, they have to play quicker and they haven't realized that yet."

So thank goodness for Gus Alvarez. The Gators' senior goalkeeper has been nothing short of outstanding so far this season as the attack sorts itself out.
"I can't say enough about him," Allen said. "He has stepped up big-time. People might look at him and think he's small, or short, but he plays bigger and he's got great reactions. He's going to need to keep it up because we have a young backline. Now we just need our attack to give our defense a little bit of a breather, so to speak."

Sophomore center back Jake Canfield has been another shining light for South.
"This summer he just blew us away and he was the center back we were absolutely keen on, coming out of nowhere. He has stepped up in terms of going in hard on those tackles. And whatever balls we are winning, he's usually the guy doing it."
St. Charles North lost its first two tournament games to a pair of rock-solid traditional programs in New Trier and Boylan, and LeGare sees benefits to games like these for a North Stars team with no shortage of young players.

"We've played high-quality teams here so it's great for the younger kids on the team to start off with those high-quality teams, to sort of set that standard," LeGare said. "It shows them that they can play well and compete at this level. We've learned a lot from past mistakes and we've worked hard in practice on those areas of improvement."

LeGare was also happy to see his side put two goals on the board Friday, after only scoring twice in its first three games combined.

"We've only had four goals this season so we're still trying to learn how to work off of each other and have that chemistry, where we all know where each other is going to be at any point in time," LeGare said. "It will just be a matter of playing a lot more together and getting that familiarity.

"I know Watson has had a lot of chances and it's just a matter of time before he starts putting them in the back of the net. We also want Adam Hoffman up top to score and Brad Johnson and Ryan Olson – all of them have the ability to score, even the outside mids, Zach (Michieli) and (Jonathan Acevedo). We have the potential to score a lot of goals this season and some good finishers on this team."
Asked after Friday's game if he thought anyone played particularly well, Willson was quick with a response.

"Every guy that went in there, gave us minutes, and worked hard," Willson said. "That's what we're going to preach -- it's us that have to do this together. It's a team effort so even if it's only five or ten minutes that you give us, you've got to bust your tail and that's what we got today."