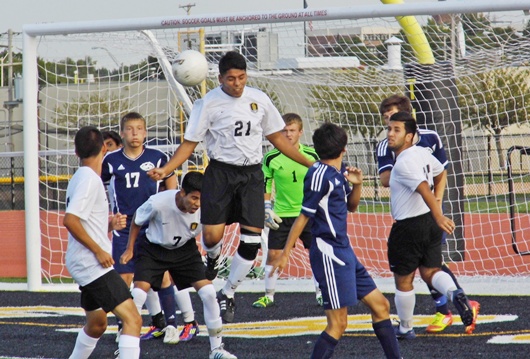 Cougars struggle to connect in draw with Tigers
By Curt Herron
Dave Brown is pleased with most aspects of his Plainfield South squad so far this season.
The Cougars work hard, move the ball around and create a lot of opportunities for themselves.
But South was unable to find the net in its first two matches before it broke through with seven goals against Joliet Catholic Academy.
It was more of on this day as South created plenty of good chances but only put one of of them in as it settled for a 1-1 draw at Joliet West.
"This is four games now where finishing has been an issue," Brown said. "We've created chances in each of our four games and even had good goal-scoring opportunities in the games we lost to Lincoln-Way Central and Naperville Central.
"Against JCA we finally did put the ball into the net but today we got one and then struggled to find the goal that would have put the game away. We also gave up a goofy goal at the end of the first half where we didn't mark the play all the way through.
"Joliet West is always a hard team to play at their place because they bring a lot of energy into the game. It's early enough in the year where the result really isn't that important since it's not a conference or tournament game."
Losing is top two scorers from a year ago has forced the Cougars boss to experiment with different people at forward.
"I thought that we played well soccer-wise in terms of moving the ball from side to side and getting people in dangerous positions," Brown said. "But we're still trying to find our way attacking-wise. But maybe guys are thinking about it more than they should, which is something that we've talked about.
"We lost our two goal-scorers from last year, Anthony Skrip and Rodrigo Garcia. So we're still finding guys who will step up, whether it's by committee, or two three or 10 guys, we haven't found that answer yet. But I have no doubt that they'll regain their confidence and we'll start putting some away.
"I have no worries about my team coming out and competing and working hard and doing all of the right things. But when we do have a team down 1-0 instead of letting our foot off of the gas a bit, we need to apply that pressure all the way through and then we'll start finding the win column more often."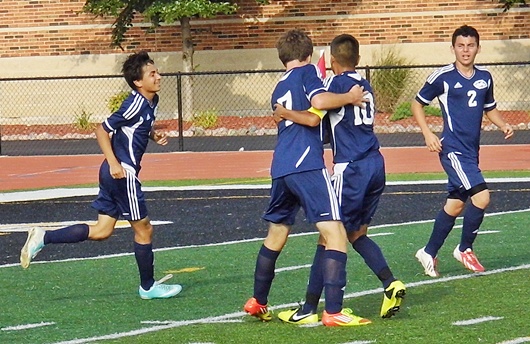 The Cougars (1-2-1) do have some key returnees back and Brown believes that group will help lead the team through these tough times.
"Starting in the back, Mike Santillo and Carlos Arechiga, or center and right back, have been steady all year," Brown said. "we've kin moved Miguel Espinoza to create chances. And Cesar Bautista has also been dangerous.
"These guys have lofty goals and they want to push themselves to be the best team that they can be. All I have to do is mention their goals to them and they know that they can't slack off for a day."
The early going without much drama and it was nearly midway through the half before keeper Eric Fisher had to stop a shot, a long free kick by Abraham Morguia.
In the 25th minute the Cougars connected for their lone goal when Dominic Nirchi took a pass from Michael Decker and drove past defenders to put in a short try.
There was plenty of drams just before he break as keeper Corey Kopchek stopped a free kick from Miguel Espinoza before Morguia and Jose Ornelas responded with free kicks.
It looked like South would take its 1-0 lead into the break but the Tigers (1-2-1) put together a nice late flurry which paid off in a big way.
Following a series of nice passes, David Fuentes found Eduardo Bernal near the net and he scored with just over a second left before the break.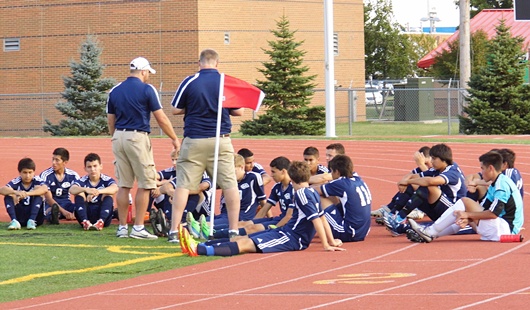 South's chances increased following the intermission, beginning with Nirchi's pass inside that led to a close-range effort from Espinoza.
After Fisher hauled in a header from Armando Alvardo, Kopchek came out of the net to shut down an attempt by Espinoza, who shares the captain duties with Cesar Bautista and Carlos Arechiga.
Two of those individuals teamed up a short time later for another chance when Espinoza sent a corner kick to Bautista, whose shot was deflected by a defender before being covered up.
Not long after Michael Santillo sent a long free kick that went off of a defender to Kopchek, Bernal was just wide on a header.
In the final 10 minutes of the match, Chase Cleasby bounced a liner off of the crossbar before Alvardo was denied on a liner.
The Cougars had one last chance with about two minutes left but Santillo's pass to Nirchi resulted in a header that was stopped.
Espinoza is the lone three-year varsity player while fellow seniors Ricky Hamilton, Julian Tejeda, Arechiga and Bautista also return.
Half a dozen juniors also were on last year's squad. They are Adam Burt, Parker Gallt, Anthony Hernandez, Decker, Nirchi and Santillo.
South opens tournament play next week in the Lincoln-Way Invite, hosting Providence Catholic before playing at Bolingbrook and Lincoln-Way East.
"We just have to figure out about working better together, especially with the forwards on how to finish," said Arechiga.
"We played strong defensively but it seemed like no one had the intensity to get the finish. I like our chemistry, we have a good team this year."