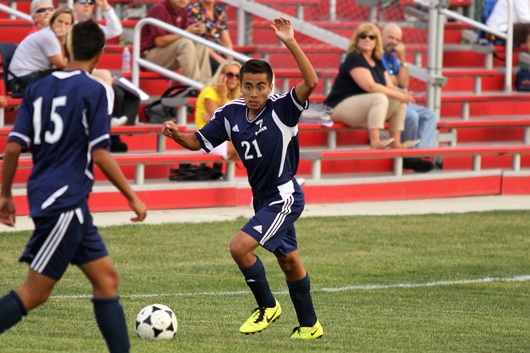 Wolves fight back to a 2-2 draw with L-Way East
By Gary Larsen
Oswego East learned a little something about itself on Tuesday, mainly that the Wolves can take the punch of a two-goal deficit and then come back against a quality side.
After giving up a goal two minutes before halftime and then two minutes into the second half, the Wolves forced a 2-2 tie with Lincoln-Way East in opening round of this year's Hinsdale Invitational at Hinsdale Central.
Not bad for a team with young players sprinkled around the pitch, led by a core of veterans like captains Nate Paisley, Sean Phetchanpheng, and Danny Madrigal.
Oswego East (0-0-1) elevated its play after falling behind, getting goals from Paisley and Victor Cuevas in the game's second half.
"If we play like that from the start in our next game, I think we have a chance of winning it," Paisley said. "We had a couple opportunities to win this game. We need to keep the intensity up for us to be successful this season."
Wolves coach Steve Szymanski was pleased to see his side show the character needed to claw its way back to a draw.
"Down 2-0, I wasn't sure we'd be able to get back after the way we'd been playing to that point," Szymanski said. "It's our first game of the year and we've got four players out there with no varsity experience, so it was nice to see us get back in the game like that."
Lincoln-Way East (1-0-1) struck first at 38 minutes on a goal from Kris Kirchhoff and a feed from Bryan Dillberg. The Griffins struck again two minutes into the second half when Dillberg scored off an assist from Alan Hernandez.

"Both of our goals came through quick, efficient counters which we have been training and I was pleased to see us apply that in the game," Griffins coach Ryan Decker said.

"I thought we absorbed some early pressure and then began to set the tempo of the match. We missed some good opportunities early and late in the game which cost us in the end, but we continue to create dangerous scoring chances, which is something we have not done in past years."
The Wolves knew they needed to pick things up against a Griffins team coming into the season with high ranking and expectation.
"They came out with better intensity than us, they were bigger, and they seemed more experienced than us," Paisley said. "They possessed the ball when we weren't playing."
Oswego East quickened its step and began playing more intense, physical soccer. Alex Santillan ran down a ball at 53 minutes to the top of the Griffins' box and centered a pass to Jesus Esquivel, whose shot flew high.
That exchange marked the beginning of the Wolves' best sustained attacking play.
Esquivel sent in a long shot a minute later and the Griffins nearly made it 3-0 in transition, but Phetchanpheng made a sliding save to keep them out of net.
Phetchanpheng's quickness and athleticism in net will again be on display in 2013, as
veteran defenders Madrigal and Josh Walter help a new group of supporting backline players find their footing.
"He's just tough," Szymanski said of his junior goalkeeper. "He makes every stop he should and then some that are ridiculous."
At 57 minutes from the left side, Santillan took a few touches across before firing a shot saved by Griffins keeper Sean McGovern from 20-plus yards out, and one minute later the Wolves earned a corner kick that a crowd of players elevated after in the box.
The ball was headed to the ground when Cuevas hit a beauty of a volley from 14 yards out to the back netting inside the near post.
Santillan served a ball in a minute later that Christian Vazquez headed just wide, and Santillan served in another ball that Vazquez fired from 16 yards out, which went off a defender and over the endline to a corner kick at 61 minutes.
Paisley knotted the game at 66 minutes when a serve from the right side again found a crowd in the middle of the penalty area. The ball hit the turf and Paisley buried it from 18 yards out.
And the Griffins' 2-0 lead was history.
"There was a 15-minute spell after the second goal in the second half where we lacked the quality we expect in our defensive play," Decker said. "The goals against were both solid finishes, however we felt we could have been better in and around our defensive 18 to prevent those chances. Oswego East always has a good work rate and they fought their way back into the game to earn a well-deserved point."
Szymanski had reasons spread around the pitch to be happy about.
"I thought Nate Paisley played really well today. He's a guy we've moved around a lot this year just to help guys out, because we're not very deep," Szymanski said. "And in the second half, Danny Madrigal was awesome in the back and Jesus Esquivel really came to play. He's not a practice player but he's a gamer. He had a couple of dangerous shots in the first half and really created some things for us."
Both teams fought hard for a game-winning goal that never came, and the Wolves left the field encouraged by their elevation of play in the face of a deficit.
"We got the ball out wide more and when we got the ball out, we didn't lose it right away," Paisley said. "Then we were able to get some crosses and their goalie had to come out and challenge a couple of them.
"We've learned that we have the intensity but it also showed that we're young, because we didn't have that intensity from the start. But some kids stepped up. Victor (Cuevas) hit that great volley on that corner kick. That was a great goal."
Szymanski was pleased to see his defense keep the Griffins out of net thereafter.
Madrigal, Walter, Anthony Padilla, and Arnold Arevalo kept Phetchanpheng better protected in the second half.
"(Madrigal and Walter) are both quiet kids so we're looking for them to be more vocal, along with (Phetchanpheng)," Szymanski said. "I think they saw today that it was miscommunication that led to the mistakes by us. But that's what practice is for so it's nice to have a day of practice in between, to help us get prepared for Hinsdale Central on Thursday."
Paisley will move around the pitch as needed in 2013 but he and Jesus Cepeda will spend a lot of time steering the ship in the central midfield, as they did on Tuesday. Szymanski will platoon four or five players in rotation on the outside this season.
"Jesus Esquivel really gave us a spark on the outside today," Szymanski said. "Nick Huerter will spend a lot of time out there, too, but Jesus really sparked us today.
"When (Santillan) gets into a little better shape he'll give us more minutes because he can do good things. Ricardo (Ventura) and Alex (Esquivel) started up top today and we'll use four or five guys up there to find scoring. Whoever is producing will get playing time."