Photos courtesy of Regina Jurkiewicz
Hipp scores late as Huskies rally past Wildcats
By Matt Le Cren

If Naperville North keeps this up the Huskies are going to be tagged with the old "Comeback Kids" moniker.
For the second time in as many games, the Huskies rallied from a one-goal deficit to earn a positive result, knocking off Neuqua Valley 2-1 on the opening day of the Best of the West Tournament on Tuesday.
Junior Brandon Hipp's goal with 2:24 remaining in the second half proved to be the difference for North (1-0-1), which tied Lyons Township 2-2 in its season opener after falling behind early.
"I think it was a good response by the guys," North coach Steve Goletz said. "We've been down now twice in back-to-back games and they've come back both times to tie the game and I guess that's a good thing.
"I obviously would not want us to continue to put ourselves in that position but it shows that the guys don't get down and they respond as a group and stay together. That's a credit to our seniors and our leaders and the captains of the team."
Neither team played particularly well and both defenses could be faulted for lapses on two of the goals. The first was an own goal that gave Neuqua (2-1) a 1-0 lead at the 33:51 mark of the first half.
It was a sign of things to come as later in the half as the host Huskies nearly knocked another ball into their own net and for long stretches of the game found themselves back on their heels as the Wildcats produced plenty of dangerous chances.
"I think that overall it wasn't our best game," Goletz said. "I would say we took a little bit of a step back from the LT game but I think that early in the season you're going to have the ups and downs.
"Like I told the guys we got a win today but we've got to be focused on our performance and I want to continue to get better as a group and there's some things we need to work on. You've got a quick turnaround with the game on Thursday but I think defensively for sure it wasn't one of our better efforts.

"I think 1 v 1 and 2 v 2 we got beat way too many times and we've got to be better as a group in defending and individually. And that hopefully in turn will make us stronger as a team."
Despite all of their fancy footwork in breaking down the Naperville North defense, the Wildcats were unable to score on a goal of their own while the Huskies got two.
The first occurred 10 minutes after the own goal when Marek Jurkiewicz knocked in a feed from Zach Peterson.
Even so, the Wildcats had the advantage in the run of play, but Huskies goalie Christian Robert came up with six saves, including two outstanding ones in the second half.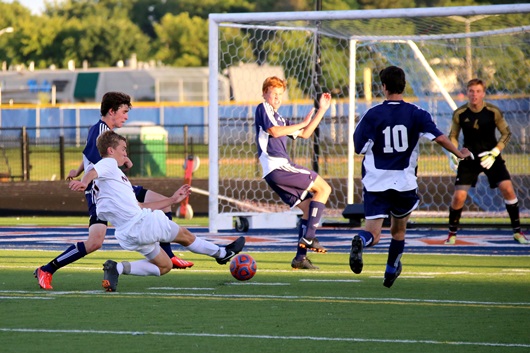 One was a leaping effort to deflect a hard shot from Kyle Carson over the crossbar and a reflex effort to barely tip a point-blank one-timer from Kas Baladi off the crossbar.
"We've got to do a better job of getting the ball in the back of the net," Neuqua coach Skip Begley said. "We did a good job of breaking them down and had a couple of chances where guys did a good job of getting people opportunities and just didn't finish.
"We had the one in front and the goalie ticks it and it goes off the crossbar. We saw that in the Bartlett game, too. It was a frustrating loss."

It was particularly frustrating because the game appeared headed for penalty kicks as neither team could get much going in the last 10 minutes of regulation.
Then the Huskies turned a seemingly harmless traffic jam in the middle of the Neuqua penalty area into a nifty game-winning goal by Hipp. Freshman Chris Sullivan dug out the loose ball and sent a pass to Hipp on his right.
Hipp was moving away from the goal but turned and fired a shot against the grain that snuck in between Neuqua goalie Andrew Fadanelli and the left post. It was Hipp's first goal of the season and third of his varsity career.
"Chris Sullivan did a great job of getting it out," Hipp said. "I was off-balance but I looked and saw the left side was open so I tried to shoot it there."
"It was a great turn from Hipp," Goletz said. "It was kind of an opportunistic goal where it [seemed there] wasn't much [there]. He turned a defender and he put a great shot far post. It's games like this at the start of the year where you're grinding and you need guys to step up and make plays."
"Two minutes left and we had a breakdown in the back," Begley said. "They had a throw-in and we had two guys go for it. Neither of them did [get there] and then their guy did a good job of cutting it back. We don't have a lot of time to work on it. We'll regroup and be ready for Thursday."
The tournament resumes Thursday as Neuqua Valley takes on Benet and Naperville North opposes Bartlett.