Golden Eagles can't connect in home loss to Grens
By Curt Herron
Following a layoff in matches, coaches often have a feel about how their team will perform due to their work in practice.
That's why Elk Grove's Rob Shepard was upbeat and Jacobs' A.J. Cappello was a bit concerned heading into Saturday's match.
Those hunches were fairly reflective of how the Grenadiers and Golden Eagles would perform in the nonconference contest.
Elk Grove came out of the gates quickly and kept up the attack throughout while Jacobs struggled to put things together.
The end result of the initial match since last week for both of the squads was a 5-0 triumph for the Grens in Algonquin.
Another aspect of the match which can't be overlooked is the relative difference in varsity experience between the sides.
While Elk Grove has a veteran squad which has played together for some time, Jacobs has a fairly young group for this level.
Not surprisingly the Grens have performed well in their last couple of matches while the Eagles are still looking to improve.
"We had a week off since our last match with Crystal Lake South so to keep the guys focused for a week is always a little tricky," Shepard said. "But to the guys' credit, they held it together as good as we could and they came out raring to go.
"It's all about the timing. If this gap happened toward the end of the season where he had a few guys nicked up, it would be fine. But when you're only two games in, it's about timing, so I have to coordinate that for next year.
"The biggest thing with this group is setting the tone early and applying the pressure since we always want teams to adjust to us. To Jacobs' credit, they made a nice adjustment in the second half and played more of the trap and put us in some bad positions at the end.
"But with a senior group whose eyes are constantly focused on the end and the prize that could be there, it does make it a lot easier. They know that after the season, there's no going back, there's no do-overs. It really helps for focus."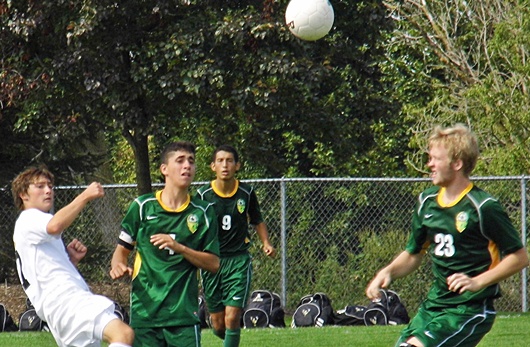 Shepard points to the leadership provided by senior captains Gio Garcia and Manny Pillado for keys in keeping his squad focused.
He adds that other seniors such as Johnny Arzeta, Sergio Aguirre and Avery Chang also keep the the pressure on their teammates.
The Grens (2-1) have been very successful offensively so far, scoring 13 goals, including five apiece in the last two matches.
Just as he did against CL South, Arzeta led the Grens with a three-goal effort. He did not play in the opener with Maine East.
Arzeta assisted Carlos Miranda-Gomez on a goal while Garcia also scored and joined Edgar Soto and Eric Pillath with assists.
But if the Grens are going to be a factor in the MSL, which opens Tuesday with a match at Hersey, defense will also be a key.
And following its opener, Elk Grove has allowed just one goal and posted its first shutout, with Alberto Centeno in the net.
"Don't get me wrong, I like to score since I was a forward when I was playing," Shepard said. "But keeping a clean sheet was really important for us and we talked about that and as our subs came through that that was our primary objective.
"At the end of the day, if we don't give up any goals, the worst we're going to do is tie. I know those coaches are watching us and they'll scheme for some of the offensive things that we've been successful at so far.
"So it's about staying organized and complete in the back and Manny has done a heck of a job anchoring that. Dan Hadler is doing a nice job at the stopper position, Arnold Aguilar and Avery Chang are also doing wonderful jobs out there."
While things seem to already be coming together for the Grens, the Golden Eagles (1-3-1) are still very much a work in progress.
Jacobs had a tough time matching up with Elk Grove's speed and a couple of breakdowns on defense resulted in Gren goals.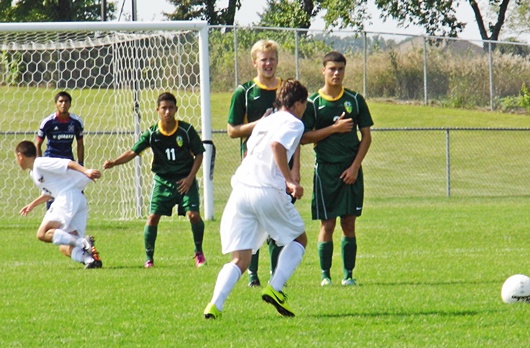 "You don't mind getting scored on by quality teams, but it's how you give up the goals and that was our problem," Cappello said. "When we were down 2-0, I didn't feel like it was a 2-0 game but we put two balls and their foot and told them to put it into the net.
"They've got some real talented players who are very skilled and technical. But that's what you want to see in a quality team and you want to get punished in the early season if you make mistakes so hopefully you don't make that same mistake again.
"We had training all week and didn't like how we did since it just wasn't quality training for the last five days. Last night at practice we talked about coming out and playing better than we'd trained. The effort wasn't where it needs to be but was indicative of our training."
The Jacobs coach also realizes that part of his squad's troubles are due to the fact that they just aren't experienced yet.
He's hoping that they take more steps forward this week when they host Grayslake North and play at Woodstock and Wheeling.
"We lost 13 seniors last year so we do have a lot of new faces for the varsity game," Cappello said. "It's amazing what a difference there is in the speed of the game between the varsity and the j-v, where a lot of these kids were all big contributors last year.
"This is whole different game and a whole different style. If you make mistakes, you're punished on a regular basis, where at the younger levels you can get away with some mistakes. But we have a quality group of kids and for the most part they have a good work rate."
Arzeta put the Grenadiers up for good with just under 10 minutes gone in the match after receiving a pass from Soto.
The Grens increased their lead to 2-0 just after the half's midpoint when Garcia connected following a Pillath assist.
Just past the half hour mark, Garcia found Arzeta, who got free and fired off a successful try to make it a 3-0 match.
"We were excited to play and ready to go following a week of practices," Arzeta said. "If we start off fast and strong, then good things happen for us.
"We're also strong in the back and we have good communications. It all starts in the back and if they do fine, then we work forward.
"These guys are like my family and we've been playing together for a long time. We're also close outside of school. We have so much chemistry on this team."
The Golden Eagles were more-threatening following the break, beginning with an Austin Ryan free kick that Ean Wilson sent to Centeno.
Elk Grove made it 4-0 a few minutes later when Arzeta drove the net and passed off to Miranda-Gomez, who hit a short attempt.
In between a pair of stopped Ryan shot tries, he sent a free kick to Tim Hubner, whose header was hauled in by the Grens keeper.
The Grens closed out the scoring with about a quarter hour remaining when Arzeta stole a pass and connected from close-range.
Down the stretch, Arzeta and Miranda-Gomez saw shot attempts halted, while Wilson suffered a similar fate for the host team.