Red Devils come back to top Morton in Invite final
By Gary Larsen
"How do you re-create the conditions that we got tonight?" Hinsdale Central coach Mike Wiggins said on Saturday.
"We go down a goal and we have to fight back against an awesome team and we come back to take the lead. Those are things that are just invaluable. From a strategic standpoint, this is what preps you for the end of the year."
In the title game of this year's Hinsdale Invitational, Wiggins' boys found themselves down 1-0 to Morton in the second half and responded, getting a tying goal from Christian Meyer and the game-winner from Justin Yi.
Morton led 1-0 on a Chabello Marquez goal at 48 minutes, leaving the Red Devils with a choice.
"I thought morale was a little low after that first goal but we kept fighting," Yi said. "And after the equalizer, the momentum turned. We just had to stay relaxed but stay aggressive, pushing forward.
"And winning head balls was important."

In fact, head balls played a role in two of the game's goals, and a Morton team that can knock the ball around the pitch with the best teams around won two balls in the air to score its lone goal of the game.
At 48 minutes, a corner kick from Morton's Abdon Delgado was sent out to Luis Alvarado, who chipped it back in towards the post on the left side. Josiah Velos won a head ball and sent it across to Marquez, who tucked a head shot inside the post to give the Mustangs a 1-0 lead.

"We don't have a drop-dead finisher," Morton coach Mike Caruso said. "We have to finish by committee and I thought we did enough but we couldn't finish that second (goal) off today."
Meyer knotted the game at 59 minutes, finishing in a crowd near the goalmouth, and Yi found the game-winner lying on the carpet near the goal-line, after an Evan Floersch freekick in the 76th minute reached a crowd near the goalmouth.

"Someone pinned the goalie in the air and it just came down. It was right there for me," Yi said.

"We do the best we can on dead balls but sometimes physics takes over, and you can't jump as high as them," Caruso said. "Sometimes the best we can do is challenge and hope for the best, and for most of the game I thought we did that."
In a game of typically few truly dangerous scoring chances between two high-quality teams, Wiggins was pleased with the way his backline held Morton at bay through most of the contest.

"I'd put our guys in back up against the best that this program has had," Wiggins said. "I'm not saying that lightly. We've had some good backs over the years and these four are outstanding."
Max Krohn, TJ Schmidt, Josh Meyer, and Evan Floersch were rock-solid in front of keeper Wes Bergevin on Saturday.
Krohn knew what his side was up against in the Morton attack.
"They're real quick on the ball, they make great runs, and they're very technical," Krohn said. "They check to the ball and then leave, so you have to make sure you stick with them. We've been talking about accountability the whole day today, and I think we did well with it.

"A lot of it is that we have such great holding mids. TJ Schmidt, Jack Niestrom, Bryan Loebig -- they stop the ball from even coming to us, and when it does come to us we've got fast guys on the outside, I can win it in the air, and we just play real well together."
On the offensive side of the ball, with Sam Johnson's quickness and Meyer's tireless effort and skill, the Red Devils gave the Mustangs plenty to think about from start to finish. It was Meyer who provided the most dangerous moment of the first half for either side.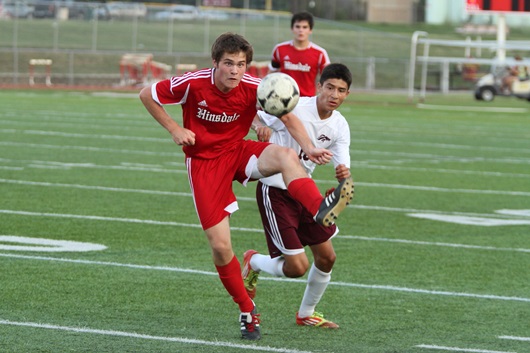 Triple-teamed at the endline on the right side, the senior striker somehow managed to spin and fire a perfect ball to wide open space at the far post, where a diving Red Devil nearly got a head on it.
"Meyer is a handful up top there, and with a weapon like that, that's why they're the No. 1 team," Caruso said, of the Sun-Times' top-ranked Red Devils. Morton went into the contest ranked No. 5.

"(Meyer) does so many things that don't show up in the scorebook," Wiggins said. "He's creating things, he's dangerous, he tracks guys down -- my word for him is 'relentless'."
The Mustangs reached Saturday night's title game with a hard-fought 1-0 win over Hersey Saturday morning, while the Red Devils won 4-1 over Lincoln-Way East to reach the tournament final.
And late in their second game of a hot September day, Morton's players were cramping up seemingly all over the field.
"The Hersey game was a hard-fought game, and maybe (Hinsdale Central) was able to rest a little bit more," Caruso said. "I was mixing and matching the best I could tonight. But I can't fault our effort. We were right there with them.
"I thought (Velos), our center mid, played outstanding and Jovany Garcia -- when he's got the ball on his foot, he can create a lot. My two starting mids from last year are out right now so I didn't think we did too bad for what we had. There are only so many cards in the deck."
The Red Devils will continue to build, heading into games against Glenbard West, Schaumburg, and Fremd in the coming week.

Bergevin was in net for both of Saturday's wins for Central, and both he and keeper Ethan Gama have been steady in net for Wiggins, who got solid efforts around the pitch on Saturday.

"Sam Johnson continues to grow as a player and keep defenses on their toes, Jack Niestrom has been playing strong, and Bryan Loebig is a sophomore that continues to get better with every game. He's adjusting to the speed of play and is always dangerous," Wiggins said.
"The fact that we're able to get a game like this, against a well-coached team, a rival, and a team we know we're going to see again for sure, and to get a result early in the season only builds confidence. It only strengthens our confidence and our chemistry."