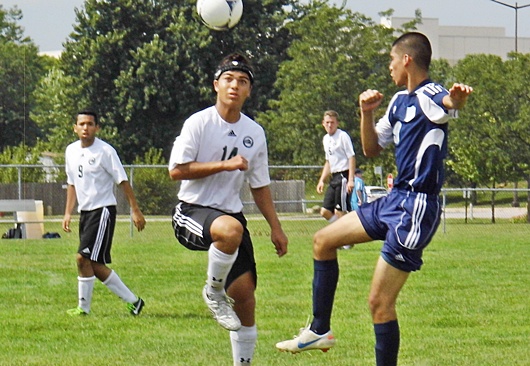 Hilltoppers conclude IMSA Tourney with two wins
By Curt Herron
Like so many other inexperienced squads, Glenbard West needs to play some matches in order to overcome that issue.
And collecting a few victories along the way during that process certainly won't hurt the cause, either.
That's just what the Hilltoppers did this week as they went 3-1 during their opening week of competition.
After opening with a 1-0 home win over Willowbrook, Glenbard took part in its lone tournament this weekend in Aurora.
The Hilltoppers lost 4-2 to eventual champion on Friday at the four-team Illinois Math and Science Academy Tourney.
But it was a different story on Saturday as Glenbard bounced back with a 2-1 victory over Joliet Catholic Academy.
Then in the finale of the event, it recorded its second shutout of the young season with a 3-0 win over the hosts.
Maciej Kusmierz will get a better idea of things as his squad now kicks off West Suburban Conference Silver play.
The Hilltoppers play at Hinsdale Central on Tuesday and then entertain Oak Park and River Forest on Thursday.
"We have a lot of new players on our team who are first-year varsity players," Kusmierz said. "So we just need to get used to the pace of the varsity game and executing plays a lot quicker than most of our players are used to.
"We also obviously have to adjust to the physical part of the game. We need to improve a lot in those areas. Hopefully as the season goes by, we'll be able to improve as a team against some tough conference matchups."
There are obvious benefits to being a part of the WSC Silver, which annually is one of the state's top leagues.
But the downside is also quite clear. If a squad isn't up to the challenge, there could be some rough encounters.
The Glenbard coach hopes that going up against some of the top teams in the area brings out the best in his squad.
"Those kinds of games brings the best of of players and hopefully we'll be ready to respond to the challenges," Kusmierz said. "Nevertheless we still have to work a lot on improving on a lot of aspects of the game.
"Even though this is a young group of players, they're willing to work. Obviously we'll find it to be difficult at times, especially against physical teams. But hopefully with the right attitude and approach, we'll progress."
In Saturday's match with IMSA, Glenbard took the lead for good when William Lanzillo scored midway through the first half.
The Hilltoppers looked like they might add some more goals to that after the break but the Titan keeper had other ideas.
Early in the final half, Steven Rojc, Mario Sotelo and Shawn Herrera were all turned away on close attempts.
A bit later, Robert White made a stop on one of the few shots he faced. Alex Ruckstaetter was in goal in the first half.
Around the midway mark of the shortened half, Paul Selman, John Emanuel and Jamie Hernandez were all denied.
The frustration continued during the next few minutes as Selman and Robert Schoeneich were also both thwarted.
But just as it looked like the score might wind up at 1-0, the Hilltoppers struck to finally end some of the drama.
With just under 10 minutes remaining, Spencer Rojc sent in a pass from the side that was headed in by an IMSA defender.
Then shortly after Emanuel was halted, Daniel Evans sent a pass inside to Spencer Rojc, who put in a header for a goal.
In the win over JCA, Ian Winans and Hernandez scored goals while Glenbard's keepers switched up on their halves.
On Friday against Antioch, Selman had both goals for Glenbard, which scored seven times over the weekend.