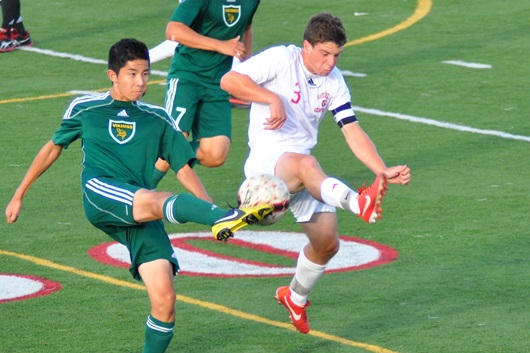 Photos courtesy of Mark Bratkiv
Rough start dooms Vikings in opener at BOTW
CLICK HERE TO SEE A MATCH PHOTO GALLERY
By Curt Herron
One of the things that Troy Adams stresses is having his teams come out strong at the start of their matches.
So as Naperville Central kicked off play in its own Best of the West Tournament on Tuesday, its coach obviously liked what he saw.
That's because the Redhawks connected for a pair of goals during the opening five minutes of play against Fremd to establish control.
Central added another goal just before the break and a second-half tally for good measure as it claimed a 4-0 win at Memorial stadium.
The Redhawks (2-0-1) settled for a 2-2 draw at Oswego on Labor Day morning but bounced back in convincing fashion against the Vikings.
Fremd (1-1-1), which had allowed just one goal in its first two matches, couldn't respond to the early one-two punch by the hosts.
Although Central graduated 14 players from last year's Class 3A runners-up, it obviously still has plenty of talent on hand.
A dozen members of this year's team were on last year's squad which lost a heart-breaker to Warren in the state championship match.
And four seniors, Jay Tegge, Devon Amoo-Mensah, Sam Reskala and Drake Swope, were on the 2011 squad which also took second at state.
Other seniors who were on last year's second-place finisher are Ben Border, David Murphy, Brad Holland and Jake Stadelman.
And the four juniors who are back from the runner-up team are Jordi Heeneman, Mitch McGuire, Sean Flading and Nick Coon.
Nine of those dozen individuals were in the first 11 for the Redhawks and they quickly found themselves with a 2-0 lead.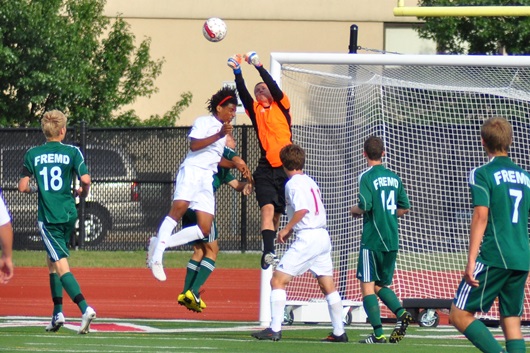 "We preach first 10, we always want to score a goal in the first 10 minutes, so seeing two was wonderful," Adams said. "We played yesterday and probably had the same amount of opportunities but didn't finish them.
"Today we were much cleaner and I think that our mental focus was much better. We've talked about when we're warming up, we're also getting ready to put ourselves into game-mode, and we did a much better job with that.
"The boys came out with the right attitude today. We've talked about how we all have to play together in this system. Today was definitely a game from top to bottom where the kids all bought in to what we've talked about and when they all buy in, we get good results.
"And getting a result like this against a program like Fremd is a nice sign of the progress that we've made from the beginning of the season to here."
The Vikings figured again to be a factor in the tournament, but now have to rebound against Waubonsie Valley and Carl Sandburg.
Sandburg edged Waubonsie 1-0 in the late match. The Redhawks meet the Eagles Thursday in a clash of returning state placewinners.
While Fremd coach Steve Keller was impressed by what he saw from the Redhawks, he was also disappointed with his squad's effort.
"I don't want to take anything away from Central, which is a good team that's well-organized," Keller said. "They play together well and are smart and I was impressed with them.
"But we didn't do ourselves any favors. We were not mentally here today and were just very lethargic. We thought that we could compete and it's frustrating because we didn't have anything.
"We didn't have fight, we didn't have hustle and had poor touch. We didn't even seem like we could string three passes together. We're inexperienced so hopefully we can respond to being humbled."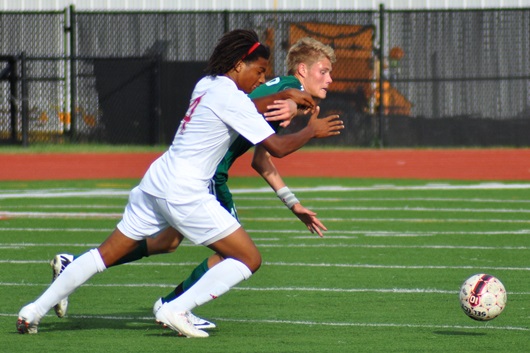 One of the things that Adams liked the most about his squad's effort was that they received good play from all areas of the field.
Not only did four different players get goals but a similar number had assists. Meanwhile, the defense allowed few Viking chances.
Senior keeper Mike Senese only needed to make four saves to secure the Redhawks' second clean sheet in three outings this season.
Working in front of him along the back line were players such as Derek Kerbs, Justin Geisler, Coon, Flading, McGuire and Holland.
"We had a talk at halftime and I told them that one of the reasons that we've been great the last two years is not because our first 11 was so wonderful, but because when we sub, either we stay the same our actually get better," Adams said. "We need that tradition to continue, or otherwise we'll struggle.
"We worked a lot in the offseason on the idea of just finding the next man on offense. We'll worry about the shot when it comes. The shots present themselves, you don't have to force them. Some of the kids want to score, but I tell the kids that hopefully we have a long year ahead of us and it will come.
"We have a group of defenders who for the most part are juniors and a lot of them didn't get a ton of varsity experience. So it's a tough role to step into, especially when you're trying to coordinate with seniors in front of you. The defense is always a work in progress, but they took better ownership of it today.
"This group of seniors leads by example and they lead by working. When you watch the field, you see that they are all over the place. They run, they run, they run and they work. There is no 'it's not my job'. That goes to the juniors and they feel that they have to work and also from the starting 11 to the next 11."
The hosts used a nice combination in the third minute when Coon sent a pass in to Murphy and it then got to Reskala, who connected.
Then in the fifth minute, Flading found Amoo-Mensah, who fired an attempt off of a defender that just rolled inside of the post.
Less than five minutes in and Central had set a decisive tone and possessed a lead that it was determined not to let slip away.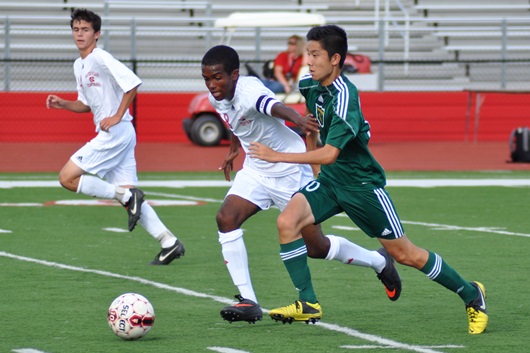 "We knew that Fremd was big and fast so anything that we could do to slow them down a little bit would help," Murphy said. "So getting those two quickly helped us to settle down and possess the ball. It's great whenever you can get the whole team involved. We had four different people score and had four different assists, and that's always good.
"As long as our defense stays solid, we know that we possess the ball real well in the attacking half. I like that a lot of us have played together for a long time and we all play with or against each other on similar clubs. We know where each other will be and communicate with each other and as long as we play the way that we should, we'll be tough to beat."
Shortly after the initial flurry of scores, the sides exchanged threatening long free kicks sent in by Tegge and Tomas Peleckas.
Not long after Dylan Fisher punched away an attempt from Murphy, the Vikings looked like they might have gotten a goal back.
About a quarter of an hour in, Zachary Schoffstall fired in a liner but the excitement dimmed when the tally was disallowed.
During the final half of the opening 20 minutes, the Redhawks kept up the attack, which would pay off just before the break.
Tegge was denied on a long free kick and not long after Murphy and Border suffered similar fates on closer shot attempts.
Senese needed to make stops a bit later on a liner by Schoffstall and then a header by Jong-Sun Lee following a free kick.
Shortly after Heeneman was stopped on a liner, Border found Tegge, who gave the hosts a 3-0 lead as the break approached.
"Coming into the game, coach said that these guys were going to be big and fast and physical," Border said. "We knew that we'd have to match that since we're not the biggest team. One of our goals this season is getting goals in the first 10 minutes and getting two today obviously helped us out a lot. From our backs to our forwards, I think it was a really complete game.
"This was only our third game it also was our best game so far so we hope to keep improving from here. The goal is always the same, to win the Best of the West, the DVC and state. We come into the season knowing that we have to work hard. We really pride ourselves in working hard in practice because if we do that, the games won't be as hard. We're also really close and that closeness shows."
There was understandably not a whole lot of drama during the final 40 minutes as the Redhawks worked on securing the shutout.
The Vikings kept chipping away, starting with Schoffstall's early header to Senese, but Central had most of the best chances.
Reskala, Amoo-Mensah and Tegge were all turned away before the Redhawks finally wrapped up the scoring in the 56th minute.
Murphy started the sequence with a corner kick that went to Tegge, who then sent a pass to Kerbs for the match's final tally.
Central had a couple of other chances in the final quarter of the match but Noah Hey and Kenyata Coakley were both thwarted.
Both squads finish pool play on Saturday morning and the tournament championship is later that evening at Memorial stadium.