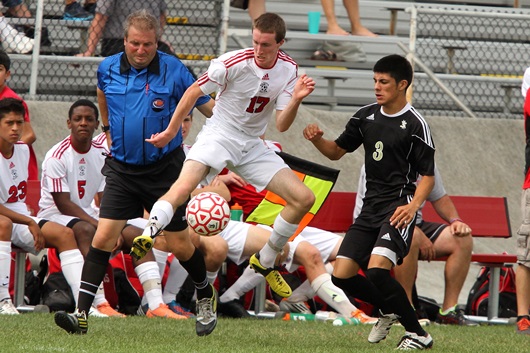 Bulldogs shut out Streamwood, win 1-0
By Gary Larsen

There's no doubt a Streamwood attack that loves to knock it around on an expansive artificial surface felt handcuffed by Batavia's smaller grass field.
Handcuffed by the field and locked up by the Bulldogs' backline, in a 1-0 home win for Batavia on Saturday. A Batavia defense led in the middle by a pair of Nicks – Samperi and Konopacki – held Streamwood mainly to freekicks and shots from distance for 80 minutes.
Defenders Nathan Carey and Chase Correll also keyed the Batavia win and after last year's 4-2 loss to the Sabres, Batavia was ready to handle restarts.

"In practice we've been focusing on freekicks and corners," Samperi said. "Last year when we played them, I think we gave up two goals on freekicks. Our practice defending those showed in this game."

The Bulldogs (2-2-0) also kept the Sabres' dangerous midfielder, Nestor Ascencio, from doing any damage.

"The defense did well. They closed down well," Batavia coach Mark Gianfrancesco said. "Nestor is tough in the middle but we kept them out of the box which was really good to see. The defense has been gelling."
Batavia got all the offense it needed in the game's 72nd minute, when junior Ian Larson hammered a menacing freekick from 20 yards out that tore a path under the bar.
Fifteen minutes into game, Ascencio bent a left-footed freekick from 20 yards out that Batavia's first-half keeper, John Faraone, made a diving stop on. Batavia flirted with a dangerous shot at 27 minutes on a throw-in that Streamwood keeper Phil Lewy ultimately pounced on inside the six.

Ascencio sent a freekick wide from 22 yards out at 31 minutes, and another at 39 minutes that resulted in a shot flicked wide of the Batavia goal.
The Sabres struggled to find shots on net in the run of play to halftime and beyond.


"A few more shots on frame would have been nice," Streamwood coach Matt Polovin said. "Especially in the second half with a little wind at our back, if we could have taken a few more shots when we got in into the box, instead of looking for the call... we could have gotten some rebounds in that second half if we just put it on goal.

"But it's sort of our Achilles heel -- with how we possess and like to move the ball around, a field like this is so compact, the team plays compact. It takes us out of our game. We almost had to kick our style to the curb a little bit and play more direct, and try to play over the top, and we're not used to that."
Nick Foster took over in net for Batavia after halftime, and Sergio Blanco relieved Lewy after the break.

At 44 minutes, Ascencio fired a shot from long-range that Foster tipped over the endline, and Streamwood's Christian Vences hit a corner kick that teammate Donnie Sosa headed wide one minute later.

Batavia earned a pair of freekicks in the 55th and 57th minutes that went for naught, before the Bulldogs' Joe Leiferman nearly ran down a dangerous through-ball in the Streamwood box soon thereafter.

Batavia's DeMarcus Woods then went hard to challenge Blanco for a ball near the goalmouth. Blanco hung on to the serve but Woods' aggressiveness on the play and his contribution throughout Saturday's game wasn't lost on his coach.
"We had some guys that came off the bench and gave us a spark; DeMarcus Woods came off the bench, Joey Leiferman -- when we weren't finding the ball that first twenty minutes but they came in and gave us a real spark, and that rejuvenated some of the other guys as well."

Like most attacks this time of year, Batavia's offense is sorting itself out on the fly, and the imminent return from injury of senior mid John Barnes should help that process.
"(Barnes) should get cleared to play on Thursday, and he's a big part of what we do, especially in the middle," Gianfrancesco said. "That allows Brendan (Allen), our defensive mid, to go forward, or (Larson) to go forward a little bit more. And his return will create some competition in there, too."
Vences sent in a freekick at 64 minutes that Batavia's Adam Heinz headed away, and four minutes later Heinz forced Blanco to save a shot, set up by a Nathan Carey throw-in. Ascencio hit a good chance wide of net in transition off of Blanco's save.

Larson's game-winning freekick came next, and Batavia held on to the final whistle for its second shutout of the season. "I'm very happy with where the defense is," Samperi said. "We have two new players from last year and we're playing as a team back there, pushing up and dropping back together. It's been pretty solid back there, and both of our keepers have been solid."
Batavia plays at Elgin on Tuesday before making its annual trip to the downstate Morton tournament on Friday. Streamwood hosts Elgin and Kaneland in the coming weekend before beginning Pepsi Showdown play on Saturday.

"We had a few chances and we didn't put them in the back of the net," Vences said. "Overall I'm happy with the team and now we just need to look forward to the next game."
"Batavia went hard at us," Polovin said. "They wouldn't really allow us to do anything. Even we thought we would have a couple good chances, they'd just stick a foot in there, stick a head in there, stick a body in there, and disrupt it."