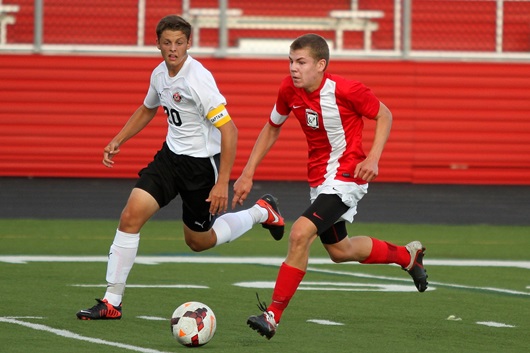 Broncos edge Tigers to kick off Classic with a win
By Darryl Mellema

Standing 6-4, Jonathan Wilson is Barrington's biggest Bronco.
But the big man is also light on his feet, as he showed on Monday when he used a deft touch to score the only goal of the Barrington Classic contest with Wheaton Warrenville South.
The goal came in the fourth minute of the second half and was Wilson's third of the season. David Conrad split defenders with a sharp pass and Wilson did the rest, sending the ball low to the left post – essentially rolling the ball into the net.
"After last season and having a great run in the playoffs, we want a similar season to that," Wilson said. "We thought it was important to get a good start to the season and to be 3-0 right now is huge."
While Barrington (3-0) held a territorial edge on Wheaton Warrenville South (1-1) through much of the match, none of that would have mattered if someone hadn't scored at some point and that someone was Wilson.
"We talked a lot about working it around, lulling the defense to sleep a bit, passing it sideways to go forward and then slipping balls in," Wilson said. "And our midfielder did that.
"I think we've got maybe the best midfield group in the conference right now and they worked together very well and it paid off when we got the ball in the net."
Given time and space to pick a place to put the ball, Wilson placed his shot in a nearly unsaveable position.
"I saw the keeper coming out and I saw the back corner open and I was just going to try to pass it into the back corner," Wilson said.
"And then a defender slid into me or I slid into him and I was on the ground, but I saw the ball roll into the net. I just wanted to place it in, it's too close to do anything else."
Wilson's goal ended an offensive surge at the start of the second half. First Logan Morris warmed South keeper Edson Gomez' gloves with a strong shot in the opening minute of the half.
Two minutes later, Wilson hit another strong shot and Gomez made a stronger save. Then Wilson scored and the Broncos had a lead to defend for 36 minutes.
"Sometimes we talk about stuff at halftime and I'd like to say that what I said made the difference, but we just said to keep doing what we were doing," Barrington coach Scott Steib said. "I thought, in the first half, that we had the tempo and we had the rhythm."
Goalscorers come in all shapes and sizes – but one thing all good strikers have is an innate ability to find the back of the net – and Wilson has that characteristic in abundance.
"He just has a knack for it," Steib said. "On Saturday, he took a ball out of the air and volleyed it. He can score with his head. He's very multi-faceted when it comes to that. And he's a great kid. You talk about all the other stuff – work rate, intelligence, coachable and all that – and he's a great kid."
As strong as Wilson's play to score the goal – the pass set him with time to pick a corner at which to shoot, something that was not lost on Steib or Wilson after the match.
"That ball died when it got behind everybody," Steib said. "(Morris) puts in a good ball and then (Wilson) gets there."
And the Broncos did just that and even had a chance to add to their lead with 10 minutes to play when Austin Grzebieniak controlled a pass with his right foot and shifted to his left before firing his hard shot over the crossbar.
"He did well to cut it to himself," Steib said. "If he puts it on goal, it's probably in. But he was so jacked up on the chance to score his first varsity goal or something. But that'll come for him."
Territorially, Barrington had the edge through the contest, but South's defense played well throughout on the Broncos' 75-yard wide field – one of the largest fields in the state.
"I felt confident," South defender Joe Spera said. "This field is really wide and we spread the ball and played with width and had good possession. We talked a lot."
Barrington, comfortable on its home artificial turf, settled quickly and had an edge in chances in the scoreless first half. Morris had a shot saved after 12 minutes by Gomez, David Conrad tried to dribble in but was strongly tackled by Mike Stelletello and Giles Phillips had a shot tipped over the crossbar.
"Where they are and how they're working is fantastic," Steib said. "I'm encouraged that we can knock the ball around this well this early in the season."
Following a partially-cleared corner kick with a quarter-hour left before halftime, Casey Slingo brought another strong save from Gomez.
Against these opportunities, South's best chance came when Mike Bennett headed wide midway through the first half. Decent play from defense to midfield invariably broke down when the Tigers tried to switch toward attack.
"We're continuing to try to figure out who we are and who we're supposed to be, especially in the middle third and the offensive third," South coach Guy Callipari said. "The back four is the base. They come in with a lot of experience and they keep us in games until we try to figure things out."
Transition is a constant in high school soccer, and South is fitting a number of players into new roles.
"It's a struggle right now – most of our guys are new," Spera said. "We lost 11 seniors last year but I think that we were better tonight than in our last game. We were communicating more. We know each other's strengths and weaknesses right now. In a couple of games, we'll get it together."
Callipari moved some junior-varsity players – Javier Rosas, Mark Crisostomo and Carlos Rojas – to the varsity squad for the tournament – and he used 22 players in the Barrington match.
"It's so early in the season and we're not game-fit by any stretch of the imagination, so we have to play smart.
"If we were going to give it a go, it was going to have to be in the last 10 minutes, and that might not have been long enough to let things develop as such. But given the fact we're exhausted and kids had to come off and then to go in and try to win it in the last moment, time ran out."
Despite the loss and allowing a goal, South's back line – Jose Perez, Stelletello, Spera and Ryan Trockman – operated well in front of Gomez, especially with midfielder Elliott Kettle dropping back to provide more defensive depth.
"I felt we had a great defensive structure today," Spera said. "We did a lot of running up and down the field. I felt we worked hard and I felt that one goal was unlucky."
Gomez is a sophomore and Monday marked his first match in goal this season.
"I think we communicated well and I think he played really well," Spero said.
One thing that was undeniable was Gomez' shop-stopping ability. While not the tallest keeper around, he covered his net well.
"He's a very good keeper, very acrobatic and he does a good job getting us into transition," Callipari said. "He plays and looks like a goalkeeper and he's very sound. I'm very pleased with his play tonight."