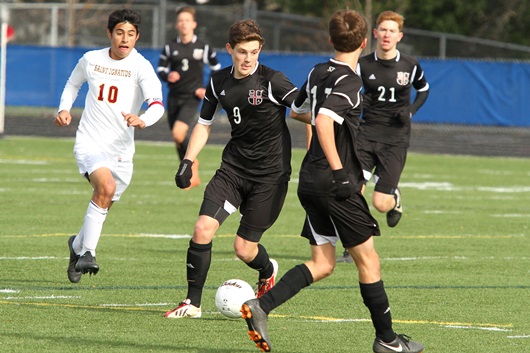 Warriors fall in PKs to Wolfpack in 2A semifinals
CLICK HERE FOR MATCH PHOTO GALLERY
By Curt Herron
Wheaton Academy established some history against Saint Ignatius College Prep at Friday's Class 2A semifinals in Hoffman Estates.
But it's safe to say that coach Jeff Brooke and his squad would have preferred to find another way to get into the record books.
The Warriors became the first squad in the history of the IHSA tournament to have consecutive semifinal matches determined by penalties.
In an eerie flashback to its semifinal against Peoria Notre Dame from a year ago, Wheaton wound up suffering the exact same bad fate.
Saint Ignatius converted seven of its eight attempts while the Warriors got turned away twice as the Wolfpack claimed a 2-1 victory.
As a result, SICP (19-5-2) advances to Saturday's 1 p.m. title match against Washington, which beat Rochester 2-0 in the other semifinal.
While the Wolfpack celebrated their biggest win in the 43-year coaching career of Jim Luzzi, WA (22-4-1) experienced more heartbreak.
It was the third time that the Warriors reached a semifinal match and the third time that they dropped a 2-1 decision in such a contest.
WA hopes to improve upon last year's fourth-place finish and equal its third-place effort from 2005 in today's 11 a.m. consolation match.
"I'm proud of our guys. It's an easy thing for a coach to say, but it's genuine," Brooke said. "I thought that Saint Ignatius is good side and We think that they'll probably play well tomorrow again.
"We created a couple of chances that I thought that maybe on a given day that we would put away. We had a quick restart in overtime that I thought we would finish and we had a slotted ball at the end of regulation that I thought that we would finish.
"I thought that their keeper (John Marks) had great presence in the box. He's a good goalkeeper, obviously, but I thought that he played well today."
The Wolfpack defense, led by Kevin Dingens, frustrated a Warrior squad which failed to score more than one goal for just the fourth time.
"They had some individual players who were right up with some of the best that we've seen this year," Brooke said. "I thought as a group that they defended well. We weren't able to get in behind them as much as we wanted, which has been a strength of ours.
"We always say that we have to finish those close chances in a big game and today that wasn't the case. I thought that we had the run of play in the first half but didn't get one but had some momentum that was created.
"I thought that they stole the momentum with about 15 minutes left in the second half after their goal and did a good job of maintaining and then it swung back our way in overtime. And unfortunately we came out on the wrong side of the shootout."
After becoming just the third coach to have two of his teams go to penalties in the semifinals, Brooke has his own views on the tiebreaker.
"After getting knocked out in shootouts in back-to-back years, I feel that we were playing well in both of those games. So it would be interesting if we could keep playing the game rather than doing something else.
"When our girls teams won titles they went to four overtimes, which is an interesting idea. Maybe at some point you go to PKs, but two 10s are so quick. You'd love to see a few more chances from each side just to see if you could end it in the regular flow of play."
Following 100 minutes featuring plenty of close calls from both sides, the two huge crowds nervously awaited to see who would move on.
In the penalties, the Wolfpack got scores from Bryan Long, Taylor Reifert, Matt Quaas and Jonathan Viera during the opening sequence.
The Warriors responded with tallies from Marshall West, Sam Hardy, Daniel Bergquist and Casey Zimmerman in their first five attempts.
Casey McDonald and Mike Knight converted for SICP on its next two efforts but Zeb Lewis and Lucas Hoepner answered with goals for WA.
In the final round, Randy Martinez gave the Wolfpack a 7-6 advantage and then keeper Jon Marks punched away a shot from Grant Rougas.
"I've always had fun with PKs and I think that everyone on the team knows it," said Marks, who made two saves in the penalties. "Obviously it's a terrible way to end the game. It's all about being confident and knowing what to do and I tipped two of them and got to two more.
"This is the farthest that we've ever gone as a program. Our senior class has always been good together and we've always had good seasons and we mixed in with the juniors this year. I don't know what else to say. This is awesome."
SICP's victory on penalties helped assure the city of Chicago its initial head-to-head matchup in a state championship in the sport.
This also marked the Wolfpack's first triumph in state finals competition. Luzzi's 1998 squad fell in the Class A quarterfinals.
"This is just awesome for us," Luzzi said. "We were so pleased to get into the final four since it's an historical situation for our school. I was talking to my assistant coaches and told them that it was a heckuva way to lose a game but it's also a heckuva way to win a game.
"It couldn't be more satisfying to see the guys go a goal down and then tie it up while playing their hearts out and basically doing everything the coaches asked them to do. I feel extremely bad for Wheaton since they played their hearts out.
"We knew very little about them coming into the game but everything that we heard, they lived up to. They gave us possibly the most trouble that any team has given us all season long."
The warriors had the best chances in the two overtimes, Zimmerman was denied on a quick restart and Lewis cleared a try by Viera.
During the final 10 minutes of extra play, Ty Seager got free but Marks dove to make the set the table for the ensuing penalties.
Following a scoreless opening half, the sides exchanged good chances in the opening 10 minutes before WA grabbed the initial lead.
Marco Sanchez and Reifert were turned away by keeper Drew Sezonov before Hardy was denied and a West header was cleared by Quaas.
In the 50th minute, WA moved in front when Hoepner fired in a dangerous corner kick and West got a touch on it to score the goal.
After Sanchez responded with an attempt, Marks deflected a shot by Hoepner and Parker Setran's follow-up effort was also thwarted.
Quaas and Reifert were both denied, as was Seager, before the Wolfpack evened things up shortly before the final half's midpoint.
Sanchez sent a cross to Long, who connected on a header from close range to put the two teams level once more in the 60th minute.
West then cleared a header from Quaas, Hardy saw his free kick get halted and Sezonov dove to prevent a Viera liner from going in.
As time wound down in regulation play, the Warrior keeper dove to stop an attempt by Quaas and then Rougas was thwarted by Marks.
During the initial 20 minutes of play, Reifert and Quaas were both thwarted before Rougas and Zimmerman suffered a similar fate.
After Quaas was stopped on a liner and a Hoepner corner was punched away, Matthew Ruff was denied and Hardy had two shots halted.
Another heartbreaker in the semifinals spoiled WA's goal of both competing for and then capturing the program's first state title.
It was a particularly tough pill to swallow for Lewis, a four-year varsity performer who missed much of this season due to injury.
"This was literally the exact same situation as last year," Lewis said. "Peoria Notre Dame even told us that this was our year and that we were going to get it this year. So we were thinking that this was our shootout and that we were going to get this and it was one of the best shootouts that I've ever seen.
"I think that they did a lot of things really well. Their two guys up top were probably the best combination that I think that we played all year. And their center backs did a really nice job of marking Ty and he couldn't really get anything going. That's to their credit since he's doing a lot in the postseason.
"In the second half they moved some people around but I thought that after they scored, emotions started to overtake us and also fatigue started to set in. The combination of that made us not play defensively as well as we were and things started to slip a little bit for us."