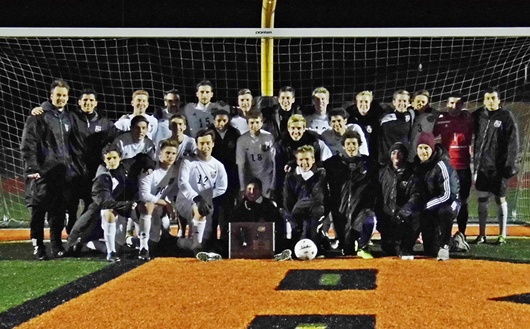 Warriors avenge PND defeat to get back to state
By Curt Herron
Wheaton Academy's players were understandably crushed after getting edged by Peoria Notre Dame 2-1 on penalties in last year's Class 2A semifinals.
So it came as no surprise that the Warriors were focused for more than a year on trying to avenge that heartbreaking loss to the eventual state champions.
The collision course was created when the IHSA pairings were announced, and unlike last season, this matchup would take place prior to the state finals.
As a result, the possible scenarios were all too clear for both sides as they stepped onto the field for Tuesday's Class 2A DeKalb Super-Sectional.
If Jeff Brooke's Warriors were to get their revenge, they would have to hand PND its first in-state defeat since the 2011 semifinals against Mather.
Meanwhile, Mike Bare's Irish needed a win over WA in order to keep alive their hopes of a fourth state championship and sixth trophy in six seasons.
Wheaton capitalized on a foul in the box in the seventh minute when it received a conversion on a penalty by Marshall West to establish control.
PND got the wind advantage in the final 40 minutes and had chances to get the equalizer but the Warriors defense proved to be up to the challenge.
Thanks to the efforts of Daniel Bergquist and West in the middle, Zeb Lewis and Parker Setran outside and Drew Sezonov in goal, WA kept PND at bay.
And shortly before referee Terry Knafl blew the final whistle, Ty Seager connected from close range to cap a satisfying 2-0 triumph by the Warriors.
Wheaton (22-3-1) takes an 11-match win streak into Friday's 11 a.m. semifinals against Saint Ignatius, which beat Antioch 1-0 on Tuesday at Stevenson.
This marks the program's sixth state appearance, as well as the second time that it is making consecutive trips, with the other coming in 2004-2005.
WA is assured of its third trophy as well as its first back-to-back top-four finishes. The program placed third in 2005 and took fourth last year.
A victory in the semifinals over the 18-5-2 Wolfpack would also guarantee the Warriors of their initial appearance in a championship match.
Saint Ignatius assured itself of its first state trophy for coach Jim Luzzi, who has guided the program throughout its entire 44-year history.
Rochester edged Glenwood 2-1 in two overtimes and Chicago's Washington nipped Nazareth Academy in identical fashion to earn the other two spots.
PND (15-5-5) had gone 15-0-5 against Illinois teams this season and 20-0-2 a year ago to give it a 43-match unbeaten streak in-state since 2011.
The Irish have gone 120-7-8 (92 percent) against squads from this state during their amazing run in the last six years under Bare's guidance.
"Hats off to PND, who's built such a good program and Mike has done a good job with them," Brooke said. "We were excited to get to play them for a shot to get back to the state tournament. It's good for high school soccer and for the development of our players.
"We had some great combination play and were really attacking in the first 10 minutes. Sam (Hardy) found Ty and they did a little give-and-go right into the box and Sam got tackled. We drew a tackle inside of the box and Marshall did a great job of putting it away.
"I was proud of what we created in the second half since I thought that we had some great chances. We hit the post and were just over the crossbar. I was proud that we created chance after chance, which is something that we weren't able to do against them last year.
"We've tried to pride ourselves on our defense and we have a great back four. We have two holding mids who work their tails off and Sez (Drew Sezonov) made a huge save in the first half and then did his job the rest of the way."
Although it's easy to get excited about things following such a big victory, Brooke knows that his squad will come out focused in the semifinals.
"I think that the guys will be ready to go," Brooke said. "We'll celebrate this win for maybe an hour and have a team dinner and then start working toward preparation for Friday. We know that we'll be going up against a quality side so we want to be ready.
"We're excited about where we're at. We have a great coaching staff with Joe Selvaggio and Jason VanderVeen. The guys have bought into what we're doing and their ability to listen and to execute have been driving us forward."
The Warriors had a strong wind behind them at the outset and started to apply pressure early, beginning with a corner that was cleared by a defender.
Shortly after that close call, Sam Hardy got fouled in the box and West put in the subsequent penalty to put Wheaton ahead for good in the contest.
"They're a great side, and they always are, and they got the best of us last year so we're happy to come out on top this year and to able to go downstate again," West said. "We saw that we'd meet them a little earlier in the tournament this year, which was alright with us.
"I'm proud of my team, front to back, and everyone contributed tonight. The whole team played great all over the field. We've been saying all year that we have to take it one game at a time. We're peaking at the right time and playing well at the end of the year."
Not long after the Warriors scored, the Irish mounted their first good threat when Aidan Hill sent a header that Sezonov managed to haul in.
Shortly after the half's midpoint, Hardy sent in a free kick that was deflected by keeper Justin Buck, who then denied West's follow-up header.
Hardy was thwarted on another pair of free kicks a bit later before a corner kick from Lucas Hoepner was cleared away by the Irish defense.
Sezonov deflected away a close-range effort from Hill in the final minutes of the first half and WA maintained its one-goal lead at the break.
"This win feels really good," Sezonov said. "They were a really good team last year and they're also a really good team this year. We played really hard tonight and we got the result. Their program is unbelievable and they had won over 40 in a row against Illinois teams.
"We had the wind in the first half so it was nice that first goal. And it was nice to keep the zero in the second half when they had the wind. I feel good about where we're at. We want to get better every day and if we keep doing that, I think we'll like the results."
Although Notre Dame had the strong wind at its back in the final half, the Warriors still continued to get their share of good opportunities.
The Irish got things started in the last 40 minutes with a short try by Tommy Frampton before Seager answered with a liner that Buck halted.
After Hardy was thwarted on another free kick, Trey Knighton sent a liner to Sezonov before the Warriors just missed taking a 2-0 advantage.
Just about 10 minutes into the new half, Seager got past the keeper and sent in a slow-motion roller that eventually bounced off of the post.
Despite that near-miss, the Warriors continued to get good chances, which effectively cut into the attempts that the Irish could muster.
"They're an unbelievable team so we knew that if we didn't play our best that they'd come out and put us away fast," Casey Zimmerman said. "They're a good finishing team and a good defensive team. But the weather may have helped us with the slick conditions.
"We know that when we get an early goal that we can come out and pressure the other team. Our defense really stepped up and our keeper Drew really played well and made a key save in the first half. We need to be focused and realize that no one is going to give us an easy road."
After Hardy's free kick from just outside of the box was denied, Seager sent a header just wide of the mark in the aftermath of a free kick.
Just prior to the half's midway mark, Hill fired in a liner which Sezonov deflected and then Setran was able to clear away the loose ball.
After Kevin Esposito's free kick was punched away, Hardy sent a liner over the net and then Seager deflected an attempt off of a defender.
A bit later, Grant Rougas had a header cleared by a defender and got then got a touch on a loose ball following another Hardy free kick.
In the final 10 minutes, Hill lined one to Sezonov and Hardy was turned away before Seager completed the scoring during the 80th minute.
The clean sheet was the 14th of the season for the Warriors. Half of their shutouts have been recorded during their last 11 matches.
"It's really exciting to be going back downstate, especially after beating the team that beat us last year," Bergquist said. "It definitely feels good to beat a talented team like that. We won 50-50 balls in the air and our team did well pushing through the whole match.
"I love the way that we're playing right now and I think that we have a really good chance of taking home the title."
Although disappointed that his team won't get the chance to compete at state for a sixth-straight year, Bare is proud of his Irish.
"When the brackets came out we saw that we might have to play Wheaton again and knew that they were bringing back a lot of players and that they would be a really good side," Bare said. "We knew it was going to be a challenge because so they're so big, strong and athletic. We have a lot of respect for coach Brooke and his program. They do things the right way and they play hard.
"I thought that we went toe-to-toe with them and had a couple of really good chances, including one in the first half that their keeper made a phenomenal save on. Down only one at half, we knew that if we got the next goal, we'd get the momentum back with the wind and they might struggle to get out of their end. We generated a lot of good chances but just couldn't get the ball in.
"It's been a long time since we lost to an Illinois team, so that's a huge accomplishment. This year there were a lot of people who were counting us out. But I thought that every time people tried to knock us down we just kept fighting. Our goal is always to win a state championship so the kids are disappointed but there are a lot of teams that would love to be in the final eight."