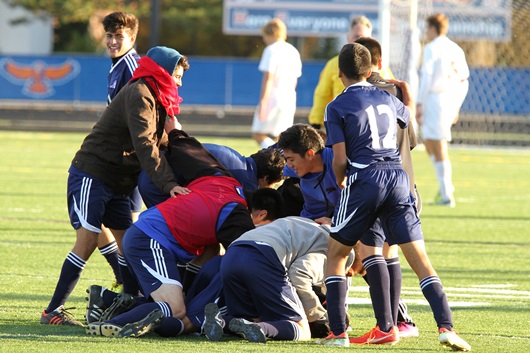 Washington edges Saint Ignatius in OT for 2A title
By Curt Herron
Saturday's Class 2A championship match had plenty of interesting story lines that had appeal beyond the boundaries of the state's biggest city.
Granted, the clash between George Washington and Saint Ignatius College Prep was noteworthy since it was the first title meeting between Chicago squads in the sport.
But it also featured a matchup of two programs who had never placed at state and had made just one state tournament appearance between them.
The Patriots had never won an IHSA title in any sport while the Wolfpack had won just one title but were seeking their first boys championship.
Throw in one of the state's all-time winningest coaches who's in his 43rd year on the job in SICP's Jim Luzzi, and you have the makings of a great story.
And as often is the case, the two sides made sure that they would make things interesting by putting on a good show in front of large and supportive crowds.
Things were even at 1-1 through regulation and looked like they might remain that way during the overtime periods in the match in Hoffman Estates.
But just as penalties began to be contemplated, the Patriots ended the drama by becoming the third Chicago Public School to capture a title in the sport.
Washington edged the Wolfpack 2-1 to join Harrison (1973) and Mather (2011-2A) as the only CPS programs to wind up with the ultimate trophy in the event.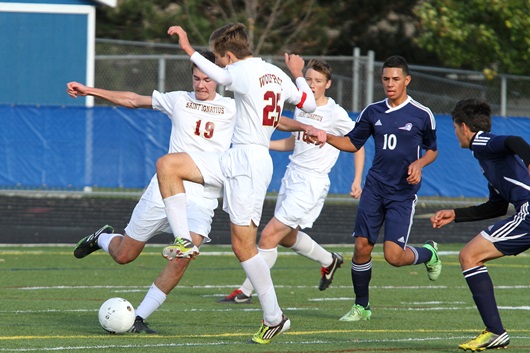 "This was not just for our school but also for the entire City of Chicago and for the Public League," fourth-year Patriots coach Alvaro Perez said.
"First Mather won it and now Washington has won it in a short span. Hopefully this will send another sign about how soccer is played in the City.
"These boys have done everything that I've told them to do. They're the most coachable bunch ever, which is what any coach wants in a student-athlete."
The East Side school had only played for one state title before, in girls basketball in 2000, when Willie Byrd's squad claimed a second place finish.
While Washington fell in overtime in that title game 13 years ago, the soccer team made sure that things went their way in extra play in this contest.
In the 98th minute, Arturo Aupont headed in an attempt following a corner kick from Jimmy Canedo to provide the southeast side with a memorable moment.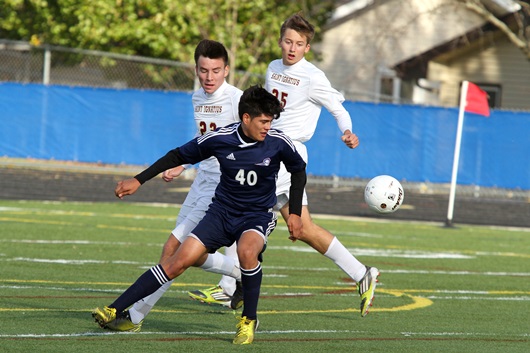 "I don't think it's hit me yet about what just happened," Aupont said. "The whole team has chemistry and this is just amazing. I don't have words for it.
"We all understand that we're brothers and we all want the same thing and are on the same page. So when something bad happens, it's not too difficult to come back."
Something bad did happen to Washington (15-1-8) in the 76th minute when Marco Sanchez was fouled in the box and Matt Quaas made the penalty to even things.
But the Patriots, who easily established a record for most draws recorded by a champion, responded to the Wolfpack challenge during the overtimes.
Brian Romo was denied on a liner in the first OT and Miguel Rodriguez had a try punched over the net by keeper John Marks in the final extra period.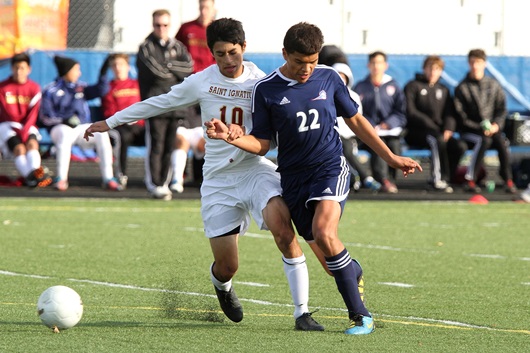 The Patriots, who only lost to 3A Libertyville in the Pepsi Showdown, moved ahead in the 48th minute when Canedo connected on a close-range effort.
SICP (19-6-2), which beat Wheaton Academy on penalties in the semifinals, nearly tied it in the 61st minute but Bryan Long's header was thwarted.
A short time later, Patriot keeper Jose Leyva grabbed a liner from Quaas and it remained 1-0 until the Wolfpack made the most of the late penalty.
No team likes to settle for second place, but the Wolfpack were glad to be in that spot considering that they got off to a 4-4-2 start this year.
"When you leave your heart on the field and play the game as best as you can and you come off the field with no regrets, that's all that matters," SICP's Kevin Dingens said.
"Everyone plays to win and we definitely played to win. But second place is an amazing accomplishment and that's what we were here to do, to make Ignatius proud."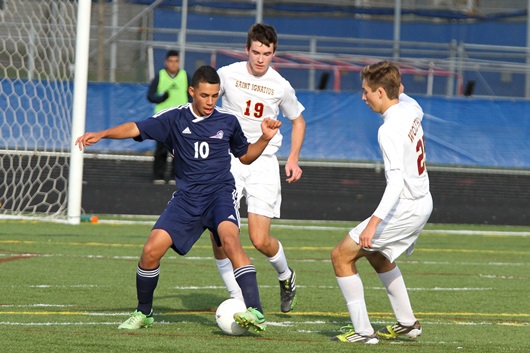 And someone who was extremely proud of what he saw was the veteran Wolfpack coach, who started the program at the historic Near West school in 1970.
"It was a really good soccer game," Luzzi said. "Both teams tried to adjust to the wind as best as possible and all of the goals that were scored were opportunistic situations.
"As far as finishing second in the state, there's only one other team that's better than us. I'm pleased and am really happy for these boys since they earned it.
"I know that it will hurt for a little while but in a couple of days, it will be something they can be really proud of and something it will take a long time for us to match."