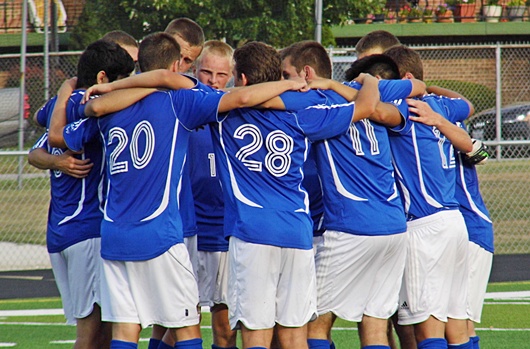 Falcons show promise in season opener with Stagg
By Curt Herron
There are a couple of different ways to view Wheaton North's season opener at Stagg on Monday.
For the pessimist, there was a goal allowed in the initial 70 seconds on a corner kick and later a score that came not long after the Falcons equalized.
But to the optimist, there was the commendable fight demonstrated by a North program that has struggled to win matches during the last two seasons.
Although the Falcons wound up dropping a 2-1 nonconference defeat to the Chargers in Palos Hills, new coach Tim McEvilly took away a lot of positives.
McEvilly hopes that the kind of effort displayed boosts a program that won just three times last year and had two victories the previous campaign.
"We have a great ability to possess the ball and to be dangerous with the players that we have. We have some talented, fast players who are technically-strong," said McEvilly, who last coached North's boys in the 2004 season.
"This loss is difficult for them but if they take a step back and watched the way that they played in the game film, they're doing things that winning teams do. So we just have to try to get better at in practice and in our next game on Thursday.
"It's been a few years of struggle for this program and a lot of that has to do with the depth of talent. Even though we have some talent here, there's an extraordinary amount of courage required to turn something around.
"The boys who are here have all bought in completely to anything that I've asked them to do. They're ready to make it happen, both collectively as individuals in order to help us get there."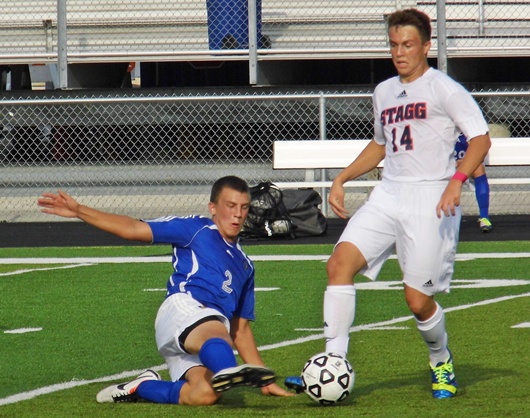 Although it couldn't cut into a 2-1 halftime deficit, North certainly had plenty of good chances to connect during the final 40 minutes of play.
Meanwhile, the Falcons controlled possession and didn't allow Stagg to put together the same type of pressure that it had prior to the break.
That they were right there with a Charger squad considered to be one of the best in the south suburbs is certainly a good step forward for North.
"We had possession of the ball probably 65 percent off the time and through that we created dangerous opportunities, too," McEvilly said. "It's one thing to have the ball but you've got to make things happen and we made things happen.
"There was more than just the shot that went off of the crossbar, there were plenty of great opportunities of balls being placed into the box that just missed the runner."
Some argue that there's little to be gained from a defeat, but for a program that has struggled of late, there was much to draw from the match.
"We went down early but we did not stay down" said Falcons senior Jackson Duncan. "We kept coming back and trying hard. We equalized with a great shot and then we picked our heads up.
"After we let in another goal, we still didn't quit. We had a lot of shots and opportunities in the second half. We kept passing it around and moving quickly and kept it away from them.
"We kind of turned the tables in the second half and it was kind of unfortunate that we weren't able to put one away but we definitely gave them a run for their money."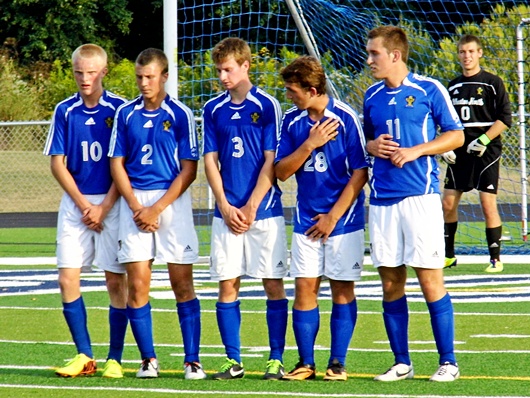 Duncan likes the makeup of this team and believes that it has the ingredients that could lead to more success on the field for the Falcons.
"We all have really good chemistry and we know each other really well and are good friends," Duncan said. "We talk on the field and know what each player is looking to do and their strengths and weaknesses."
The Chargers opened up their season in a great fashion when they made the most of a set piece just over a minute into the match.
Ernie Ramirez directed a corner kick into the box and John Zajac promptly headed it in to give the hosts the early advantage.
"One of our weaknesses is that we're not a large team and Stagg has a large collection of boys over 6-feet who are big, strong and physical and one minute into the game they got a corner kick and just beat us up," McEvilly said.
"But after that, we started to gain possession of the ball and we responded with a goal to tie things up. Then we gave up a goal that we probably shouldn't have but then I thought that we owned the second half."
A few minutes later the sides traded efforts as Falcon keeper Alex Jiskra denied Roberto Torres and then Erick Estrada did the same Zoran Tanasic.
The Falcons evened things up in the 27th minute when Zach Oslund sent a long pass forward to Dan Norton, who placed a shot into an open net.
Torres looked to counter but had a corner kick punched away by Jiskra, who then hauled in a liner from Torres on a subsequent free kick.
Shortly after Cooper Winckler had a long attempt deflected by Estrada, the Chargers connected again to move back in front for good.
In the 35th minute, Matt Kois sent in a line drive that Jiskra wasn't able to halt and the hosts suddenly owned a 2-1 advantage.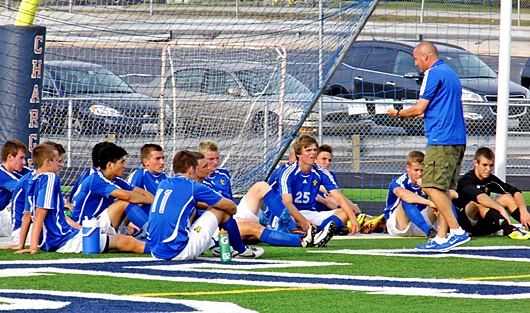 "I loved Alex's response in goal after we gave up that second goal," McEvilly said. "He didn't have to face many opportunities in the second half but he made one huge save that gave us the chance to come back and try to tie or win this game.
"That's the kind of response that I need to see from all of the boys and I think he was kind of symbolic of the that a lot of kids played in the second half."
Indeed, the Falcons were busy in the final half looking for ways to even things but the Chargers managed to hold them off.
Not long after the break, Nathan Atkinson sent in a long free kick that Estrada deflected, leading to an unproductive corner.
Near the half's midway mark, Atkinson was thwarted on another long free kick and then Winckler suffered a similar fate.
North's best chance to connect happened with just under a quarter of an hour left when Norton bounced an effort off the crossbar.
Shortly after that close call, the hosts had one of their own when Jiskra made a nice kick save on an attempt by Torres.
As time wound down, Winckler and Aaron Deeke were turned away by Estrada, who then deflected a Deeke liner off of the woodwork.
Jason Szumski cleared away a loose ball in front of an empty net and then Jiskra hauled in a header from Sebastian Kolpak.
Although pleased to win his opener, Stagg coach Mike Kealy saw the usual assortment of issues that goes with the territory.
"I think that today's match could have gone either way and I give a lot of credit to Wheaton North," Kealy said. "One thing I hoped for was that we'd battle to the end, and that's what we did.
"We saw a lot of things that we need to work on but it was game one. I think that all coaches look forward to the first game not only to play but to see what you need to do.
"For game one, I'll take it, but it's definitely not the style or quality of soccer that we hope to play later in the season."
The Falcons return to action at Lake Park's Norm Hillner Classic. They play Niles West on Thursday and Huntley on Saturday.