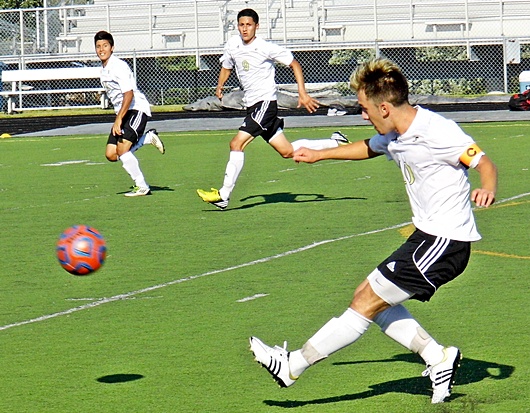 Sabres kick off season with victory over Storm
By Curt Herron
A year ago, Streamwood made program history by capturing its first-ever regional championship.
While 11 members of that squad graduated, coach Matt Polovin has some key performers back from that group for this season.
And they were definitely on display when the Sabres kicked off their campaign on a warm Tuesday afternoon at Millennium Field.
Streamwood jumped out to a 4-0 halftime lead and went on to claim a 4-2 Upstate Eight crossover win over U-46 rival South Elgin.
One of the state's top returning players, senior midfielder Nestor Ascencio, paced the winners with a goal and a pair of assists.
Senior midfielder Christian Vences scored the Sabres initial goal while senior keeper Phil Lewy was in goal in the opening half.
Junior defenders Christian Balbino and Mike Delaney and sophomore midfielder Edwin Rueda are the other returnees for the Sabres.
Ascencio handed out assists to Donnie Sosa and Christian Campos on the two middle scores before connecting for one of his own.
"The guys that we have this season have actually been working with us all summer," Polovin said. "Two of our leaders, Nestor and Christian (Vences) pretty much spear-headed everything and these guys were pretty much five to six days a week, all summer. They're a good group who work hard.
"Some of the other guys from last year's time like Christian (Balbino) and Edwin are also even hungrier than they were last year. They know the kind of success that they had and they know that we can do even more this year.
"We may not have the best technical skill but this group goes non-stop and wants to learn and is a hard-playing team. They've learned the system quickly and are playing it to how it's supposed to be done. After playing against ourselves, we finally got to up against a real team today."
The second half lacked some of the flair and finesse of the first, no doubt due to the heat and a physical style of play.
South Elgin, in its first match for new coach Nathaniel Bowman, took advantage and scored twice to make things a bit closer.
But the Sabres know that teams will try to take them out of their game by playing a physical style, so they must adapt accordingly.
With Ascencio directing things from the midfield, the Sabres want to attack a bit differently this season than they did a year ago.
"We've always been a great possession-style team, but I told them that with the guys that we have, we need to be more direct this year," Polovin said. "We still like to possess but we need to go forward more often and take guys one-on-one so that we can create and finish more chances.
"I thought that we played like that in the first half, where we were moving the ball around well and getting a lot of good chances. In the second half, the real physical game took a little bit out of our defenders and we gave up a couple of weak goals."
The Sabres got things started in the sixth minute when Vences connected on a loose ball in the box to put his team up for good.
Brandon Malpartida was denied on a short try and Rueda saw his liner deflected away by the keeper shortly before a mid-half break.
When play resumed, Streamwood wasted little to to increase its lead, as sophomore Sosa got free following a pass from Ascencio.
The hosts scored twice within an 80-second span shortly before the intermission to effectively put the match out of reach.
Senior Campos put in a loose ball following a free kick from Ascencio, who lined in a long free kick for a score a bit later.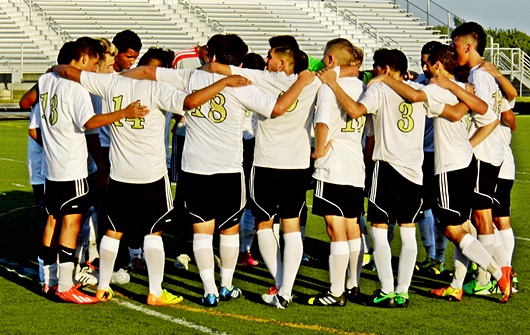 "Once we got into a rhythm, it was fun to watch," Ascencio said. "We got those four goals in the first half which really kind of finalized the game for us. But we know that soccer is a physical game, so you have to just know how to fight through it.
"We worked hard all summer, coming to conditioning at 8 a.m. every morning and you could see it in these guys. They want to win and want to have even more success than we had last season. I think we showed that with a good victory in our first game.
"I like the effort and integrity on this team and just the way that these guys want to come out and play. We all get along well on and off the field. They're hungry for it and I think that you can see it in their eyes in every practice and every game."
After Juan Munoz was thwarted on an attempt shortly after the intermission, the hosts struggled to put together similar chances.
Meanwhile, the Storm made the most of a Sabre hand ball in the box in the 47th minute to get a penalty which Adam Smith converted.
Not long after the squads again stopped for water, Smith found Alex Rivera, who put a try past Sergio Blanco to close the scoring.
There weren't many other good opportunities the rest of the way, but the best came late when Blanco punched away an Owen Bott header.
Beside the three returning seniors, the Sabres have seven others from that class on the roster, with three others in the starting 11.
Alex Moreno joined Munoz and Malpartida at the outset while other seniors are Rene Bracamontes, Armando Diaz, Ivan Leyva and Campos.
Rueda was joined by two other of the squad's five sophomores in the starting lineup. They are Jasminko Dizdarevic and Erie Ortiz.
"All that we want to do is to build on last year's success for this season," Malpartida said. "Yes, we have a lot of new guys but we have a good group back from last year that's keeping us together. We've been working all summer for this.
"We had a blast out there and it's nice to know that you can rely on some players to get balls to you. But this was only the first game of the season so we're going to work on things like moving the ball around better.
"We scored a lot of early goals and then we got our momentum back after they scored and kept with it and they didn't come back any further. We have good chemistry on this team and we'll try to build on that."
The Sabres kick off UEC River Division play on Saturday with a match at Geneva while the Storm travels to East Aurora on Thursday.