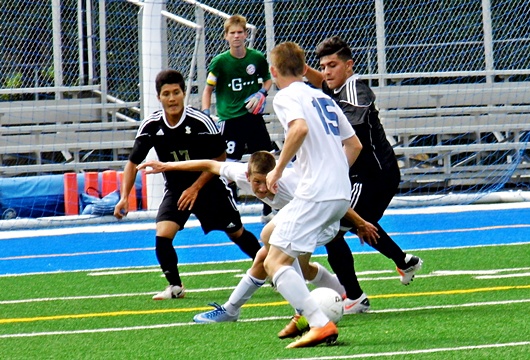 Rueda's free kick helps lift Sabres past Vikings
By Darryl Mellema
Many oddities combined together four minutes into the second half of Saturday's Geneva-Streamwood contest – with the result being the only goal of the Upstate Eight Conference River Division contest.
Streamwood had a free kick deep on the left side, outside the penalty area and Sabres shaped up to take the kick a little slowly. The host Vikings set up to defend the kick and then Edwin Rueda moved forward to strike the ball.
Rueda? Not that Matt Polovin was displeased to see the sophomore take the kick – but he wasn't the one he expected to see aiming the ball toward the goal.
"I didn't even know he was going to take it," Polovin said. "My two regular takers are Nestor (Ascencio) and (Christian) Vences. (Rueda) might have just felt good taking it. He might have been my third or fourth choice, but he took it and he hit it perfectly, right where the goalie couldn't touch it."
Certainly the result of that kick was pleasing to the Sabres. While most free kicks from that position take the form of a corner kick – a cross into the penalty area – Rueda aimed at goal. His sharp kick rose and then dipped.
Geneva's goalkeeper – Joe Mozden – backpedaled and got a hand to the ball, but was unable to keep it from heading into the side netting and the Sabres had the only goal they needed to claim a 1-0 win in Geneva.
"How often to you see the difference in a game being a set piece?" Geneva coach Ryan Estabrok said. "I think everyone knows it, but unless you have the right focus on that actual moment, you're at risk of giving up those types of goals.
"I think giving up the foul, our preparation as it was being taken – I'd like to have it over again. Give credit to them, it was a nice shot. Our keeper was a little bit off his line and they put it over."
The win gives Streamwood a 2-0 record (1-0 UEC River) as a renovated squad settles into the season.
"The guys we have may not be as gifted as soccer players as we had last year, but this group has been working all summer," Polovin said. "Nestor Ascencio and Christian Vences spearheaded it.
"They got these guys together five times a week – conditioning and conditioning and playing. You can tell – their fitness level is the best I've ever had starting off a year like this. It's just them getting used to my formation and style."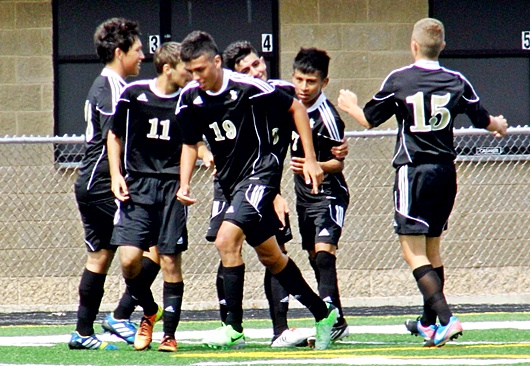 The Sabres had to withstand early Geneva pressure, especially in the opening quarter-hour of the match. First, Beck Nebergall had a shot stopped. Then Nebergall fed Jason Lagger and finally Grant Bracken fed Nebergall, who shot high from the top of the penalty area.
Twelve minutes into the match, Matt Waldoch made a surging run up the right wing, but his cross went through the penalty area untouched.
"I think that we have an attacking four or five who feel very comfortable with each other," Estabrook said. "The back line is starting to feel comfortable with themselves.
"But we didn't have that linkage between our back line, our midfielders and our forwards. That's where we need to improve in order to play the total game."
From that point, Geneva's offensive chances faded. The only strong effort the Vikings (1-1, 0-1) had in the remainder of the first half came six minutes before halftime when Waldoch hit a right wing cross to Bracken, who stumbled on the turf and did not get off a shot.
Geneva's offense continued to struggle through much of the second half, despite plenty of midfield effort. One of the key characteristics was Streamwood's speed in moving from defense to offense when it won the ball.
"We had two excellent opportunities in the first 25 minutes and then we went another 40 minutes until we created anything really dangerous again," Estabrook said. "I think part of that is because Streamwood possessed the ball so well and they possessed it in our defensive third, which is kind of scary.
"I don't mind when a team possesses in the middle of the field because they don't create anything. But Streamwood was close to creating things because they were possessing in our defensive third."
And the Sabres gained the ball numerous times by closing quickly on Geneva midfielders. Streamwood wasn't necessarily showing greater speed, but used anticipation and quickness to regain the ball – then used its speed to turn the ball toward the Vikings goal.
"That was one of things we talked about this season – we've always been one of the best possession teams," Polovin said. "We can move the ball left to right to center, all over the place. But this year, we moved (Ascencio) into more of an attacking player out of midfield, and I want us to be be more direct – to counter right away and to go with speed."
That transitional play often left Geneva with its defense and midfield behind the ball as the Sabres attacked. The byproduct of this was that when the Vikings won back the ball, it took time to build from their defensive third.
"We were a little slow on our transitions, whether it was switching to offense or back to defense," Estabrook said. "That's definitely an area in which we need to improve. It's nice to play a quality team like Streamwood that's going to expose those things early on, so we don't get a false sense of security and don't change that early on."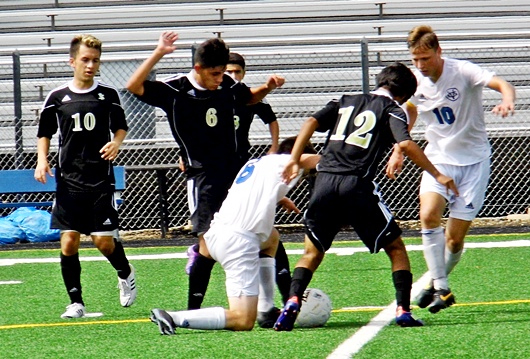 But neither team was able to put together many chances until Geneva surged in the final quarter-hour of the match. First Nebergall nearly volleyed a shot into the net. Then Calen Colbert had a shot saved by Sergio Blanco. Finally Lagger and Nebergall combined before sending a ball to Matt D'Onforio, who shot wide.
Streamwood's non-scoring chances came largely from Ascencio, but Ivan Leyva hit a deflected shot that was saved 12 minutes before halftime. Shortly after, Ascencio sent a sharp right-to-left shot through the penalty area and wide of the goal.
Streamwood exits August with a 2-0 record, and while nothing has been decided yet this season, the signs are positive for Polovin's team.
The Sabres are working with a flat back four defensive setup – Eric Ortiz, Christian Vences, Mike Delaney and Alex Moreno are among those defenders who are working within that system this fall.
"Normally I'm not a fan of playing a flat back four unless it's with my club team because we have time to work with them on it," Polovin said. "But the guys I have are all used to playing it, so now it's real easy to work with it. It's just fixing little things here and there. They were very disciplined."
Behind that defense, Streamwood has a pair of keepers. Phil Lewy played the first half while Blanco kept goal in the second half.
"I do have faith in both of them," Polovin said. "I can't remember the last time I had two good goalies on the team, where I could play them each a half or play one in one game and the other in another game."
Geneva has a mixture of returning players with newcomers. Among those strong returnees is Nebergall, who is a true target player from an advanced midfield role.
"The way that we played (Ascencio) man-to-man in the first half, it gave (Nebergall) more defensive responsibilities," Estabrook said. "I think that made his offensive game suffer a little bit.
"But that's by no means a sign that that isn't a part of his game. But it's just the way that we played the first half that didn't allow him to be able to attack the way he normally would."
One of the Vikings whose play has improved this year is Bracken, a senior forward who was frequently dangerous, especially in the first half.
"He's a two-year varsity player who was kind of a niche player the other two years for us," Estabrook said. "He's a skillful player and a hard-working player, but his physicality was lacking.
"He'd get outrun or he'd get knocked off the ball. But the kid you're seeing out there now is physically above where he needs to be. You don't see many kids his size able to knock players around and take the abuse that strikers normally do and succeed the way he does."
The Vikings had a scare when freshman Matt Sweet hit heads with Streamwood's Donnie Sosa as the two went for a headball midway through the second half. While Sosa was able to continue, Sweet wobbled off the field for observation and did not return to the match.
"I haven't started a freshman from Day 1 in a season since I've been at Geneva ever," Estabrook said. "He's going to continue to be an integral part of our team because of the energy he brings.
"He doesn't back down from challenges. That header was a result of being an aggressive player in the air. It's just an unfortunate collision."
Geneva hosts Larkin on Tuesday at 6:00 in another UEC River contest.
"The truest prediction of where a team's headed is how it responds after its first loss," Estabrook said. "Everything up to this point looked great. I think every team has a lot of momentum before they've lost a game.
"Everyone feels good about themselves. Some guys got a little less playing time and I think they'll get more in future games. But it's how they respond now. Are they ready to step up and contribute however they can to the team for however many minutes it is?"
The Sabres play at Hoffman Estates on Thursday before returning to UEC River play on Saturday at Batavia.