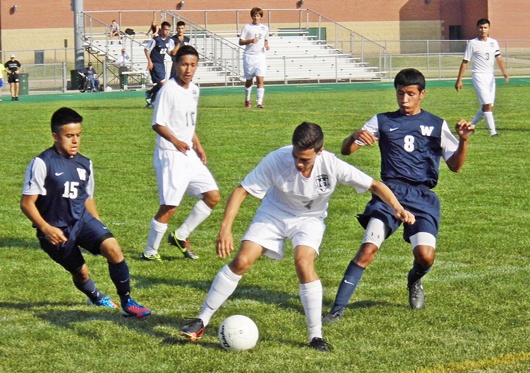 Wildcats settle for scoreless draw with Blackhawks
By Curt Herron
West Aurora and Plainfield Central enter the season is similar situations.
Both squads have a relatively few number of seniors who have much varsity experience.
As a result, the Blackhawks and Wildcats will look to several younger players to step up.
Not surprisingly, both squads are still very much a work in progress as opening week unfolds.
That was reflected on Wednesday when the sides played to a scoreless draw in a nonconference match in Plainfield.
While the Wildcats had a 2-0 win over Yorkville on Monday to their credit, the Blackhawks where playing in their opener.
Although there were a few oohs and aahs each way, the squads struggled with their consistency during the warm afternoon.
And while both coaches agreed that a draw was probably a fair result, neither found a whole lot of satisfaction in it.
West's Joe Sustersic and Central's Kevin Fitzgerald both expect a certain level of play and neither saw enough of that.
With both sides facing competitive schedules, the key to their success will hinge on how quickly things come together.
"West Aurora is a good team and I'm glad that we got them on our schedule because they make you better," Fitzgerald said. "It was a game where I'm not sure who deserved to win, which is probably why it ended up in a tie.
"My disappointment today isn't in the fact that we tied, since there's shame in tying or losing to West Aurora. But in the last 20 minutes we gave in to being tired so we have to get a little tougher.
"Both teams probably had two or three good chances each and that was about it. We ran out of gas a little bit and got tired and we're still not used to game speed yet. And we have to play a little more possession rather than kick and chase.
"And some of our guys are still learning what it means to play hard at this level and until they figure that out, it's going to be a struggle. The number one thing is to give top effort and I don't think everyone did that for the whole game."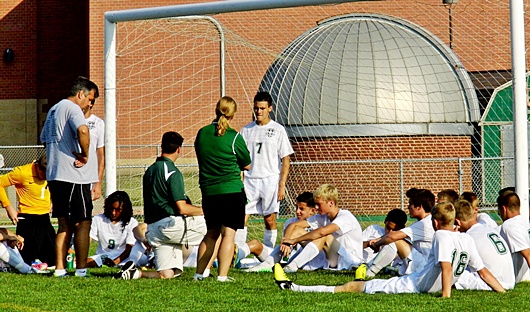 Just as the Wildcats were pleased to face West, the Blackhawks liked facing a program like Central to kick things off.
"It was good for us to be able to play against someone that was not their teammate," Sustersic said. "This is a very new and young team. I think we only have really two returning starters and only five seniors with really only one who started.
"We're bringing up a squad of 13 juniors and two sophomores. So when you're looking at 75 percent of your team being new to this level, you saw why we were rusty and made some mistakes. We showed some things that we need to improve upon."
"It was an evenly-matched game and coach Fitzgerald did a good job with his kids and had them prepared. Maybe with them having a game on Monday helped a little since they got some of the kinks out. I think it was appropriate that the game ended with a 0-0 tie."

Despite not connecting, the Wildcats did manage to post their second straight shutout of the young season.
One of the big positives of the match for Central's coach was the improvement that he saw from his back line.
That group included Ola Shobowale, Sam Espinal, Tom Poznanski and Gage Wuestenfeld in front of keeper Kyle Oehler.
"I was real impressed with our back line today," Fitzgerald said. "I thought that they improved after a day of practice and after watching Monday's game, they were pretty solid today.
"They're all pretty smart kids so we made a few adjustments today and they adjusted well. We haven't given up a goal in two games, but we've also only scored two goals.
"We've got a nice mix of a senior group with some youth and I like the fact that we have a lot of talent and our starting lineup is pretty strong. If we play together and play hard, then we should be pretty competitive."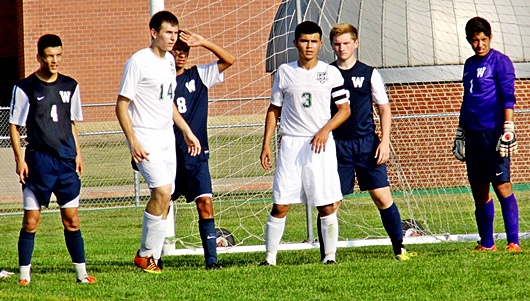 The Blackhawks went with Alex Guillen in goal in the first half while Hugo Nunez took over those duties after the break.
Meanwhile, the defense paced by Luis Gallegos limited the Wildcats to only a few good scoring opportunities throughout.
"It was nice to get a clean sheet on the defensive side," Sustersic said. "With the exception of one or two breakdowns, we did a good job of stopping them on their restarts and throw-ins. And I thought we did a good job on some of their countering.
"Luis Gallegos was supposed to be a marking back on the outside but when one of our players decided to play club year around, he was just put into his new position this last week. Luis was our player of the game and I think our goalies did a good job.
"I like how hard this group works. I think I've said this a few times but my players five through 15 are the same, so one moment they can be a starter and the next they can be a sub. Everyone realizes that it's very competitive and everyone got some time today.
"I'm very pleased with the effort of these kids and the competition that they create between themselves. And I like how they're all trying to get better and doing what's best for the team."
Central threatened first with a long free kick from Miguel Sanchez that was headed to Guillen in the early going.
But it was the Blackhawks who enjoyed most of the first-half chances as they sent several good attempts to Oehler.
The Wildcat senior halted tries from Geo Martinez, Jose Gallegos and Julio Mejia around the mid-half water break.
Central had one of its best early threats a bit later when a Wuestenfeld throw-in went to Sanchez, whose header was halted.
Oehler denied tries by Michael Acosta, Jose Gallegos, Junior Espino and Martinez in the last quarter hour of the first half.
West didn't have nearly as many good threats in the final 40 minutes, with an early try by Jose Oropeza being one of them.
The hosts challenged about a quarter of an hour into the new half when Jarod Petrovic's free kick was deflected by Nunez.
Central had another good chance about a dozen minutes later when Petrovic's free kick led to a denied header from Sanchez.
The Blackhawks had two late threats, beginning with a long free kick from Juan Pablo Morales that resulted in a corner kick.
And then in the final minute, Zak Flynn got free for a shot from the side but Oehler dove for the stop to assure the draw.
West, whose five seniors are Steve Rivera, Guillen, Flynn, Acosta and Oropeza, opens its home schedule on Friday against Hononegah.
Nick Evans, Marlon Salazar, Oehler, Espinal, Poznanski and Shobowale are the six seniors for Central, which hosts Sacred Heart-Griffin on Saturday.