Custom Search

2013 ROSTER

Coach: Paul Wright
Assistant coaches:
Luis Perez, Robert Fox

Sam Lisak
Jr., GK
Joey Pasternak
Jr., GK
Tim Huettel
Sr., M
Seamus Blaha
Jr., M
Noah Fluharty
Jr., M
Mike Hoke
Sr., M
Quinn Neuman
Jr., F
Quentin Drane
Jr., M
Joe Gullo
Jr., M
Steve Hawthorne
Sr., M
Evan Kindler
So., M
Jesse Kusimba
Sr., F
Erik Arsovski
Sr., D
Mavin Gill
Jr., D
Kirk Svensson
Jr., D
Bryndon Bush
Jr., D
Harry Engoren
Jr., F
Stevie Samuels
Sr., D
Robbie Holmes
Sr., F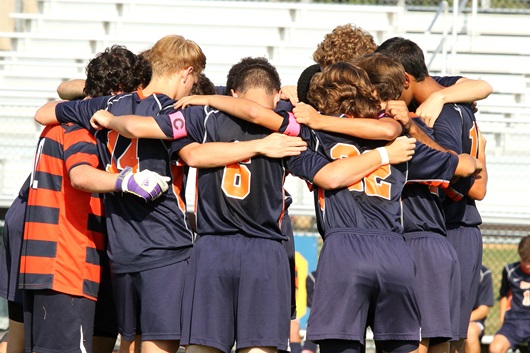 Huskies draw with Leyden on Blaha goal


CLICK HERE FOR A PHOTO GALLERY FROM THE GAME
By Eric Van Dril

It's been seven seasons since coach Mark Valintis moved from Oak Park-River Forest's staff to Leyden's and, ever since then, he said it has seemed as if the Eagles' games against the Huskies have closely resembled Thursday's 1-1 draw.

Leyden was able to generate several immensely dangerous offensive opportunities on Thursday, including several after it tied the game in the second half. But its lone goal came when senior forward Jaime Gamino's mis-hit corner kick snuck into the net, seemingly untouched.

"It seems like those are the only kind of goals that we can score against Oak Park," Valintis said. "It's just some random, lucky bounce (or) hustle play that bounces our way. We just couldn't get the other one to win the game."

The way Leyden scored resembled past matches during Valintis' time at the helm of Leyden's program, and so too did the result. Valintis has yet to beat the Huskies during his run as Leyden's head coach. Valintis has tried to turn the team's lack of success against the Huskies into a motivational tool, but that tool figures to remain at his disposal near the beginning of next season.

"Every time (the Huskies) come here, I go, 'Guys, nobody's every beaten them since I've been here. You could be the first,'" Valintis said. "They're a team we can beat, but for whatever reason we don't. The streak continues (today). Hats off to them. They've got our number."

Some of the things that have made the Huskies so tough to beat over the last seven seasons are "they've always had, since I've been here, strong goalkeeping and very solid defense," Valintis added. "They play very well together as a team. They play very good team ball. They're physical, they're strong, they're fast and they don't quit. They, even at the end of the game, will always pride themselves in outworking you. If you're not ready to fight for a full 80 minutes, you're not going to have success against them. Today we fought for 80 minutes. But even when you do, it doesn't guarantee you anything."

The Huskies (1-0-1) lived up to their reputation, matching or exceeding Leyden's effort the majority of Thursday's match. They also relied on solid defense from junior goalkeeper Sam Lisak as well as senior center back Erik Arsovski and junior defenders Mavin Gill, Kirk Svensson and Bryndon Bush. The quintet of Oak Park-River Forest defenders – along with the goal post in the first half, and the crossbar in the second half – helped limit the Eagles' dangerous attack which is led by senior attacking midfielder Christian Hernandez and sophomore forward Albert Arabik.

Hernandez and Arabik were both dangerous in one-on-one opportunities on Thursday, yet Oak Park-River Forest generated some of its best scoring opportunities on set pieces. Senior forward Jesse Kusimba got behind the defense on a perfect free kick with 25:31 remaining in the first half, but his header sailed wide and over the bar.

Then, a little more than six minutes later, the Huskies' Noah Fluharty booted a free kick into the box which was initially punched away by Leyden sophomore goalkeeper Alfredo Recendez. The Eagles (0-1-1) couldn't clear the ball, however, and it was settled down by OPRF's Seamus Blaha, who took one touch and blasted his right-footed shot past Recendez and into the left corner of the goal for his first varsity goal.

Scoring his first varsity goal was "a rush of joy," Blaha said. "I was so relived because I didn't really know if I was going to score, and I just felt so happy."

Seeing Blaha, a 5-foot-4 junior midfielder, put Oak Park-River Forest ahead on a set piece was a bit surprising, but Oak Park-River Forest assistant coach Rob Fox wasn't surprised to see Blaha take a confident touch and put the Huskies ahead when the opportunity presented itself.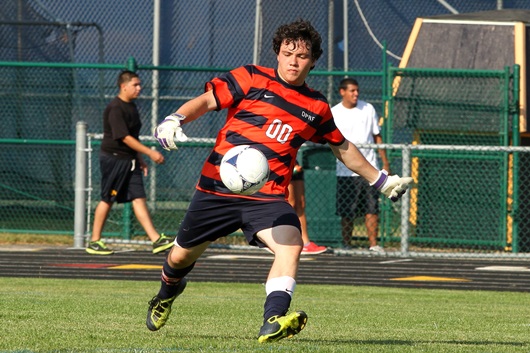 "He seems to find himself on the ball and he makes simple, smart decisions and gets the job done," said Fox, who was filling in as head coach for Paul Wright. "You don't see him do things he's not capable of, so he makes very few mistakes out there. He's very solid."

Oak Park-River Forest senior attacking midfielder Tim Huettel, who regularly distributed the ball to his teammates in dangerous positions on Thursday, was unlucky not to score against the Eagles. He struck a beautiful, dipping free kick with 29:49 remaining in the second half. The ball nearly snuck underneath Recendez and into the back of the goal, but Leyden's goalkeeper blocked it and he safely pulled it in after it briefly squirted away.

"We spend a lot of time working on our set pieces," Fox said. "We have a tall group, so we have advantages there. We have some guys who can put the ball where we want it to (be)."

The Huskies' offense, other than Huettel's free kick and a header by Huettel which sailed just over the crossbar with 23:32 remaining in the match, was largely kept in check in the match's final 40 minutes. Leyden's defense – it included seniors Freddy Suarez, Moises Merlos and Joaquin Cardenas and sophomore Christian Rubio on Thursday – thwarted most of OPRF's counter attacks well before they got to Recendez, which allowed the Eagles to hold the majority of possession after they tied the game.

Gamino's goal proved to be a turning point in the contest for Leyden. It not only provided an equalizer, but it shifted the momentum of the match.

"I think, after scoring that goal, we were hungry for more goals," Gamino said. "We got lucky they didn't score, they got lucky we didn't score. In the end, I'm happy with the tie. I would have liked to win, but I'm just happy that our team gave a better effort than in the last game we had (against Larkin)."

The Eagles were more cohesive and energetic after Gamino scored. They used stronger passing to feed the ball to Arabik in dangerous situations. Arabik, a talented 6-foot-2 sophomore, beat his defender in a pair of one-on-one situations in the match, using his skill to create one-on-one opportunities against Lisak in the box. He couldn't put the ball away in either situation, however. Arabik's best opportunity came with 10:44 remaining in the match, when the sophomore beat his defender and poked a right-footed shot from about seven yards away. The shot beat Lisak, but it bounced off of the crossbar.

Leyden senior midfielder Dario Salgado ran in to try to collect the rebound as the ball was about 10 yards away from goal, and he got to the ball first. He seemed poised to score with a temporarily open net, but the Huskies' defense immediately converged on him and closed the window of opportunity.

Although both teams had quality chances to score a second goal, a tie seemed to be a fair result to members of both teams.

"It was an even game throughout," Fox said. "I wouldn't say one team had a better advantage throughout the game. (Leyden's goal was) fluky, maybe, but at the end you earn it and deserve it and they got it. We'll learn from it and correct our mistakes, but overall, I'd say a tie was probably about how the game was played."