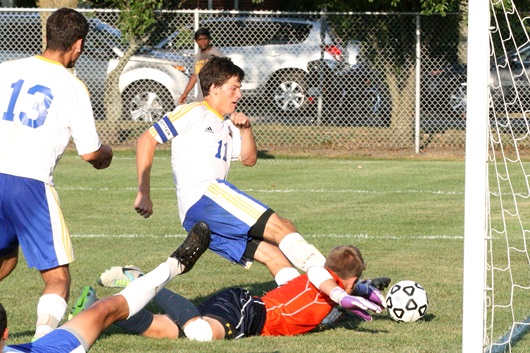 Huskies rally to claim draw with Lions in opener
By Matt Le Cren

Chris Sullivan is not shying away from his brother's legacy.
The Naperville North freshman not only plays the same position, center midfielder, as his older brother, Joe, he wears the same uniform number, 5.
On Thursday, Sullivan even played like Joe, a former Huskies all-stater who is now a freshman playing for Bowling Green.
It was Sullivan who started the play that led to Zach Peterson's tying goal as the Huskies rallied for a 2-2 draw with host Lyons Township in LaGrange.
"[The] second goal was awesome," new Naperville North coach Steve Goletz said. "For Chris Sullivan as a freshman to make a play like that today, we've seen that for the last two weeks.
"He's got a ton of talent and he's got big shoes to fill with his brother (Joe) being gone at Bowling Green, so he's kind of stepped into the role and he's going to have some growing pains, but for the first game and to slot a ball like that to 'Tommy' (Alec Thompson) and then for Zach to finish it off was a great combination for the three of them."
LT (1-0-1), which is a tough team to play anywhere but particularly on the thick grass at West Field, led 2-1 when Sullivan made a pass up front to Alec Thompson, who quickly played the ball to his right to Peterson. The senior forward calmly finished to tie the score with 16:57 left in the second half.
It was the kind of play-making ability that Naperville North fans came to expect from Joe Sullivan and indications are there is more to come.
"It was awesome," Sullivan said. "Coach told us coming into the game that we might not be as technical as them but we definitely work hard and we can counterattack.
"My teammates played it to me in a good spot and I just slid it through to Thompson, who played a great ball so Peterson could finish it off."
Peterson, who along with Thompson and senior defender Geoff Horn serves as team tri-captains, marveled at how cool Sullivan was in his high school debut.
"I'm so proud of him," Peterson said. "I remember when I was a freshman I came in all nervous and he's been playing so much more confident than any of us could imagine. He played an absolutely great game, especially coming in against the midfield of LT. LT had a great midfield and he held his own and did well today."
Sullivan knows his big brother's shoes will to tough to fill but he wants to play the same role as Joe.
"My brother is an attacking mid and that's what I've started going into is attacking and sliding balls through," Sullivan said. "But my teammates put me in good spots."
Thompson was in a good spot in the early going when he gave the Huskies (0-0-1) a 1-0 lead at the 28:52 mark of the first half.
A hard corner kick was bobbled by the LT goalie and the ball glanced off another player in front before Thompson crashed in and scored.

To no one's surprise, the Lions roared back and equalized on a goal by another young player who is following in the footsteps of an older sibling.
Sophomore Cristian Sanchez, whose older brother, Horacio, played on LT's 2009 state championship team, is following up a solid freshman season by picking up where he left off.
Sanchez took a pass from Harry Hilling and slotted a roller inside the left post with 15:37 to go in the opening half. It was his second goal in as many games as he also found the back of the net in Monday's 3-2 win over Whitney Young.
"They're a great team defensively," Sanchez said. "They had good counterattacks. We just need to keep focus and not worry about anything else.
"This game was a great game. It was just like the playoffs and we learned from our mistakes and we'll move on forward. It's just two great teams matching up and playing against each other."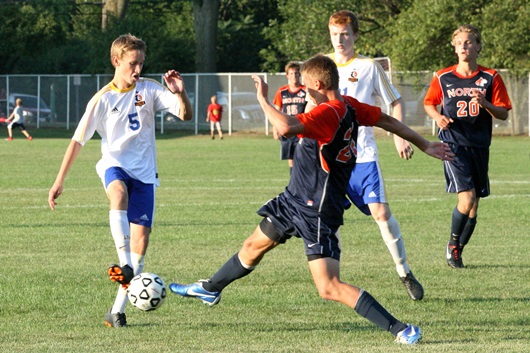 Hilling, a junior midfielder, also had the assist on Patrick Duncan's goal which put the Lions ahead with 26:08 left in the second half. That play started with a long throw-in from Frankie Kocimski, who takes all of his team's tosses.
"We're fortunate enough to have his skill of throwing in and every time he puts that throw in we make sure we take advantage of that," Sanchez said.
LT rarely gives up late leads at home, but the Huskies proved their mettle in rallying for the tying goal.
"It's definitely a morale-booster for the boys," Peterson said. "Coming in here and taking on the third-ranked team in the state on their field [and] to come back in the last 15 minutes and get that equalizer, it keeps the team up for the rest of the season."
The game marked the debut of Goletz, who takes over from his mentor, athletic director Jim Konrad. Goletz is no stranger to winning, having coached the Naperville North girls team to state titles in each of his first two seasons at the helm.
"I think for the boys it's a good first step," Goletz said. "We had a lot of question marks coming into this season and I think some guys definitely stepped up today and I think as a group, they battled.
"[LT] is a physical team, it's a great team, it's always well-coached and it's an awesome first game because it gives you an idea of where you're at as a group.
"We have a lot of things to work on and we're definitely going to take those away but for the first game, to score two goals against LT on the road and come back, those are things that are priceless for us because those are situations that you're going to encounter throughout the year."

Goletz was particularly pleased with Horn, Wesley Wong, Grant Lesak and Alex Scurto on the back line as they held the dangerous Lions at bay down the stretch of what was an extremely physical game for so early in the season.
"We're not generally that physical of a team but we definitely welcome this type of game to the schedule," LT coach Paul Labbato said. "We've got them one after another after another to just kind of let the kids know what it looks like at the highest level. Now it's on to Neuqua Valley and it doesn't get any easier with St. Charles East.

"What this shows is when you have those mental lapses, good teams punish you with goals and opportunities and in [the] early season you start learning those things. The mental focus has to stay the whole game."
Several players left the game with minor injuries and cramps due to the heat, including senior defender Joe Lupano, a key starter for the Lions. But the hosts allowed only four shots in the second half.
"So hats off to Spiros Kass and has brother [Peter], who moved a little out of position to center back and finished off that game," Labbato said. "And [they] actually stopped them for a majority of that half."