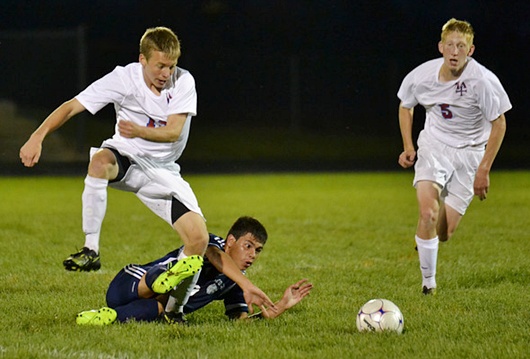 Photos courtesy of Annie Collins
Cadets settle for draw with Wildcats in home opener
By Curt Herron
Some people look at a draw and don't see a lot of positives for either side that's involved.
But you can't make that case for the 2-2 tie that West Chicago and Marmion Academy played on Saturday night.
After all, the nonconference match at Fichtel field in Aurora marked the first positive result for both sides.
But more importantly, it showed a sign of the improvements that the squads have made during the opening week.
Both the Wildcats and Cadets battled throughout and had created good chances in a match that was pretty even.
Ricky Del Toro's Cadets improved upon their defense from their opening 4-3 loss to Plainfield East on Thursday.
Meanwhile, Jose Villa's Wildcats finally connected after falling 3-0 to St. Charles East and 2-0 to Schaumburg.
Those were positives for a pair of teams which had plenty of young and inexperienced players in their first 11.
"We started off a little bit slow but we're progressing," Villa said. "We were unlucky that we weren't able to finish off on some opportunities, but Marmion is a good squad and they played a nice game against us.
"I'm happy and our boys are happy with our effort today. Obviously we would have liked to see a win here but our playing the full 80 minutes was fun to watch and good to see as we prepare for our first conference game."
WeGo (0-2-1) feels much better about where it's at now as it gets ready for Tuesday's match at Metea Valley.
It will be the initial Upstate Eight Conference clash for the Wildcats, who had competed in the DuPage Valley.
After seeing his squad not play all that well in their first two matches, Villa was pleased with this effort.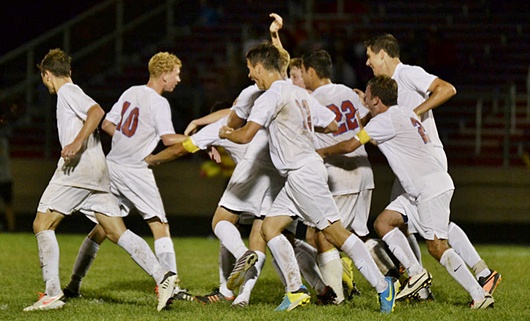 "I felt like we didn't come to play as much in our first game and in the second game we played about 40 minutes," Villa said. "But today it was a full 80, the first full 80 that we've played and that was encouraging to see.
"In our first two games we weren't able to get on the board so it was good to see us score. The main thing is that we were creating opportunities. But the fact that we able to finish them is huge since it gives us more confidence.
"The most encouraging this is the progress that I've seen so far. We're not satisfied with where we are and we have a couple of things that we need to improve on so we're kind of taking it one game at a time right now."
It was a similar tale on the other bench for the Cadets (0-1-1), who were playing their initial home match.
"We had a bunch of chances, but it was the same story for them, so it was pretty even," Del Toro said. "We lost our first game 4-3 and we tried to improve on that and I think that we did better on defending set pieces, especially corner kicks.
"I loved the intensity of the boys. West Chicago always has talented players who play one-two touch soccer. Right now we're trying to develop a team that's high intensity and at the beginning of each half, we had our chances but didn't finish."
While the Cadet boss is looking for more consistent play, he also realizes his team and the season are young.
A trip to the Barrington Classic this week will provide MA with further indications of where it's at right now.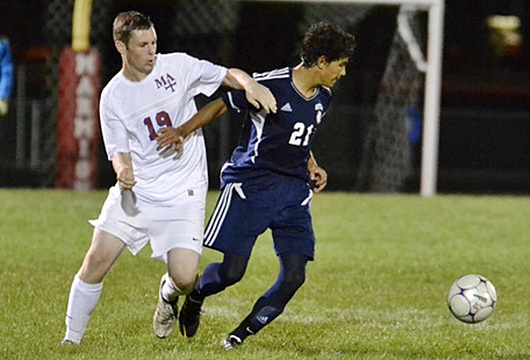 "I loved what I saw from everyone today," Del Toro. "We had a lot of sophomores out there playing today, which is great for our program. Now we have to get ready for the Barrington tournament.
"Last year we went there and immediately when the kids got off the bus that they were already down and intimidated and we went 0-4. This year we have a different mentality and we're ready and we want to improve and go at least .500 there."
With a lot of youth on the field, it wasn't surprising that some new faces joined veterans to spark the Cadets.
"Since day one we've been working on the high-intensity press because if we win the ball in their half, we're going to get a lot of chances," Del Toro said. "We've been getting a lot of chances and now we just have to finish.
"As a group, these guys are motivated, from our seniors to the three freshmen that I have. They want to do something and be successful. We want to win our conference since it's the last year of the SCC. They know it will take a lot of work.
"Tim Wheeler, a sophomore, scored to put us ahead in the second half. He played less than 10 minutes in the first game but after looking at the film, we gave him a shot and he started and we're very impressed in how he played today.
"I'm very impressed with Flynn Collins, who is very dangerous and has a lot of energy. The opener was an eye-opener for our keeper, Matt Fletcher. He just started picking up goalkeeping in the spring and he needs to get some more experience."
Likewise, the WeGo coach can't point to a mixture of old and new who helped his squad to their best showing yet.
"We have a great group of guys and when we're playing together as a team and are working hard, I think that we can beat most anybody," Villa said. "we're upset about our first two games but no one's giving up and we were out here fighting.
"We have a lot of new faces so it's good to see a lot of these new guys getting a lot of playing time and getting more confidence. It's good to see that we're coming together as a team step by step but we're getting there.
"I'm very pleased with our midfielders. Vicente Tirado is a captain who has stepped up and doing a tremendous job. One of our freshmen, Eduardo Suarez is great in the back but we needed him up top and he scored the game-tying goal.
"Misael Duran, a sophomore, is another player who has impressed me and he's a hard worker who will whatever he needs to do. And our keeper, Paolino Mansera, has been great so far and has kept us in games and today he had some tremendous saves."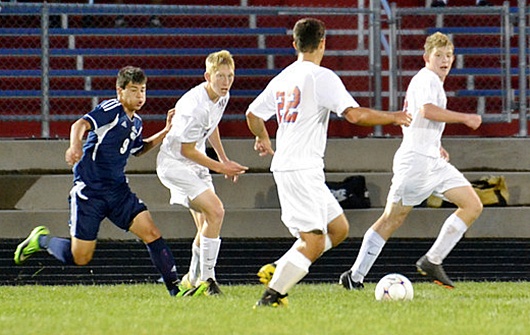 Although the hosts had most of the good chances in the initial half hour, WeGo was able to find the net first.
Marmion nearly connected in the 12th minute when a long free kick from Luke DeSimone went to Flynn Collins.
The Cadet senior got off a try that looked it would slip inside the post but a WeGo defender cleared it late.
After Matt Fletcher halted a free kick from Jerry Medina, Paolino Mansera returned the favor against DeSimone.
Shortly before the half's midpoint, Collins and Oswaldo Estrada were denied as was Medina again a bit later.
But in the 30th minute, WeGo's scoring drought finally ended when Ramon Eurioles connected to put his team up.
Less than two minutes later, Collins got tackled in the box and Conor Morton made the penalty to even things.
Early in the final half, Alexis Quezada sent a corner to Eduardo Suarez, who was thwarted on a close-range try.
A bit later, a free kick from Quezada went to Alfredo Villa, who got off a spinning shot the Fletcher stopped.
Following an exchange of tries by Tim Wheeler and Misael Duran, Mansera came out to halt an effort by Collins.
MA moved ahead for the first time in the 57th minute when Wheeler put in a loose ball cleared by a defender.
After getting a shot deflected, Gavin Sanchez sent a corner to Jake Hutchison, whose try went back to Wheeler.
Not long after a defender cleared a header from Suarez, the WeGo freshman connected to create the final tie.
In the 66th minute, Duran sent a cross in front of the net and Suarez headed the ball to again even the score.
WeGo had three more good late chances but Fletcher made stops on attempts from Medina, Cesar Nieves and Duran.