Custom Search
2013 ROSTER

Coach: A.J. Cappello
Assistant coaches:
Mike Hanley, Brian Taege, Tony Miocic
and Brett Oates

Daniel Kim
So., M
Andrew Kaufmann
So., M
Spencer Dixon
Sr., GK
Austin Ryan
Sr., F/M
Marcus Inglisa
Sr., D
Nick Voss
So., M
Cristian Guzman
So., F
Abe Villa
Sr., D/M
Erik Merdinger
Jr., D
Jake Blankenship
Jr., D
Daniel Vandewalker
Sr., D
Mitch Materna
Sr., D/M
Konrad Wasilewski
So., F
Jake Jemmi
Sr., M
Tim Hubner
Sr., F
Ean Wilson
So., M
Aaron Camp
Jr., GK
Nick Paganucci
Sr., D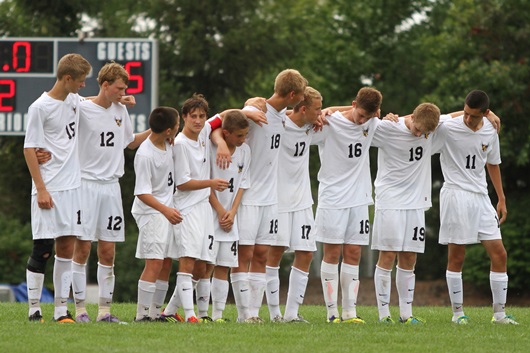 Eagles end tournament play in a shootout win



By Gary Larsen

There's pressure on a kicker during a shootout, and that pressure ratchets up if you're a kicker in a sudden-death situation.

After Jacobs and Kaneland converted all five of their first-round shootout attempts after tying 0-0 in regulation, Jacobs senior Austin Ryan was the first kicker in the second round, when the first team to miss loses the shootout.

"The mental approach is that if coach believes in you to take that pressure shot, you've got to go out there and do it," Ryan said. "That's the bottom line. If he believes in you, you have to believe in yourself in that situation. I was definitely just going to bury it. I picked a spot and that's where I was going to go."

Ryan's conversion gave Jacobs (1-2-1) a win to finish play in the Golden Eagles' annual three-game tournament, which also includes Harvard and Crystal Lake Central.

Jacobs opened the season with a 1-1 tie at Prospect on Thursday, lost 3-2 to Central and lost in a shootout to Harvard before winning the shootout over Kaneland.

"Over our first four games it's nice to know now what we can do, what we shouldn't do, and what we can be. We've got a lot of upside and there's a lot of work to put in," Jacobs coach A.J. Cappello said.

Lightning interrupted Friday's opening round of tournament play, leaving teams to play three games on Saturday that consisted of 25-minute halves. After dropping their first two games to Central and Harvard, the Eagles rebounded against Kaneland despite the potential for weary legs.

"We stayed strong," Jacobs senior defender Mitch Materna said. "We pride ourselves on our fitness. It's mental, too. You have to stay positive. If you lose one game you have to come back from it and we did that. We came back and won this game after losing the first two because we played hard and never gave up."

Jacobs' Konrad Wasilewski broke behind the Kaneland backline just two minutes into play but Kaneland keeper Jarred Karr made the save. Jacobs' keeper Spencer Dixon registered his first save of the game at six minutes, and one minute later dove at the post to direct a Knights' shot over the endline.


Dixon saved a head shot at 11 minutes just before Wasilewski got deep on the right side and crossed a ball that Jacobs' Tim Hubner couldn't quite get a head on.

The Golden Eagles earned a freekick inside the Knights' box 20 minutes in but Karr ultimately gathered Ryan's offering near the post, and Ryan sent another freekick into the box at 22 minutes that went for naught.

After a physical season-opener against Prospect that saw few fouls called, Jacobs had to adjust to a quicker whistle and far more restarts during weekend play.

"We have to get our set pieces sorted out offensively and defensively, and don't let the ref dictate the game," Ryan said. "You have to keep it in perspective and you and your team have to play out the game, and not let the ref dictate the game.

"We had more room to play against Prospect on Thursday, and the three games here were definitely (refereed) tougher."

Karr saved a Hubner shot two minutes into the second half and another five minutes later. At the 14-minute mark of the second half, Jacobs earned a corner kick that Kaneland cleared into transition, with Dixon sliding out near his 18 to gather a ball sent ahead with a Knight running on.

Karr saved a shot taken from 20 yards out by Ryan with 10 minutes remaining in regulation. Both Karr and Dixon snared long freekicks sent in in the game's final minutes, Jacobs' Marcus Inglisa sent in a shot from long-range that hit the crossbar with two minutes left to play, and Dixon saved the game's final quality chance with a minute left in regulation.

"I like the chances we get when we do move the ball and get it to the endline," Cappello said. "We've had good serves, good pace on the wings, and we just have to stay consistent and keep feeding them the ball. We've got some dangerous players and we've just got to keep supplying them because I like the chances we create."

Materna, Erik Merdinger, Nick Paganucci, and the boys in back helped Dixon to his first shutout of the season against Kaneland.

"(Kaneland) had some good midfielders to they like to take the ball and play it to the middle, and they'd see that long ball and try to switch it so we had to adjust fast on the fly," Materna said. "They had some good crosses in, they were quick on their feet, and they're a good team. But we did a good job to adjust and close that down."

After spending three years as a midfielder in Jacobs' program, team captain Materna moved to the backline this season and is making it count.

"As a defender this year he's done a heck of a job so far," Cappello said. "As a coach you almost kick yourself for not putting him back there sooner. He's playing tough, physical, and leading by example back there. We asked him to play physical back there and he's doing it."

Hubner, Materna, Nick Voss, Andrew Kaufmann, and Erik Merdinger all converted their shootout attempts before the sudden-death round of PKs began. Kaneland's first offering flew wide of net before Ryan buried his PK attempt to give Jacobs the win.

The Golden Eagles' next game is Saturday when they'll host Elk Grove at 10 a.m.