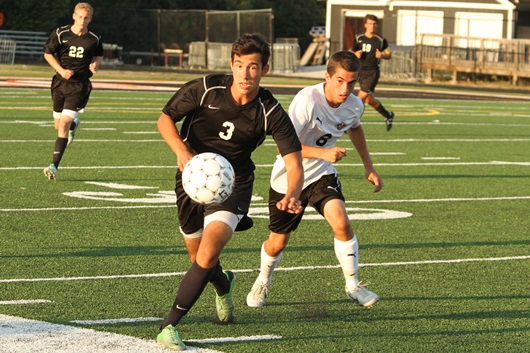 Hornets battle well in 2-1 loss to WW South
By Gary Larsen

It looked like Hinsdale South might have earned a 1-1 tie on Tuesday, when Nathaniel Michaelis' rainmaker from 40 yards out fell under the crossbar in the game's 70th minute against Wheaton Warrenville South.

But 20 seconds later the host Tigers counterpunched. "If you're going to answer, answer quick, because the momentum was swinging," Tigers coach Guy Callipari said.

Jack Coutre sent a diagonal cross from the right side to the far post and Anthony Berardi buried it, quickly answering the Hinsdale South goal and effectively giving WW South a 2-1 win in a season-opener for both teams.

The visiting Hornets showed grit and physicality throughout against a Tigers team that had to earn what they got. Tuesday's game was a far cry from the 6-0 win that WW South earned over the Hornets in the teams' season-opener last season.

"Last year when we played them they were a little softer and today we underestimated them a little at the beginning of the game," WW South senior Joe Spera said. "But we came around. I liked our passing and intensity. We possessed in the back and played and switched really fast, and we were intense and physical.

"We're a young team but I thought we started to get together in this game. In the first half we were a little iffy but at times we were able to pass, possess, and get forward. And we played physical."

The Hornets left the field pleased with the effort they gave for 80 minutes. "It was strictly our intensity," Hornets senior defender Giancarlo Cianelli said. "I think this can be an exciting team and for our first game, we came out and played a hundred percent. And if we can keep winning head balls like we've been doing, we're going to possess this year."

A scoreless first half saw flashes of solid combination play from Callipari's Tigers and a good handful of dangerous restart opportunities by Hinsdale South.

The Tigers have no shortage of dangerous and creative players with the likes of Mike Bennett, Elliot Kettle, Anthony Berardi, Jurguen Gomez, Edwin Huerta, and Jose Perez on the field, and Callipari liked what he saw in spurts from his boys through 40 minutes.


"At times in the first half we were one-touching and two-touching and moving off the ball, so it looked like we could orchestrate through the middle and be effective moving into the final third with numbers," Callipari said.

"Elliot (Kettle) returned from the Academy this year and he certainly has soccer savvy and sensibility, and Jurguen (Gomez) is gifted. There was a combination today where Jose (Perez) split two guys and Jurguen made the run – that's what they can do when they keep going. But when they sit over the ball and become a target, they're going to get hit, so we'll just keep reminding them of that. Mike Bennett can stretch a defense and (Berardi) is strong, he can win balls in the air, and he reads well and he knows how to finish as well."

The game's first goal came at 47 minutes, courtesy of Huerta.

The junior Huerta received a pass from Gomez and moved just inside the top of the box before firing on charging Hornets keeper Jose Moreno. Moreno made a fine initial stop but the ball rebounded perfectly back to Huerta, who calmly sent a head shot into an empty net.

After the game, Tigers' captains Spera and Mike Stelletello handed Moreno a sportsmanship pin, recognizing his fine play on Tuesday. "Jose had a heck of a game. He was pouncing all over the place today," Cianelli said.

His coach agreed.


"It was a great save by Jose and the rebound just came right back to (Huerta)," Hornets coach James VanDenburgh said. "You can't do anything about where that rebound goes. But Jose is a class act and it was nice for (WW South) to recognize him."

The Hornets played the second half a man down after a red card call on a handball inside the Tigers penalty area. They fought hard until Michaelis teed off on his bomb that tied the game, falling from the sky and over the head of Tigers' backup keeper Christian Lazcano, filling in for absent starter Edson Gomez.
"I thought (Michaelis) did a good job today. He hit that bomb and we want him to shoot and control the game as much as he can," VanDenburgh said.
Callipari had no qualms on the shot that tied the game.
"I thought Christian did a great job today," Callipari said. "Nothing is going to beat him up high but I don't think anyone gets to that one. It was a good game for his confidence. I think he thought he might come in and just sit and watch the majority of the year but now he realizes that at any time, he might be called upon."
The Tigers took the ensuing kick-off and turned it into a game-winning goal thanks to the Coutre and Berardi.
Both teams have a pair of captains this year that are central defenders – in the Hornets' Cianelli and Panayiotis Stamatoukos, and the Tigers' Spera and Mike Stelletello – giving each side confidence in keeping goals out of their respective nets.
"(Spera and Stelletello) can be two of the best central defenders in the area on a good day," Callipari said. "They read each other very well and they played large minutes today. They're got recovery speed, they're aggressive in the air, and aggressive in anticipating the ball on the ground. We just need to support them."
"(Stelletello) and I play well together," Spera said. "We connected the first day we played last year and our guys on the outside got into the system really well today, and I thought (Lazcano) stepped up and played well in net today."
VanDenburgh was similarly pleased with his two captains, and happy with the way his side battled against the Tigers.
"I liked how we were connecting passes," VanDenburgh said. "Wheaton Warrenville South sets up their triangles very well and move well off the ball, and are very good in combination play, but I thought we responded when we could, building the ball up, especially against a quality opponent so I'm very pleased with the way we connected passes.
"We're excited with how we started. The guys played with a lot of heart and a good amount of fair play. They were up for the challenge today."