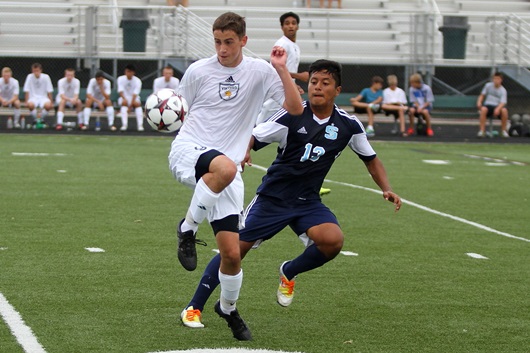 Vikings strike twice in win over DG South



By Gary Larsen

Fremd scored once early, once late, and in between withstood any and everything Downers Grove South had to offer -- which was plenty.

The Vikings' Brock Vonholt converted a penalty kick in the game's 6th minute and Zach Schoffstall netted a goal with time winding down in Fremd's 2-0 win over the visiting Mustangs.

"It was a good effort," Fremd coach Steve Keller said. "(DG South) probably had more quality chances but we were opportunistic. We held through that ten-minute spurt to start the second half when they were all over us, and it's a good win. There's still a lot of work to do. It's not necessarily a pretty win but a win's a win. Our two goalies played well and made some good saves."

Fremd (1-0-1) senior captain Jon Smith was happy to see his side hold the lead against the Mustangs.

"In our first game we were up 1-0 and we let (Maine West) tie it up with two minutes left," Smith said. "We couldn't let that happen this time so the key was talking, and our goalies made a huge difference today."


Fremd keepers Dylan Fisher and William LeFevre split halves in net and both were rock-solid throughout.

And after 80 minutes of better possession soccer than usually occurs in a team's second game of the season, Downers Grove South (1-1-0) left Palatine encouraged despite the loss.

"This is not a match where I'm disappointed with the effort or how we played," Mustangs coach Jon Stapleton said. "You don't always come out on the winning end of games like that so I'm encouraged by the positives I saw today."

Danger appeared in the game's first minute when Fremd's Jacob Cuthbert ran down a ball sent over the top and was met near the top of the box by South keeper Nick King, who slid and made the stop.


It was only five minutes later that Fremd netted the game's first goal, when a Downers South defender was called for tripping Fremd's Schoffstall inside the box. The Vikings' Brock VonHolt converted the PK to give his side the early lead.

South senior mid Eric Diaz sent a shot high from distance at 10 minutes and Fremd keeper Dylan Fisher elevated to snare a South freekick out of the air five minutes later. At 20 minutes, South's Jimmy Kruse served a ball that saw Fisher leave his line to punch it away.

Fremd's Schoffstall sent a long-range shot high of frame at 21 minutes, just before South's Diaz took a ball to the endline on the right side and whipped a serve across that went for naught. Stapleton was pleased with the way his side responded to the early deficit.

"They got the early penalty but after that I thought we settled in pretty well," Stapleton said. "In the early part of the match, maybe we felt a little physically overmatched but then we settled in I thought we possessed the ball maybe the last twenty minutes of the first half and came out really strong in the second half. But they finished the chances they had and we had a hard time finding the back of the net."

Fremd has no shortage of big and physical players spread around the pitch this season, and the Vikings established an advantage with that size early on in the contest.

Keller hopes his side can maximize that size advantage moving forward.

"We could probably work on set pieces because hopefully that's something we can excel at," Keller said. "We'll probably be a little more of a direct team and we're not going to pass the ball around like Barcelona. Hopefully our size should help, if they play with their size. But sometimes the smallest player on the field was winning balls in the air today."

Just one minute into the second half, the Mustangs' Jack Freko found a dangerous shot near the post only to see Fremd's second-half keeper – William LeFevre – charge out to stuff him. LeFevre later tipped a shot over the crossbar and showed that the Vikings have two quality goalkeepers in the fold this season.

South's Mike Flores popped a shot up from outside the 18 that LeFevre handled at 44 minutes and Diaz sent a long shot wide four minutes later. Cuthbert broke up the left side in transition for Fremd at 60 minutes and hit a hard, left-footed shot wide of the far post.

Holakovsky headed a freekick over Fremd's crossbar at 66 minutes. One minute later, Diaz slid a ball ahead to South's Jon Sleeper, who had a good shot on his foot that LeFevre tipped over the bar.

South headed the ensuing corner kick over the bar, capping a strong spurt of solid attacking soccer.

"I feel like we responded pretty well after going down a goal and it felt like the game was ours," South's Pawlicki said.

"We tried to kind of dissect their size in the second half but it was still hard for us, maxing out at six feet, going against twin towers in the middle of the field. But I thought we controlled the ball extremely well when we settled it down in our midfield, and controlled the middle third. I was trying to distribute and we've got good speed on the wings. So as long as we all play together like that, I think we'll be fine."

Schoffstall buried an insurance goal with roughly ten minutes left to play, and Fremd kept the slate clean to the final buzzer. "We stuck together today," Fremd defender Smith said. "In our first game we were yelling at each other but today, even when we had breakdowns we were staying together, we listened to each other, and we got it done."

Keller was pleased with the clean sheet his side earned against a quality possession team like DG South.
"I thought (Nathan) Dolan and (Austin) Bratkiv in the middle played very well and both of our goalies played extremely well," Keller said. "The defense did a good job and so did our midfield, and (Zach) Schoffstall in front of them was very active today. I'd just like to see him calm down a little bit, and slow the game down a little when he gets the ball, and dictate."
Stapleton also had a bevy of players punch the clock and give him a strong effort on Saturday.
"Jordan Pawlicki can hold the ball up top and challenge in the air, we've got Eric Diaz in the middle and Jon (Sleeper) obviously got onto the end of that ball that Eric slipped through," Stapleton said. "Now we've just got to find ways to finish.
"We made a few adjustments because we thought they were pretty direct, which did give us problems early in the match. As the game continued I thought we adjusted well, our backline responded, and we limited some of that. So defensively I thought our two center backs in (Scott) Holakovsky and (Andrew) Dobosenski played pretty well, and Patrick (Gurdiel) on the wing did a nice job."