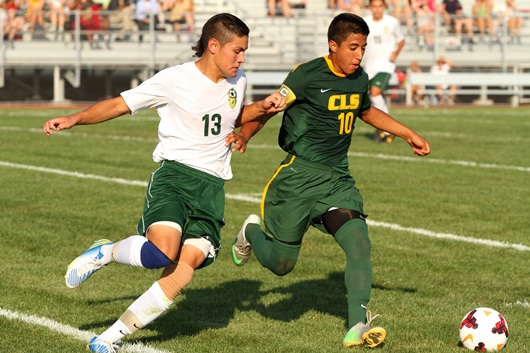 Grens kick off home schedule with win over Gators
CLICK HERE FOR A PHOTO GALLERY FROM THE GAME
By Curt Herron
Although Elk Grove and Crystal Lake South both had already played a match, Thursday's meeting between the two was kind of a beginning.
For the Grenadiers, it was a chance to forget about Tuesday's 4-3 loss to Maine East in which a couple of regulars sat out do to cards.
Meanwhile, the Gators had an opportunity to build on Monday's 4-1 win over Marengo as they kicked off a tough stretch in their schedule.
From the outset of the nonconference match at Robert Haskell stadium it was clear that the host Grens were out to make start off anew.
Elk Grove scored a pair of early goals to grab the momentum and then ran with it to help them capture a 5-1 victory in Elk Grove Village.
Johnny Arzeta had three goals thanks to two Eric Pillath assists and Daniel Hadler made two headers off of corner kicks from Gio Garcia.
The victory was also the first for new coach Rob Shepard, who led the Grens freshman for seven seasons and the J-V 1 squad for one year.
Elk Grove definitely played with an intensity and pace which was well-received by an enthusiastic crowd that showed up for the home opener.
"It's nice to see when you practice something and the kids go out and execute it," Shepard said. "Some of these guys have been around for so long at the varsity level that the biggest thing now is putting all of the pieces together and doing it consistently and working as a group. When they do that, they're really exciting.
"The other thing that I thought was kind of fun today was that we had a 'white out' so we had a whole bunch of people in the crowd. I think the guys got pumped for that and the fact that EG nation showed up for us was really cool and it gave us a little more energy and a little more hop in our step and we fed off of that.
"I gave them a quote the other day and it was basically that success breeds momentum. When you have success, it's amazing how success continues to follow that. And we definitely fed off of that today."
Shepard has his squad buying into a slogan, F.I.R.E. (Fraternity, Integrity, Responsibility and Effort) that he hopes pays big dividends.
That's why it was easy to turn the page on the issues which they dealt with in the opener as they turned began focusing on their new season.
"We talk about making good decisions all of the time. Two players got red-carded in our playoff game last year so they had to serve the time. And we made that kind of a rallying point for the team about individual decisions versus what's good for the team. That was the mantra for today and team is what we fought for.
"Physical fitness started for us a long time ago in the offseason, the things that no one ever sees. The guys came in and the sweated and worked hard. We have good leaders on our team , guys who know what it takes to win and guys who want to see success and we have everyone else kind of jumping onto that."
"We can be dangerous, but if we don't keep organized, we lose out on opportunities. We talk about brotherhood and doing things the right way and being responsible and always giving it your all. There are many parts which collectively aren't as strong but when you put them together as a whole, then they create something better."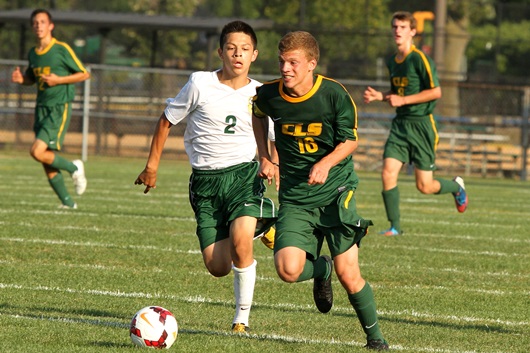 The Grens have two senior captains, defender Manny Pillado and midfielder Garcia, and a revolving captain, this week keeper Alberto Centeno.
Joining the co-captains in Thursday's opening 11 were fellow seniors Avery Chang, Sergio Aguirre, Arnold Aguilar, David Bahena and Arzeta.
The remainder of the Grenadiers' 11-player senior contingent are Hugo Sanchez, Deion Morales, Jersson Pachar and Kenneth Kozak.
Thanks to the fast start, Shepard got the opportunity to let the entire squad see plenty of playing time on the warm afternoon.
It was a similar tale on the other side of the field, as the Gators utilized everyone a good deal in order to try to find some positives.
And although coach Brian Allen certainly had some understandable issues emerge, he liked how his quad kept battling despite the adversity.
One moment that typified South's frustration came just after the midpoint of the second half when Arzeta got his third goal to make it 5-0.
The Gators had a free kick outside of the box but the try hit the referee and Pillath found Arzeta for a long and effective counterattack.
"We've got a young team with five sophomores and a lot of juniors, but that's not an excuse," Allen said. "I think the guys got lulled into a false sense of security on Monday and no matter how much we talked to them, they still have to step onto the field and do it. Hopefully we picked up a couple of things by watching what Elk Grove did.
"The physicality and the speed of the game was basically the difference. We made three mental mistakes where we gave up goals on set pieces and that's never going to help you.
"But there were a couple of bright spots for us. I thought that (keeper) Gus (Alvarez) obviously played extremely well and kept us in the game so that we at least could fight in the second half. And Mike Woeste, a sophomore in the midfield, held his own and our young guys battled when I gave them some experience in the second half."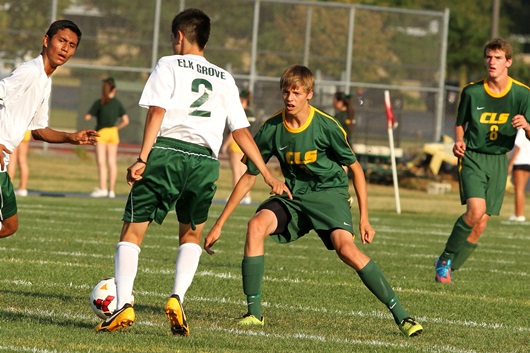 South will need to step up its game as it now takes part in the Barrington Classic against Boylan, New Trier and St. Charles North.
"Elk Grove is a high-energy team with a high work rate and a lot of skill so it was good for our guys to see that early," Allen said. "There were moments today but it just wasn't consistent enough. We have to be more aggressive and not so timid and that was the biggest thing. We looked unsure and it reflected in our touch and in our 50-50s.
"Hopefully we think about all of this or the Barrington tournament could get long for us real quickly. But it's a long season and I'm sure that the guys will regroup. I'm confident about that since we've seen a lot of resiliency in our program, so we'll see what happens."
The Grens made the most of their first good chance when Arzeta got free for a short try that went in off a defender in the fourth minute.
Gator keeper Gus Alvarez did his best to keep his team close as the hosts challenged him often but the senior made several big stops.
He deflected a try from Bahena and hauled in a liner before the Gators responded with a shot from Orlando Tapia that Centeno thwarted.
Elk Grove put together a nice corner in the 14th minute when Garcia placed a perfect ball into the box and Hadler promptly headed it in.
Despite the 2-0 deficit, South had a series of good tries but a Tapia liner went just over the net not long after the Grens connected.
A bit later, Tapia bounced a free kick off of the post and shortly after that, Charlie Ruff had a corner kick deflected away by Hadler.
The hosts kept the pressure on in the final quarter hour of the opening half as Bahena hit the post and then was denied twice by Alvarez.
As the half wound down, Carlos Miranda-Gomez got free in front but his try was just wide and Pillath had a header tipped over the net.
South had the first good chance in the final half as Austin Lamping was stopped before Miranda-Gomez and Aguirre suffered the same fate.
The hosts added to their lead in the 54th minute when Pillath set up Arzeta for his second goal of the match to make it a 3-0 contest.
Following a stop on a try by Garcia and an Arzeta attempt off the crossbar, Elk Grove made it 4-0 in the 58th minute on another corner.
This effort was a bit different than the earlier one as the tall Gren needed to angle his head just right as he raced past for the net.
After Elk Grove added Arzeta's final goal, the Gators looked to find the net in order to add some brightness to a frustrating afternoon.
Lamping and Jeff Kirschenbaum both had corner kicks deflected by defenders before Matt Tobolt was fouled just beyond the top of the box.
On the subsequent free kick, Tobolt sent a quick pass into the box to Lamping, who connected to conclude the scoring in the 65th minute.
Alvarez is one of six seniors on the Gator roster. The other seniors are David Tagatz, Bobby Mayer, Gary Sexson, Brad Wisser and Tobolt.
With plenty of talented returning players on hand, the Grens, who went 4-7-6 a year ago, have high expectations for the upcoming season.
They'll find out a bit more about where they might stack up when they kick off MSL play on September 3 with a home match against Fremd.
"On Tuesday we played our first game together and found out what we were missing and throughout the week we practiced on that and got better and we got the result today," Pillado said. "Our main weakness was our set pieces so we just had to work and work on them until we got it.
"Practicing and defending against the corner kicks and all of the set pieces actually helps a lot toward the offense so it's a big advantage. Today all we had to do was have everyone fight their own little battle and if we all did that, then we'd work together as a team and we won as a team today.
"We were missing two starters on Tuesday and that would have been a great help and it might have been a different result. We all stepped up today and played our best and left it all on the field and got the result. This year we have teamwork and we all know each other and how we play and communicate well."