2012 ROSTER

Coach: Jason Ahonen

Tony Severini
Sr., M
Ben Skelton
Sr., M
Jin Kwon
Sr., D
Mikey Pliskat
So., M
Mikey Cain
Jr., M
Nick Wegrzynowicz
Sr., M
Sean Kirwan
Sr., M
Daniel Szczepanek
Sr., M
Auner Solis
Sr., F
Jon Villmil
Jr., M
Dalton Moffitt
Jr., D
Chris Travis
So., D
Nick Haas
So., D
Elijah Parker
Jr., D
Timmy Pieper
Sr., D
Rafa Macias
Jr., D
Lucas Geib
Fr., F
Bryan Santowski
Sr., M
Dan Hengesh
Sr., M/D
Adam Nielander
Sr., F
Karl Bappert
Jr., D
Nick Hathuc
Sr., GK
RJ Hill
So., GK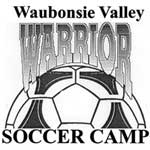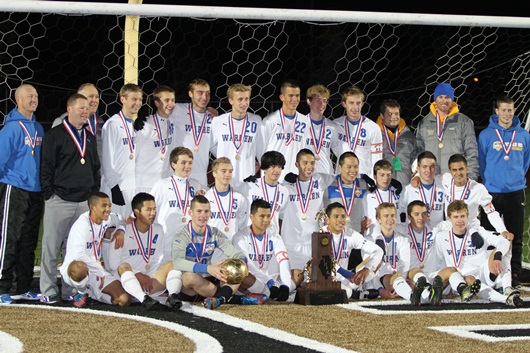 Blue Devils win school's first team state title
By Gary Larsen
Whether adversity builds or simply reveals character, on Saturday night Warren's soccer team showed that it has plenty of it.

The Blue Devils were Just 14.6 seconds away from winning their school's first team state title in any sport when they saw their 1-0 lead erased on a Naperville Central goal, sending their Class 3A state final into two mandatory overtime periods.

The Blue Devils were whiplashed from the edge of elation to the pit of discouragement, while the Redhawks had commandeered the game's emotion heading into overtime.

Warren had to regroup during the five-minute break after regulation play ended, and that's where assistant coach Doogie Clark came into play.

"After they scored, they had all the momentum," Blue Devils senior Nick Wegrzynowicz said. "Doogie told us that we couldn't let them keep it or they'll just keep coming at us."

"Doogie might as well be an associate head coach, because he's amazing," Warren head coach Jason Ahonen said. "His message was 'the game is not over. We're tied and we're tired, but they're tired, too'."

So, after playing defensive soccer down the stretch of regulation, the Blue Devils went back to being more offensive-minded, rising to the challenge and snatching the game's momentum right back from the Redhawks.

Program history will show that it was Wegrzynowicz who provided the state title-winning goal, on a ball sent ahead by teammate Daniel Szczepanek, less than two minutes into the first overtime period. Wegrzynowicz took a pass on the left side, cut to his right and curled a beauty of a shot inside the far post from 18 yards out.

Warren made Wegrzynowicz's goal stand up to the final buzzer, and after 100 minutes of soccer the Blue Devils surrendered to the euphoria that any state title win brings.

After the awards ceremony, the Blue Devils initially gathered in the goalmouth but before the official IHSA photographer could get a team photo for posterity, players bolted and made a bee line to the entrance gate at the south end of Lincoln-Way North's stadium.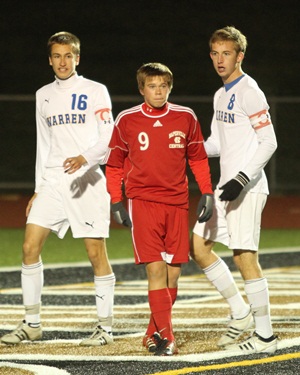 Waiting to engulf them at the gate was a delirious swarm of classmates, parents, former players, and friends.

"It's unreal. I don't know if it's really happening or not," Wegrzynowicz said of the feeling connected to winning a state crown. "Coming back from fourth place last year and winning it this year is just a dream. And this win is also for the seniors that were at state with us last year."

Another telling moment for Warren occurred between the first and second overtime periods, with the Blue Devils holding a 2-1 lead.

"After the first OT we brought our captains back in and said 'what do you guys want to do – go back to our regular shape or play defensive', and they all wanted to play defensive," Ahonen said.

"It's not about me or the coaches; it's about them. They're the ones that need to lay their heads down tonight knowing that they did everything they could, and they need to be involved in some of the decision-making as well. That's the way we run our program. I run a lot of things past the players and I'm open to things. And I think that's why we respond so well together at times like that. I rely on them for their thoughts and ideas, and at times I'm just an overseer."

Naperville Central fought valiantly for the equalizer on weary legs, but Warren stood firm.

In reaching the state title game, Warren (21-5-3) topped Sandburg 3-0 in Friday's semifinal round, while Naperville Central (23-2) won 3-0 over Stevenson. The Blue Devils placed fourth at last year's state finals while the Redhawks were state runners-up to Morton.

Although Warren's drama program won a state title during the 1994-95 school year, no athletic team at the school had ever won a state crown. Naperville Central has 13 state titles to its name across multiple sports.

The action in Saturday's title game traveled end-to-end for much of the first half. The Blue Devils led 1-0 at halftime thanks to Timmy Pieper and Tony Severini. At 27 minutes, Pieper sent a through ball into the Redhawks' penalty area and Severini converged on it with a pair of defenders, getting his foot on it first and tucking it inside the post.

Naperville Central's Pat Flynn blistered a freekick off the post in the first half, and sent another skipping over the crossbar in the second half. The Redhawks pushed numbers forward late and were rewarded when Jack Patrick ripped a ball to the back netting from 16 yards out to force overtime.

Flynn is Naperville Central's career goal-scoring leader and he went into Saturday's game with 30 goals and 10 assists to his name this season. The Blue Devils answered with junior defender Rafa Macias, who draped himself on Flynn for 100 minutes and was pivotal in keeping him out of net.

"With any team we play that has a 20-plus goal scorer, we always have Rafa guard him. In this game he stepped up and played an amazing game and did not let Pat Flynn get loose," Wegrzynowicz said.

Ahonen was happy to have Macias in the fold in 2012.

"Rafa came back from the Fire Academy this year, after seeing what we did last year," Ahonen said. "He missed the fact that he wasn't a part of that and decided he wanted to come back and play high school soccer again, for this opportunity. He's a quality player, up there with some of the best we've had. Patrick Shulz last year, who's at Marquette right now – Rafa is right there.

"It's the dirty work he does, that glue guy willing to do whatever it takes. All a guy like that wants to do is be a winner, and that's what Rafa is."
The Blue Devils knew they'd return a core group capable of putting goals on the board in 2012. Seniors Wegrzynowicz (15 goals, 8 assists), Szczepanek (13 goals, 24 assists), Auner Solis (22 goals, 6 assists), Sean Kirwan (6 goals, 10 assists), and Severini (8 goals, 12 assists) led the way for a team that put 89 goals on the board in 29 games, for an average of 3 goals per game.

The question mark for Ahonen heading into this season was his defense, which lost key players to last year's graduation. Naperville Central hasn't been shut out in a game all season, but sophomore keeper RJ Hill, Pieper, Macias, and junior Karl Bappert helped keep a clean slate against the Redhawks for 79 minutes and 46 seconds on Saturday.

"RJ Hill did a tremendous job," Ahonen said. "The swing piece in back this year was Karl Bappert. He started the last game of the regular season for us, and has started every game since. He adds length, composure on the ball, and he's been very good on set pieces."

Wegrzynowicz saw Warren's boys in back take strides each step of the way in 2012.

"Throughout the whole year we worked on defense," Wegrzynowicz said. "We (graduated) Billy Eddy and Patrick Schultz, and they were just amazing center backs. But Karl Bappert stepped up from jayvee and became a starter, and Timmy Pieper was a starter in back last year and he's been amazing this year."

Not to be lost in Saturday's celebration was Pieper's clutch offensive contributions to his side's state finals performance. The senior's goal and two assists in Warren's two wins gave him a team-leading four points in the tournament.

Warren bids farewell to 11 seniors, including Pieper, Wegrzynowicz, Szczepanek, Severini, Kirwan, Solis, Ben Skelton, Bryan Santowski, Dan Hengesh, Adam Nielander, and Nick Hathuc.

Solis was named as an all-sectional player by the Illinois High School Soccer Coaches Association this year, and the Marquette-bound Szczepanek was named to the all-state team.

"Daniel Szczepenak is a fantastic player. In my mind he's the best player that Warren has ever had," Ahonen said. "But when you talk about what he is as a person, he's even better, and that's what's going to be missed about him.

"His work rate is the same whether it's a practice or a game, he's a model student in the classroom, and he's just been fantastic. I've known him since he was in fourth grade and he's the same kid he was then. His mom and dad did a tremendous job."
Returning next season for the Blue Devils will be juniors Macias, Bappert, Mikey Cain, Jon Villmil, Dalton Moffitt, Jin Kwon, and Elijah Parker, sophomores Hill, Mikey Pliskat, Chris Travis, and Nick Haas, and freshman Lucas Geib.