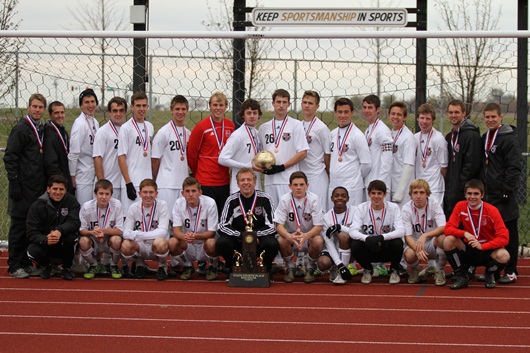 Warriors claim fourth place after falling to Lions
By Curt Herron
CLICK HERE FOR WHEATON ACADEMY'S TEAM PAGE
After opening the season with a 6-5 mark during which time it yielded 21 goals, things could have gone in two directions for Wheaton Academy.
One scenario would have been more of the same, in which the Warriors would have probably still finished with a pretty acceptable campaign.
But instead of that, WA's players and coaches had bigger things in mind, and they decided it was time to step things up the rest of the way.
And that's just what the Warriors did as they went on to win 14 of their next 15 matches, which helped them earn a top-four spot in Class 2A.
Although things didn't go as well as WA hoped that they might at the finals in Frankfort over the weekend, it has little to be upset about.
That's because coach Jeff Brooke's squad clearly demonstrated that they were right there with the squad that ultimately won the state title.
In Friday's semifinals, the Warriors went to penalties before falling 2-1 to Peoria Notre Dame, who beat Urbana 3-0 for the championship.
As a result, they didn't have much left in the tank for Saturday's third place match with Saint Viator, who beat them 3-2 on September 29.
But true to their nature during the season, the Warriors didn't back down and threatened with a late goal before dropping a 2-1 decision.
The fourth-place trophy is WA's second ever in the sport, with the other a third place showing from its last previous state trip in 2005.
WA finished 21-8, tying the wins that it had in 1999 and 2004 state appearances and just one shy of the school's best win total from 2000.
"I'm proud of the guys," said Brooke, who is 83-32-10 in his five seasons at WA. "Any time that you get a chance to play in the final four it's a privilege. I told the guys that they did the work that was necessary to get here.
"Yesterday took a ton out of us emotionally and physically, so I was proud of the way that the guys came out today. We kept battling and continued to try to knock the ball even though a couple of guys were banged up from yesterday.
"I'm proud of our seniors for what they did and I hope that our other players get an understanding that we'd love to come back here and it takes a whole lot of work to get here. Hopefully today left a little hunger in the belly.
"I think our guys learned from the seniors that you really have to want it. So to get a taste of it this weekend and get a trophy, even though it wasn't the one that we wanted, was still a great accomplishment and we're thrilled."
The Warriors graduate seven seniors from the state squad, including their three captains, Gareth Flynn, Adam Hunt and Andrew Luetkehans.
Those tri-captains joined keeper Spencer Graf in the starting lineup. WA's other seniors are Karl Cassel, Thomas Oster and Gabe Partain.
"I'm really proud of all of the guys," Hunt said. "It's been a great year for the team and a really special year for the seniors to be able to make it this far.
"Our school hadn't been this far in Class 2A, so it's a real honor to be here. We had a great group of guys and were a real tight-knit group that got along great.
"We had a rough start against a lot of good schools but we figured it out and got going. The 'ST' on the back of our jerseys is something special to our program."
One of those who was beat up this weekend was Flynn, who had to be carted off of the field in the physical semifinal against Notre Dame.
"Yesterday was a real close game that went to PKs and we were really disappointed that we didn't win it," said Flynn, who finished with 17 goals and 16 assists.
"I got banged up yesterday so I was disappointed and frustrated about that. Even though it was a little disappointing at the end, it was still a very good season.
"We got along really well and are good friends and realized that we had to work together to be a good team. That's why we have 'Stronger Together' on our jerseys."
Stoneman had five shots and made a penalty in the 66th minute to end his successful initial season at WA with 29 goals and 18 assists.
But that wasn't enough to offset earlier goals from Nick Winter and Kevin Klinkenberg, who helped the Lions finish with a 21-4-3 mark.
"We definitely started out rough but we ended things well," Stoneman said. "I think that we were just able to click at the end.
"We started scoring more goals and we also had a lot of shutouts but just couldn't get it done in our last two games.
"Notre Dame was a good team and I thought that we played well against them but we just got a little unlucky on the PKs."
One of the keys to the Warriors' success down the stretch was its defensive play. It allowed only 10 goals in the 15 matches before state.
The Warriors started to turn things around with the backline of Marshall West, Zeb Lewis, Dan Bergquist and Luetkehans in front of Graf.
Bergquist, Lewis and West return from that group, as do players like Casey Zimmerman, Sam Hardy, Ty Seager, Reid Culberson and Stoneman.
"I thought that we performed pretty well this season," Bergquist said. "But once we got to the final four we got some better competition and just made a few mistakes.
"I really liked this squad because we were all really close and that's really special in a team and that was one of the reasons why we had so much success this year.
"We have a lot to be proud of this season. And I think that it's going to help us greatly that we're going to have most of the team back again next year."