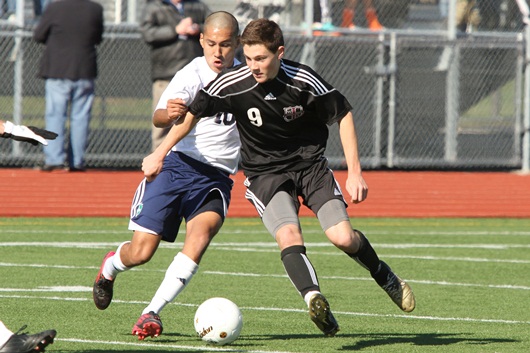 Warriors fall to Irish on PKs in state semifinals
By Curt Herron
CLICK HERE FOR WHEATON ACADEMY'S TEAM PAGE
Although the Class 2A championship is set for today at 1:00 p.m., Friday's semifinal match between Wheaton Academy and Peoria Notre Dame definitely had a title feel to it.
It was a matchup of the state's top program in the middle class during the last five years and a Warrior squad that was making its first state finals appearance since 2005.
While Notre Dame applied steady pressure with a big, physical squad that featured a variety of scoring threats, WA was able to overcame a late 1-0 deficit to force overtime.
After 20 scoreless minutes of extra play, penalties were needed to decide which side would move on and which one would not in the contest at Lincoln-Way North in Frankfort.
Once there, WA's Spencer Graf turned away a pair of tries but PND's Justin Buck did him one better and as a result, the Irish won 3-1 in penalties to capture a 2-1 victory.
In Saturday's third-place match, the Warriors (21-7) will get a chance to avenge a 3-2 loss to Saint Viator (20-4-3), which fell 2-1 to upstart Urbana in the other semifinal.
WA, which had won 10 straight and 15 of its last 16 matches, was hoping to reach its first title match in program history. The Warriors placed third in their 2005 state trip.
PND (21-2-2), which won titles in 2008 and 2010, placed second in 2009 and was fourth a year ago, has won 12 straight and 18 of its last 19 heading into the title match.
The Irish had outscored their opponents by a 55-6 margin over their last 10 matches due in part to the efforts of their two All-State players, Drew Whalen and Alex Garcia.
Again on Friday, that duo was a dangerous threat, accounting for 11 of their squad's 18 shots on goal as well as nine of their 11 attempts which wound up being off the mark.
But thanks to a great effort from Graf in the net, as well as defenders Andrew Luetkehans, Dan Bergquist, Marshall West and Zeb Lewis, the Warriors hung tough throughout.
"We've been building over the years something that we thought we could be successful in the late part of October and the guys displayed that today," Warriors coach Jeff Brooke said.
"It was a 1-1 game and we had our chances. We had a goal called back by an offsides, Grant Stoneman hit the crossbar and their keeper made an incredible save with a minute left.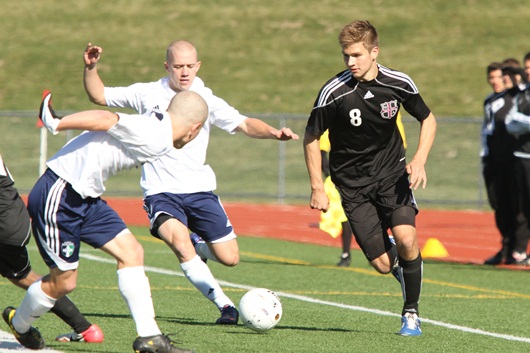 "But even though it's hard to leave with a loss, I'm so proud of the guys. We had them on the ropes but credit to them since they're a great side which is talented and well-coached."
In the penalties, both keepers made diving saves to halt the first two kicks that they faced before PND's Nick Finerty and Luetkehans converted on their teams' third attempts.
The Irish gained the advantage following a score from Tommy Frampton and another stop by Buck and then wrapped up the victory when Whalen fired in his squad's fifth effort.
"We knew coming into it that this was going to be a fight," Irish coach Mike Bare said. "Our game plan was to not get into a back-and-forth physical game, which is where they're good.
"But it turned into that type of a game and that kind of took us out of our style of play since we like to keep the ball and knock it around and we really couldn't get that going.
"So give credit to them because they played extremely hard and put up a great fight. This is a special run that we've had and now we have the opportunity to go after another title."
After PND had a couple of good chances in the initial overtime, things looked like they might be decided in the second session of extra play as both sides had opportunities.
Graf halted a long free kick from Garcia and a header from Whalen before Buck responded with stops on a liner by Ty Seager while Grant Stoneman had a try cleared by a defender.
After Stoneman headed away a free kick by Garcia, he nearly connected in the final minute but Buck deflected his liner and then thwarted Casey Zimmerman's subsequent corner kick.
The Irish did a good job of keeping Stoneman in check, limiting him to a pair of attempts both on and off the net, which is the same number of shots that Zimmerman finished with.
Further complicating things for WA was the fact that Gareth Flynn had to be carted off of the field twice with injuries, and as a result, only had two tries that were off the mark.
WA finished with nine shots on goal, half as many as PND finished with, but they capitalized on one of their last tries and that's why play was able to expanded to 100 minutes.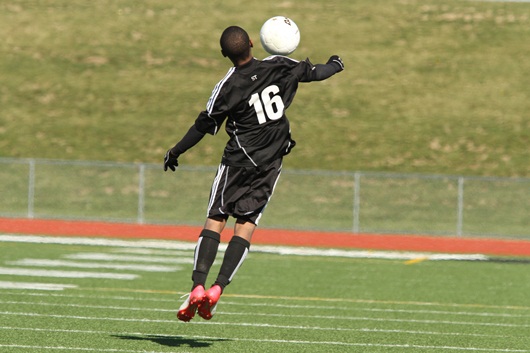 In the 73rd minute, Sam Hardy sent a pass inside and Zimmerman sent a header toward the net that a defender couldn't get to which finally was able to get the Warriors even again.
"I am so proud of this team," Zimmerman said. "We played our hardest and gave it our all but just couldn't pull it out in PKs. They're hard to stop and also great in the air.
"Even though we're small compared to them, I thought we played physically and our guys put their bodies on the line. To play with them you have to be physical and possess the ball.
"Give credit to their defense. Even after we scored, they stayed with it and didn't give up. They performed well after we scored and then were able to get the result after overtime."
Both sides had opportunities s during the final minutes of regulation play, beginning with a free kick by Ben Fiddes from just outside of the box that West was able to head away.
Then shortly after Graf halted a free kick from Garcia, the Warriors looked for the potential winner but Buck hauled in a header from Seager that followed a long free kick.
Both keepers continued to come up big after that, as the pair gave those in attendance a good reflection of just how well each of them have improved over the course of the season.
"It's tough," Graf said. "You play your heart out and it goes to overtime. Your energy is up and the adrenaline is pumping and it goes to PKs and I stop two but their GK stops three.
"I think this was as well as I've played this year. I've been working my way up against good opponents but this was our toughest yet. And my defense played well and came to my rescue.
"At the beginning of the season we set goals and worked very hard to get here. I want to thank all of the guys on the team for putting so much effort in and it's been a great season."
WA came out strong at the start of the match but PND began to take control before the first half's midpoint, starting with attempts from Fiddes and followed by a shot from Whalen.
Seager nearly put his team in front in the 25th minute but Buck dove to make the stop and then he recorded saves on a short attempt by Reid Culberson and on a free kick from West.
The Irish responded with a Garcia try that Graf deflected, which led to Garcia's corner that West headed away. A bit later, Graf came up with a diving stop on a Garcia free kick.
In the last five minutes of the initial half, WA's keeper stopped a header from Whalen before Zimmerman had a try deflected to led to a Flynn corner kick that was lined to Buck.
Following the break, Graf made a leaping stop of a Whalen liner but there was little that he could do when Whalen got free and was able to score from close range in the 51st minute.
Prior to the final half's midway mark, the Warrior keeper halted efforts a pair of efforts near the net while his counterpart managed to do the the same on a header from Zimmerman.
Stoneman nearly evened things up in the 65th minute when he bounced a free kick off of the crossbar and then took a pass from Flynn on an indirect kick before lining a try to Buck.
"They're one of the better programs in Illinois and we were right with them," Brooke said. "We'd love to get to the point where we're in the conversation like them year after year.
"They have one of the most high-powered attacks in the state with Whalen and Garcia. But we loved how we matched up with them. I'm proud of our guys for weathering multiple storms.
"We defended well on their well-slotted balls and were also disciplined on our marks and a big part of our success on defense was the play of our outside backs, Zeb and Andrew.
"I wish we could have converted better on the PKs. We've worked on them over and over again but it's different when you get in that position. And their keeper made some big saves."