2012 ROSTER

Coach: Mike Taylor

Mike McGrath
Sr., GK
Stefan Miller
Sr., GK
Tom Martin
Jr., GK
Jason Ziolkowski
Jr., D/M
Kyle Sukowicz
Sr., F
Spencer Moore
Jr., M
Mateo Leudo
Jr., M
Kevin Klinkenberg
Jr., M
Ross Randon
Sr., M
Ashwin Cornelius
Sr., M
Mitch Ryan
Jr., M
Jackson Owens
Sr., M
Ben Quiaot
Jr., M
Jack McNamara
Jr., M/D
Ryan Henry
Jr., M
Mark Beletti
Sr., D
Michael Duszynski
Sr., D
Ethan Wolf
Jr., D/M
Nick Eschbach
Jr., M/D
Andy Smith
Jr., F
Jon Surdam
Sr., D
Troy Wheeler
Sr., D/M
Kevin Ruth
Sr., D
Kevin McMahon
Jr., M
Mark Tun
Jr., D
Philip Jacobs
Sr., D
Nick Winter
Jr., M
Kyle Koss
Jr., M/D
Stephan Todd
Jr., D/M
David Zakrzewski
Sr., F
Jordan Tully
Jr., D
Dominic Perrone
Jr., F
Alex Quist
Jr., D/M

Lions fall to Urbana in semifinals
By Gary Larsen
CLICK HERE FOR SAINT VIATOR'S TEAM PAGE
After his side's 2-1 state semifinal loss to Urbana, Saint Viator coach Mike Taylor got right down to brass tacks.

"We pound and pound and pound, but we can't put the ball away," Taylor said. "The name of the game is that you have to stick the ball in the back of the net, and we didn't do that today."

The loss sends the Lions to Saturday's Class 2A consolation game against Wheaton Academy, which lost 2-1 in a shootout to Peoria Notre Dame in Friday's other state semifinal.

Despite earning a 15-7 edge in shots against Urbana (21-2), Saint Viator (20-4-3) was snake bit in the final third. The Lions came out like gangbusters against the Tigers, but an inability to get a ball past Urbana keeper Brian Summers during a high-pressure opening 10 minutes was an ominous sign.

"They came out and gave their all," Taylor said of his boys. "The first ten or fifteen minutes we dominated, then they took over the flow for a little while."

Urbana struck first at 20 minutes on a David Anderson goal, assisted by Miguel Fierro. The Lions came out hard and carried the attack throughout the second half, only to see the Tigers' Jonathon Lukusa break in up the right side and fire inside the far post at 67 minutes, on a feed from Brian Lopez.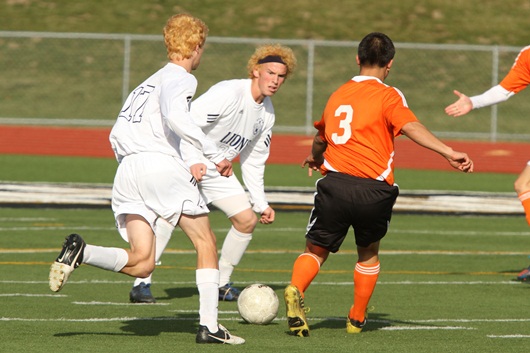 Of Viator's 15 shots taken on Friday, central defender Troy Wheeler took seven of them – five on frame and two sent wide. In the second half, Urbana's Lukusa stuck his foot out at the post to stop a Wheeler shot, and the Lions senior headed a ball that Summers tipped off the crossbar minutes later.

Taylor slid Wheeler into an attacking role in the second half, and the senior became the Lions' most dangerous weapon. Wheeler fired a shot off of Summers' chest late in the game, and it wasn't until the game's 79th minute that Wheeler was able to break his side's dry spell, scoring from close range on a feed from Spencer Moore.

With only a minute and a half remaining, however, the Lions lost their battle against the clock and saw their title-game dream slip away.

"In the second half we came out with energy. And when we did push (numbers forward) we had them under the gun, had it inside the six," Taylor said. "It's bouncing off their players, going out of bounds, their goalkeeper is lying on the ground and we don't stick the ball away.

"I told them that you're still a good team, and you'll still come back (Saturday) and show the people in the stands how good you really are, because you didn't show it today. We're a far better team than what we showed, but at the same time, kudos to (Urbana). They did what they had to do and put the ball in the back of the net."