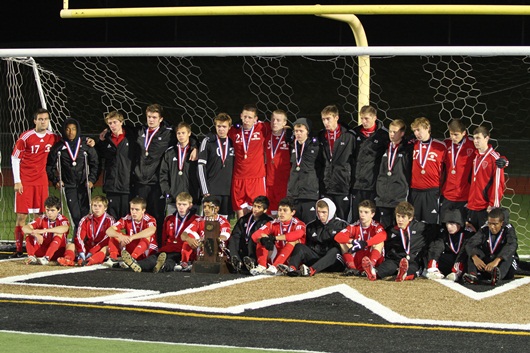 Redhawks edged by Warren in state championship
By Curt Herron
CLICK HERE FOR NAPERVILLE CENTRAL'S TEAM PAGE
The contrast following Saturday's Class 3A championship match really couldn't have been more stark.
On the one hand, you had a team celebrating wildly after assuring themselves of their school's first-ever state title in any sport.
And on the other side, players sat devastated, many with tears in their eyes, as it began to sink in that they had fallen short of their goal.
While Warren savored the great thrill of capturing an IHSA title, Naperville Central again missed out on that opportunity by the slimmest of margins.
After falling 1-0 in overtime to Morton in last year's finals, the Redhawks suffered a 2-1 loss in double overtime to the Blue Devils in Frankfort.
There was an eerie similarity in the match-winning scores, but due to new overtime rules this year, things ended in much different fashions.
Last season, Morton prevailed with a golden goal from Joel Salmeron just 66 seconds into the initial overtime period to capture the championship.
On Saturday, Warren (21-5-3) moved in front for good with a score 71 seconds into extra play thanks to Nick Wegrzynowicz's goal on a counterattack.
Although that still gave the Redhawks (23-2) nearly 19 minutes to get the equalizer, the Blue Devils did a nice job of limiting their chances.
Central hoped to join Quincy Notre Dame (1985) and Collinsville (1986) as the lone large division schools to take second one and first the next.
Instead, coach Troy Adams' squad became the second large school to fall in consecutive title matches, joining Lincoln-Way (1999 and 2000).
"So many of the kids who were with us last year were back and they had spent a ton of time this summer and fall working toward their goal and their record showed how hard they worked," Adams said.
"But it's like any other sports, except maybe baseball and basketball, where you don't get multiple cracks, you get one, and if it doesn't work out right, then you're left holding the bag.
"I have a tremendous amount of respect for these kids and the way they go about working and what they do. These seniors provided so much leadership and a lot had three-year runs on the varsity.
"I can't say enough about how proud I am of these guys. I wouldn't trade a state trophy to not be around them. I'll take second place if it means being around kids like that."
While Central had focused all season on improving from second to first, Warren also had plenty of motivation following last year's finals.
The Blue Devils lost on penalties to Morton in last semifinals and took fourth place. Warren's best state showing had been second place in 2006.
After moving in front on a goal from Tony Severini in the 27th minute, coach Jason Ahonen's team looked like they might prevail in regulation.
But with just 14 seconds left before the final whistle, Central put together a frenzied series of passes to get the equalizer from Jack Patrick.
Although the Redhawks appeared to finally have momentum going their way, the Blue Devils quickly grabbed it back and Central could not recover.
The tough setback marked the third time in its history that Central placed second. It was also the runner-up in 1988 in its initial state trip.
"We knew that we'd have to play a good game in order to win and I thought that we did play a good game but we came up a little short," Adams said.
"Unfortunately there were a whole bunch of chances in and around the box where if they bounce a different way, then it might have been 2-1 for us.
"The good and the bad part about sports is that some days the ball just bounces the way that you want it to and unfortunately it didn't for us today."
As a back-and-forth final half wound down, the Redhawks looked more and more like they might be held scoreless for the initial time all season.
Desperation set in as the clock dipped under a minute and things still didn't appear bright when a Warren clear went out with about 30 seconds left.
But that's when Central started to piece together a most unlikely series of passes which briefly took the wind out of the sails of the Blue Devils.
An Ajay Varghese throw-in went to Mike Pavliga near midfield. The Redhawk keeper sent a pass forward but a Warren player partially deflected it.
The ball made it to Devon Amoo-Mensah, who was challenged but got off a pass that eventually found Patrick, who got free in front for the equalizer.
Varghese sent a liner to keeper R.J. Hill to begin the first overtime but then Wegrzynowicz counterattacked and put a shot just inside the post.
"Jack's goal was one of those things where there were too many players to keep track of and one breaks loose," Adams said. "He made a nice run to get into that position and had a lot of composure to finish it.
"It was one of those times where if we could have had three or four minutes we might have been able to pop another one. But you'll take them when you can get them and the momentum had switched.
"Then they got five minutes to kind of recollect themselves and did a nice job of coming out and getting that goal right away."
The Redhawks lost Amoo-Mensah a couple of minutes later when he got involved in a collision and had to be escorted off of the field in a cart.
Later in the first overtime, Pavliga punched away a corner kick by Daniel Szczepanek and Hill dove to deflect away a free kick from Pat Flynn.
Then in the final 10 minutes, Szczepanek was thwarted by Pavliga and Warren did a nice job of keeping Central from mounting any serious threats.
Central had allowed only one goal in its last eight matches and had yielded just eight other goals in the season to help it record 16 shutouts.
The only other time that it had allowed two goals in a match came in a similar fashion, its 2-1 overtime loss to Naperville North on October 2nd.
While the Redhawks had won nine straight since that defeat, Warren had played well of late, scoring 32 goals in a 7-0 run heading into the finals.
But this match wasn't destined to become some sort of high-scoring affair as both defenses came up with big plays to stop threatening situations.
The second half was a good reflection of that as the two sides regularly tested each others' keepers but ultimately had little to show for it.
Not long after a Mike West corner kick was headed away, Flynn sent in a free kick that looked to be on the mark but it bounced off the crossbar.
Jack Burdett cleared a try by Auner Solis and Varghese did the same on a corner kick by Szczepanek as the Blue Devils tried to add to their lead.
Over the next few minutes, Jordi Heeneman was denied, Sam Reskala sent a header over the net and Jay Tegge had an attempt cleared by a defender.
Warren briefly got a scare when Hill was hurt in a collision just past the half's midpoint, but he stayed in and stopped a West try a bit later.
After Pavliga's free kick from midfield was punched away by his counterpart, Tegge had to clear a header that followed a Szczepanek corner kick.
In the half's final 10 minutes, Chris Travis sent a header to Pavliga but the Redhawks were unable to mount a threat until Patrick's late strike.
Part of Central's offensive struggles can be credited to the defensive effort of Rafa Macias, who limited Flynn to two shots on goal and two off.
It was only the fourth time this season that the senior failed to score a goal. The Redhawk All-Stater finished up with 30 goals and 10 assists.
Early in the opening half, Tegge and Heeneman had attempts halted surrounding a pair of efforts from Wegrzynowicz which were stopped by Pavliga.
Just past the half's midway mark, Flynn lined a free kick off the post and then the Blue Devils made the most of an opportunity to move ahead.
Warren became the first squad since Benet on October 6th to take a lead over Central when Timmy Pieper found Severini, who made a short shot.
Later in the half, West sent a free kick to Patrick, whose header was stopped, and Flynn did the same to Connor Allen, who sent a header wide.
Beside tri-captains Pavliga, Patrick and Flynn, the Redhawks graduate 11 other seniors, many of whom also were members of last year's squad.
They are Jon Bedell, Rahul Bhatia, Corey Halford, JJ Gustaitis, Pat Mallett, Andrew Feightner, Alexsi Pelkonen, West, Allen, Burdett and Varghese.
A dozen players were on both of the state runner-up teams, including eight seniors. That group posted a 42-7 record during the last two seasons.
The eight seniors are Allen, Bhatia, Burdett, Flynn, Halford, Patrick, Pavliga and West. They're joined by Drake Swope, Tegge, Amoo-Mensah and Reskala.
"It truly was a special season," Adams said. "It doesn't feel like it right now, unfortunately. Hopefully once we get a couple of more days or weeks behind us we can look back and realize that.
"And it was special because of more than the wins, it was special because of these kids. You can see how much of a tight-knit group they are and how they really enjoy being around each other.
"Ultimately as a coach, all that you can ask for is to have a group of kids that is willing to be around each other who give you everything that they've got."