FUNDRAISER FOR OWEN PAYTON ON OCT. 28
OWEN'S WEB PAGE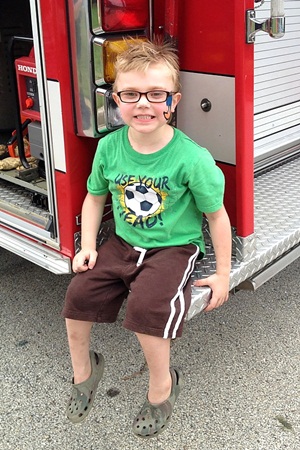 From 11:00 AM to 4:00 PM on Oct. 28, join the family and friends of 6-year-old Owen Payton for a pig roast fundraiser being held at Hawthorne's Backyard Bar & Grill, 1200 West Hawthorne Lane in West Chicago.

Owen is the son of Batavia JV soccer coach Chris Payton and is in line for a heart transplant. Money collected will go toward translated-related expenses incurred for the Payton family.

There is a $20 fee for adults paying in advance, $25 on the day of the event, and a $10 fee for children under 12 years old. Ticket includes food buffet and drink specials. A silent auction will also take place, with hotel stays, vacation stays at a lake house, trike flights, and various gift certificates up for auction.

For those who can't make it to the event, donations can still be taken at Owen's web page at the Children's Organ Transplant Association (COTA) website, which can be accessed here: COTA for Owen

From Owen's web page: "With the cost of a transplant often exceeding $500,000, many transplant families are unable to shoulder the financial burden of such a procedure. The Children's Organ Transplant Association (COTA) is a national charity dedicated to organizing and guiding communities in raising funds for transplant-related expenses. In West Chicago, volunteers are raising funds for COTA in honor of transplant patients like local boy, Owen Payton.

Owen is the son of Chris and Christina Payton. Born on March 1, 2006, Owen was diagnosed with heart failure, and doctors at the Lurie Children's Hospital in Chicago, Illinois, have recommended a life-saving heart transplant. An estimated $60,000 is being raised by West Chicago volunteers."