Mustangs' season ends at Naperville Central
Metea's 1st varsity season shows promise
By Gary Larsen
Photos courtesy of Barb English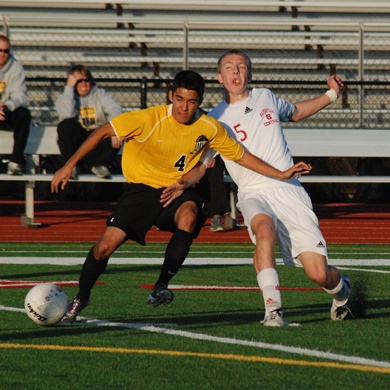 It wasn't an avalanche, or an onslaught, or even a barrage of goals.
Let's just call it a trio of quality chances capped by three quality finishes, and Naperville Central coach Troy Adams was pleasantly surprised by all three.
"I don't remember what three goals feels like, to be honest with you," Adams joked. "For a while we thought of bringing a shaman out here, to take the curse off the goals.
"It was good to see some players put the ball in the back of the net."
In fact, prior to Tuesday's regional semifinal, it had been 24 days since the Redhawks put three goals on the board.
Playing against a Metea Valley (9-12-1) program playing in its first varsity postseason, the Redhawks' 3-0 win sent them to Saturday's regional title game against Benet, a 1-0 winner over Batavia in Tuesday's second semifinal at Naperville Central.
Naperville Central (11-6-1) and Benet (11-8-1) squared off on Sept. 11, and Central won a physical, 1-0 game on Adam Hamielec's first-half goal.
On their home field against Metea Valley, Jack Patrick, Conner Allen, and Pat Flynn each tallied for Central, with Peter Beasley chipping in two assists on the night and Patrick assisting on Flynn's goal, which came with 39 seconds left in regulation.
"We did some nice things," Adams said. "We've talked repeatedly about creating opportunities, and soccer is about finishing them. We've done a nice job of creating them and now we just have to keep finishing."
At 24 minutes, Patrick elevated in the box after a Beasley serve and sent a head shot to the back netting from eight yards out. Allen hit a nice shot from the left side at 39 minutes on a Beasley feed, which found the inside netting at the far post, and Flynn's goal tore into the back netting from 18 yards out in the game's final minute of play, set up by a flick from Patrick.
"Jack Patrick has done a nice job of making that leap as a sophomore up to the varsity level," Adams said. "At the beginning of the year the game was a little fast for him but it's kind of slowed down for him now."
The win was also the Redhawks' 9th shutout in 18 games, and the 7th in 9 games for keeper Mike Pavliga. Hamielec, Beasley, Mike Plant, Sean Stevens, Jeremy Kaden, and Conner Cunningham all contributed at various points on Tuesday to keeping the slate clean for the home team.
The Redhawks have only given up 14 goals in 18 games, putting them in the top five all-time for a program with a tradition of playing exceptional defense.
"Mike Plant has done a great job stepping in as a junior. He played a lot last year as a defensive mid and this year he kind of slid back into the center back, and he's done a nice job of taking ownership of the back. But whoever has been back there has done the job. With the exception of one game, we haven't really had a lot of defensive breakdowns."
Plant offered a few simple tips when asked what makes for a good back line.
"You definitely need to go in hard every play, blow up tackles, stuff like that," Plant said. "And you have to win the ball in the air. If you let them win the ball in the air, it's tough to win.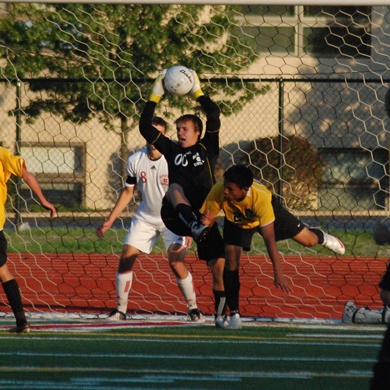 "We're just trying to do our best and the midfielders help out a lot. Me and Sean, Peter, and Jeremy – we're all staying strong, telling the mids where the guys are that they need to cover, and keeping them organized. (Metea Valley) had a couple quick kids with good skill. We had to make sure not to step in because that would have beat us."
Adams liked what he got from several quarters on Tuesday.
"I thought Mike Plant did a great job in the back and then the regular suspects," he said. "Peter Beasley always plays a nice game, Pat Flynn did a good job creating chances, and the other guy that doesn't get a lot of attention is Noah Kalbfeld.
"Noah does a lot of the things that don't show up but he works his tail off. He's one kid that, if I tell him 'this is what we want to do', he'll try to get it done to the best of his ability. It's hard to ever get frustrated with a kid who's doing what you're asking him to do. You've got to love that in a kid and there's not a kid in the program that tries harder than Noah."
In his program's first season of varsity existence, coach Josh Robinson guided a 9-12-1 team with no seniors through a gauntlet of top competition. He hopes the hard lessons his Mustangs learned will pay future dividends.
"We didn't come out ready to play today. We had some good effort from some individuals but we've lacked consistency," Robinson said. "We play a good game but then don't come out ready for the next game. It's growing pains so the hope is that they learn from it.
"If we learn from what we did and come out next year and have success, we can look at this year as a positive. We'll see."
The Mustangs played their fifth consecutive game without the services of junior forward Ryan Solomon, 'but Nate Donovan stepped in as a freshman and played great,' Robinson said. "Someone like him and Chris DiMarco, who played most of the game and most of the game the other day (in a 7-1 win over Lockport) – they are players that we expect to be there next year.
"But missing (Solomon) is tough. The hope was that if we could get through this game, maybe he'd be back."
Central coach Adams was impressed with what Metea Valley brought to the table in only the program's second varsity postseason game.
"They're good. The nice thing is they do a lot of the nice things you like to see," Adams said. "It's nice to see a new program in the area already stepping in and doing it the right way, between their quality of play, the way they handle themselves, and the class they showed on the field at the end of the game."
Robinson appreciated Adams' compliment and has worked to remain patient with his side this season.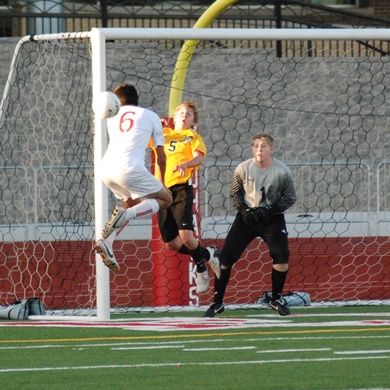 "We've gotten so many compliments for how we've played this year," he said. "But as a coach, I see these wonderful things in practice and when it doesn't transfer on the field … maybe I overlook some of the good things because I'm so focused on some of the struggles that we've had.
"But we've advanced a lot this year. We have. I think that individually we've got some great players and we've got kids that are going to fight on this team. Kids like Danny Shea, Joel Schmidt, and Kevin Decker. Kids like them, and Chris Freeman, they're learning to be 'the man', and that's a growing experience."