Tired Mustangs earn UEC Valley draw with Lancers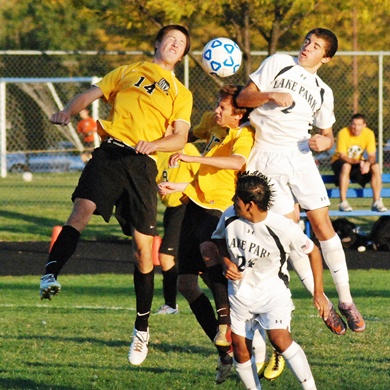 Photos courtesy of Barb English
By Curt Herron
There are a couple of different ways that you can look at a draw, and they were both on display on Friday in Roselle.
One story involved a Metea Valley squad that was competing in its third match in four days and was experiencing the effects of that rough stretch.
The other centered on a Lake Park team that has struggled scoring of late, collecting only four goals and going 1-2-3 during its last six matches.
A day after dropping a disappointing decision to Waubonsie Valley, the Mustangs scored midway through the first half to grab the early advantage.
And although it had great scoring opportunities throughout the match, the Lancers only managed to find the back of the net one time in the match.
So while a 1-1 draw in the Upstate Eight Conference Valley Division match was fine as far as Metea was concerned, it was disappointing to Lake Park.
"As a team we've struggled to finish," Lancers coach Norm Hillner said. "It's been across the board. That's our forwards, midfielders and are subs who've come in.
"We had a lot of good opportunities in both halves and we scored our goal on the worst of our opportunities. When we built things up, we would shoot wide or high.
"I hope it's not a mental thing, yet we've been talking about it since the start of the year and it hasn't changed. I hope we don't have the mentality that we can't score."
The opening 10 minutes of the second half was a good reflection of the offensive frustration that the Lancers (9-6-5, 2-1-2) have been dealing with.
A steady stream of corner kicks produced plenty of ooh's and ah's from the home fans at Krupke Field but unfortunately didn't lead to any scoring.
The barrage started shortly after the break when Tim Adelman sent in a corner but no Lancer could knock the loose ball in and Sal Cali was wide on a try.
Not long after that, Adelman served up another corner that was punched away by Mustangs keeper Gabriel Gongora, which resulted in another corner.
On the follow up attempt from Adelman, the Lancers had another great chance when the ball was sent in front but Jimmy Albright's header was deflected.
This time, Joe Passarelli sent in a corner kick, which was deflected away, leading to another Lancer corner, with Adelman again supplying the kick.
Chris Mash placed a header over the net on that corner and then Mike Catalano rolled a grounder to Gongora a short time later.
Metea (7-10-1, 0-3-1) finally countered with a good opportunity of its own, but Chris Freeman sent an attempt wide of the net.
Then it was more bad news for the Lancers as Oliver Huerta saw an attempt stopped by Gongora before Cameron Siegle sent another try wide of the net.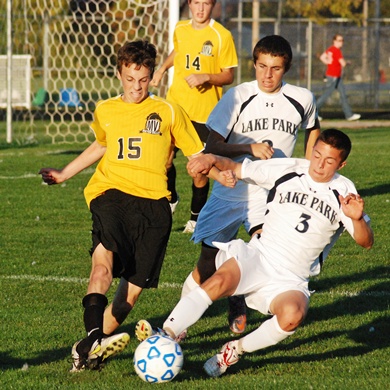 Lake Park finally connected with 22:09 remaining in the match when Adelman had a short shot blocked but got the rebound and put it in to tie things.
Later in the half, Matt McCann was denied on a line drive and Alex Norman was halted on a grounder by the Mustangs keeper.
Metea's other good chances during the final 40 minutes came on a long liner from Cody Jones and a long-range free kick by Danny Shea.
Cali later provided the Lancers with an attempt on goal while similar efforts from Brendan Feeney and Huerta were either high or wide.
The Mustangs grabbed the early advantage midway through the opening half when Freeman connected following a long pass from Shea.
After opening the week with the big win over Saint Viator at Toyota Park, Metea plays Batavia on Saturday at the Waubonsie Valley Invite.
Then it wraps up its regular season with a home match on Tuesday against East Aurora before hosting Lockport in regional competition.
"I'm very proud of how we played today," Metea coach Josh Robinson said. "Even though we have some bumps and bruises and the guys are tired, everyone stepped up.
"We played a great game on Wednesday and then it was really rough yesterday but we bounced back and played really well and we got a great effort from everyone."
Lake Park closes out the regular season with a home match against Neuqua Valley on Tuesday before playing contests at Geneva and Barrington.
"You would think that Metea would have been the team that would be flat today but I thought they came out and played hard," Hillner said.
"We've got three tough teams left before we host the regional. We're getting frustrated as a coaching staff trying to figure out what to do.
"We played 18 to 20 guys but no one said 'hey I want to be one of the 11 starters or one of the guys in the mix for the state tournament.'"