Mustangs can't find the net in 3-0 loss to Huskies
By Eddie Burns
Photos courtesy of Barb English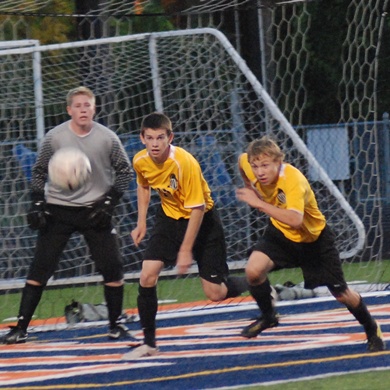 Naperville North celebrated senior night in style.
The Huskies scored three times in the second half to pull away to a 3-0 win against varsity newcomer Metea Valley in nonconference action on Thursday night in Naperville.
North coach Jim Konrad consistently shuffled the lineup with 27 different players receiving playing time.
"The guys really played well and they found a way to win, which was nice to see," Konrad said. "We constantly balanced staying focused and working hard.
"Were sloppy in the back in the first half and at times this season, we've been complacent. The second half we received a much better effort and did a much better job of playing at full speed."
None of North's three goals were cheap.
The Huskies' first goal came in the 49th minute when Bob Ren crossed the ball high into the air from the sideline in toward the Metea penalty area.
That's where Evan Trychta managed to get a head on it and flicked it toward teammate Joe Sullivan, who did the rest and sent the ball into the back of the Metea net.
"It was just sort of a snowball from there," Metea coach Josh Robinson said. "We did a really nice job of matching them and once they scored we were out of sorts.
"We had guys trying to do too much and North took advantage. We need to score early and we're just not doing that."
Metea (5-9) rallied from a two-goal deficit to beat Benet Academy on Monday, but it was unable to carry over the momentum generated by that victory.
The Huskies (12-1-1) made it 2-0 when Trychta sent a ball toward the Metea goal and teammate Zach Peterson redirected the ball past Metea goalie Derek Carothers in the 56th minute.
North capped the scoring in the 63rd minute when Austin Maggard made a beautiful touch on the ball in the open field to Trychta.
That allowed Trychta to get in behind the Metea defense in a one-v-one situation – Carothers, who did have some nifty saves of his own, never had a chance as Trychta ripped a shot into the net.
"Evan's plays tonight were world class and there is a reason why we read a lot about him," Robinson said. "As the game opened up and North began to build its lead, he began to exploit our defense."
North players and coaches alike were in good spirits after the squad's third straight shutout and seventh overall this season.
"We went out there and just had fun," North senior midfielder Bryan Kanzler said. "We were really successful when we got the ball outside and played the ball across."
Kanzler and fellow midfielders Andrew Adcock, Madisen Gonzalez and Matt Vogel have done a solid job of holding down the midfield this year for the Huskies.
North has used a different look in the midfield, electing to play without outside midfielders.
"It's been an adjustment, and we've taken it in stride and I think it's added an element to our attack," Kanzler said.
Robinson said he felt that the game might have had a much different tone if the Mustangs had scored what appeared to be a potential goal midway through the first half.
Zachary Bavol played a cross to Ryan Solomon, who flicked a header on the North goal. The ball hit the crossbar and appeared to have possibly gone into the goal, but Huskies' goalie Kevin Anderson scrambled to clear the ball.
"If we get that first goal, I think this becomes a much different match," Robinson said. "We matched their intensity and I was very pleased with the effort. However, we still had moments where we made mistakes. When those errors occurred that was when North made us pay."
Metea junior Joel Schmidt also generated a scoring chance midway through the second half when he ripped a shot from 30 yards out only to see Anderson dive and make the save.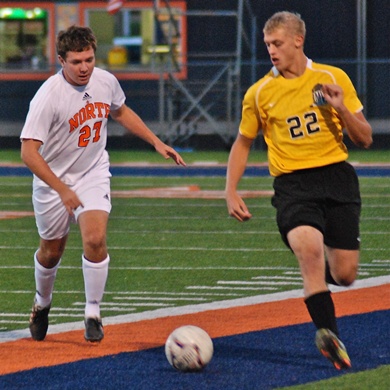 "It is discouraging that we couldn't keep up," Schmidt said. "The final score is not indicative of how well we played them tonight. We just have those moments where we lose focus and we're not good enough to overcome those mistakes."
The Mustangs are in the midst of an extremely busy portion of their schedule, which features four matches in four days next week and six matches in seven days.
"It will be a good test for our squad," Robinson said. "It will allow us to use everyone and we'll have to have everyone ready to play and contribute."