Mustangs slow but can't stop Wildcats in first meeting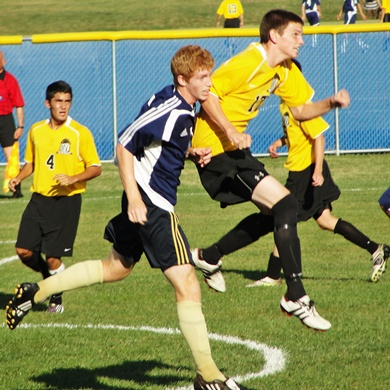 CLICK TO SEE PHOTO GALLERY (Photos courtesy of LuAnne Hollingshead)
Photos below courtesy of Barb English
By Curt Herron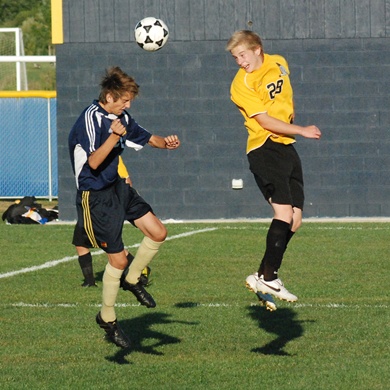 Brian Benjamin's name didn't appear on the roster that was available for Tuesday's first-ever match between Neuqua Valley and Metea Valley.
But with time running down and the two new rivals stuck in a scoreless tie, the Wildcat junior made sure that his presence would be noticed.
With 10:54 remaining, Benjamin found the lower corner of the net to break the ice in the Upstate Eight Conference Valley Division match.
The Wildcats added two more scores after that to capture a misleading 3-0 victory over the Mustangs in a District 204 clash in Naperville.
Two other familiar Neuqua players, Will Butler and Jacob Brindle, contributed the other two goals on headers shortly after Benjamin's score.
Thanks to the strong finish, the Wildcats (6-2-1, 2-0) were able to overcome a fine defensive effort by the first-year Mustangs (3-6, 0-2).
Throughout much of the match, Metea keeper Derek Carothers and defenders like Blake and Brett Erwin and Daniel Shea slowed down Neuqua's dangerous attack.
While that group kept Patrick Doody, Butler, Brindle and company off of the scoreboard, their cohesion was affected when Brett Erwin exited with an injury.
That helped to set the table for the late-match drama from Benjamin, who started the season on the junior-varsity squad, to collect his first varsity goal.
After Neuqua scored the initial goal, Metea seemed to get a bit demoralized, which allowed coach Tony Kees's team to convert two more times in quick order.
Click to heat Brian Benjamin interview
Although the Wildcats had plenty of good scoring chances in both halves, their play seemed to go up a notch during the final 40 minutes of play.
Kees credited Metea for its good defensive effort, which wound up forcing his squad to execute better in order to be try to put things together.
That started to happen more as the second half progressed but Carothers and his defenders did their best to continue to frustrate the Wildcats.
But when all was said and done, Neuqua had posted its sixth shutout of the season while Metea had been blanked for the fourth time this year.
Click to hear coach Tony Kees interview
Sammy Al-Qady got things started off for the hosts in the opening minutes of second half when he fired a line drive off of the post.
A short time later, Doody was denied on a short attempt and a few minutes after that, Connor Domek sent a floated that Carothers hauled in.
Metea had a chance about midway through the half when Joel Schmidt tried to get off a shot but it was halted by keeper Hunter Hollingshead.
With just under 16 minutes left, Doody sent a corner to Benjamin, whose short try was deflected, which set up another line drive from Doody.
Things finally clicked for the Wildcats with 10:54 left when Benjamin came up with a loose ball and spun around to get off the winning shot.
Shortly after grounding a shot to Carothers, Butler headed in an attempt that was set up by a pass from Al-Qady with 8:33 remaining.
Three minutes after that, Butler sent a perfect cross to Brindle, who put his head on the ball just right to place a shot inside of the net.
The Mustangs had one final chance with less than 30 seconds left but Zachary Bavol's free kick from just beyond the top of the box was high.
While proud of his team's defensive effort for 69 minutes, Mustangs coach Josh Robinson didn't like how his squad reacted to falling behind.
Click to hear coach Josh Robinson interview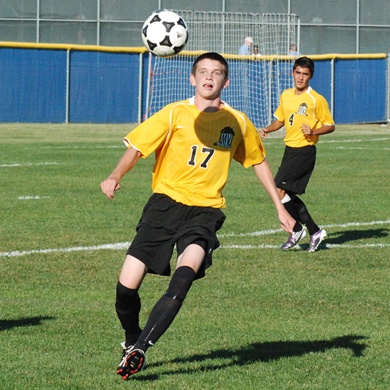 Things were similar in the first half, beginning with Doody getting stopped on a corner, a short shot and a liner shortly before the midpoint.
Metea threatened with less than 10 minutes remaining before the break but a free kick by Bavol and a long shot from Schmidt were both wide.
Toward the end of the half, Brindle had a shot deflected by defenders and then sent a header toward Carothers shortly before the whistle blew.
The Wildcats return to action next Tuesday at East Aurora while the Mustangs compete again on Saturday at the Pepsi Showdown in LaGrange.