Grens dominate possession but fall to Hersey in overtime
By Gary Larsen
First there was a free kick goal from visiting Hersey, and later a game-winning score for the Huskies in overtime.
In between, it was all Elk Grove.
For almost 100 minutes, host Elk Grove played the kind of soccer that offered Grenadiers fans and head coach Joe Bush hope for what may lie ahead this season.
"Afterwards I was happy to hear (Hersey coach Darren Llewellyn) tell our boys what a good team they are. That's classy on his part," Bush said. "Our kids played hard. They're young … and we just have to make a decision on our ability to just say 'we want to win this game, at all costs.' We're almost there but not quite.
But I was very proud of the guys. This was one of those stepping stones and something we can learn from."
In a Mid Suburban League opener for both teams, a sluggish first 15 minutes gradually gave way to sharper play. Neither Hersey (1-1-0, 1-0 in MSL play) nor Elk Grove (1-2, 0-1) changed the scoreboard before the break.
Elk Grove pressured well to start the second half but Hersey answered with an attacking push that led to the game's first goal, when Jonathan Krok's low-rolling free kick found pay dirt.
The Grens took over from there, making runs, finding feet, and consistently testing Hersey's second-half keeper, Irvin Velasquez, who played rock-solid throughout. Elk Grove's Nick Jordan, Cesar Rodriguez, Ernesto Rodriguez, and Irving Cruz all sent hard shots on frame in the second half.
It wasn't until the game's 68th minute that Elk Grove finally solved Velasquez, and it took a world-class shot to beat him.
You can watch a hundred high school soccer games and not see a shot like the one that the Grens' Carlos Cisneros hit to tie the game. Cisneros hit a ball on the screws from 35 yards out on the right side, and sent it tearing into the side netting at the far post.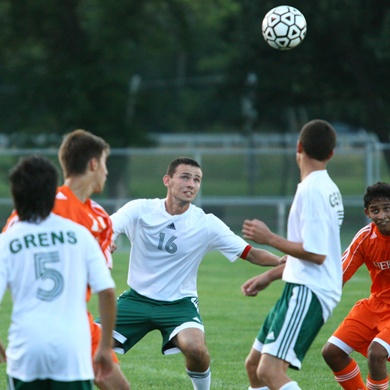 "That shot was incredible," Bush said. "Carlos is a kid that played (club) last year but came out and wanted the high school experience. We're certainly happy to have him."
"(Velasquez) was tremendous. We certainly tested him and he did a phenomenal job."
The Grens nearly ended the game in regulation when Eddie Rodriguez got deep on the left side and passed back to Justin Gavros, who crossed a ball to the far post. But Velasquez slapped Cesar Rodriguez's head shot over the end line.
Elk Grove made a sustained attacking push for a go-ahead goal to the end of regulation but came up empty, while the Huskies' best chances for a game-winner came on the counterattack.
Llewellyn hopes his young squad learned a lesson on Monday.
"If we get our runs we'll get their halfbacks out of our end," Llewellyn said. "Until we start doing that, teams are going to pin us and we're going to have to defend. And that's just freshmen and sophomores, and guys that have never played varsity."
Early in the first 10-minute overtime period, Gavros hit a long-range shot that knuckled and dipped, but Velasquez was on the spot to save it.
Hersey ended the game with 33 seconds remaining in the second 10-minute overtime period, when Jesus Lupian gathered a failed clearing attempt, took a touch to his right and buried the shot from 16 yards out.
"They capitalized, and that's what they do," Bush said of Hersey.
"We're just working hard and doing what (Llewellyn) tells us," said Krok, who was prominent throughout the contest. "We've got a lot of young guys but the guys that are older are getting them together. The young guys are starting to pull their weight and we're just starting to get together as a team."
Bush liked what he saw from several of his players on Monday, particularly the way his back line handled Hersey on the counterattack.
"Matt Ginter and our three-man back – he's near perfect," Bush said. "Trevor (Cwiok), Rafal (Borys) and Matt just keep things composed back there. And Justin Gavros plays a holding mid for us, he's just a sophomore, and he plays very smart."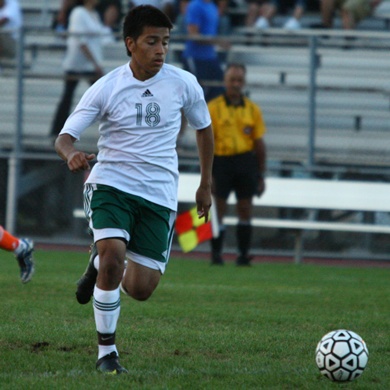 Elk Grove had to play the final 20 minutes without senior captain Ernesto Rodriguez, who left the game with a sore back after a collision at the goalmouth.
Rodriguez sat in pain with an ice bag on his back, and while it was also painful for him to watch his side play without him, he was encouraged by what he saw.
"I wasn't on the field but I felt pretty confident with the team," Rodriguez said. "We started off strong this year in our first game against Evanston (a 3-0 win), and that's how we can play. We can possess."